by Dennis Pike
Salisbury, North Carolina – Another successful North Carolina Cyclo-Cross (NCCX) Series has drawn to a close with the final race of the year on Sunday, December 7th, 2008 in Salisbury. The NCCX Series has been going for over a decade and this year nine races were held at eight different locations and included two North Carolina Grand Prix UCI C2 races in Hendersonville. As the NCCX Series wraps up, the North Carolina Winter Cup gets ready to kick off in early January.
Over 180 racers were in Salisbury on the final weekend to enjoy what has become a regular and favorite race location in the NCCX series. The day started with Masters 35+/45+/55+ races with very cool weather by North Carolina standards and slightly slippery conditions. In the Masters 35+ race, Jason Morgan (NCCX) came away with the win and Eric Marland (Boone Velo) was able to secure his series win with a fifth place finish. In Masters 45+, Randy Shields (Carolina Masters) finished a solid season with a win that also clinched the series win. Shields had many hard fought battles this series with Daryl Rains (MOB) who finished second in the race and third in the series and Jeffrey Welch (Sledgehammer Charlies) who finished third in the race and second in the series. In Masters 55+, Chuck Gillis (Garneau Custom) was able to pull out the win but it was not enough to overcome second place finisher Kerry Shield's (Carolina Masters) lead in the overall series.
The Women CX4/Junior 10-14/Junior 15-18 race followed. Jocelyn Mauldin (Franklin Street Cycles) got her second win of the series but Robin Baxter (Raleigh Allstars) was able to hold onto the series win with a fourth place finish. In the Junior 10-14 race, Antonio Diaz (Unattached) had a solid win having only raced one other race in the series where he finished 12th. 2nd place went to series winner, Daniel Brew (Cross Creek Cycling Club). The Junior 15-18 race was impressively won by Jacob Arnold (Cycling Spoken Here) who has also been racing Pro CX1/2 this season. Jeremiah Dyer (Studio7) was able to pull out a come from behind series win with a 2nd place finish to Justin Evans (Cross Creek Cycling Club) 5th place finish.
The weather warmed and the course got a bit more slippery for the biggest field of the day with 50 racers – the Men's CX4 race. Brent Lester (unattached) showed impressive handling skills and was able to pull away from the pack on the last lap for his first victory of the season followed by Junior 15-18 series winner Jeremiah Dyer (Studio7) and Elliot Craddock (Siegler Sports). Jack Brown (Sledgehammer Charlie's) had a large lead and held onto the series win with a 13th place finish.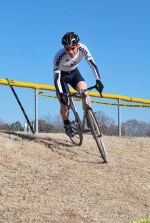 The Men's Pro1/2 race had a much smaller field of 14 which quickly segmented into a tightly fought race for 1st and 2nd in the lead group with a small pack of chasers doing battle for the remaining podium spot. The lead group was Will Black (Moots) and Travis Livermon (Cannondale / CCN) who exchanged the lead numerous times but Black was able to pull away at the finish for the race and series win for which he and Livermon had been fighting it out all season long. Following a strong race prior in Hendersonville, Nathanael Wyatt (Carolina Fatz / Santa Cruz Bikes) was able to beat out the chase group for the 3rd podium position followed by Noah Niwinski (Boone Velo) and Andrew Applegate (Cannondale / CCN). With 5th place, Applegate was able to edge out Niwinski for the 3rd place spot in the series.
The final race of the day was the Men's CX3/Women's Pro1/2/3 race. In the closest series contest of all the categories, Men's CX3 Scott McAllister (Bitter Dose), with 387 points, and teammate Andrew Shetler (Bitter Dose), with 384 points, were in tight quarters the entire race working together to pull in the early race leaders while also keeping close tabs on each other trying for the series win. In the end, McAllister and Shetler were able to surge to the front of the field and had a dramatic first and second place finish with Shetler able to pull out both the race win and a come from behind series win. After cat'ing up earlier in the series, Chris Rouisse (Bike Source) put together a very impressive race for 3rd place which was also enough to push him up two places into 3rd place for the series. In Women's Pro1/2/3 race, Cara Applegate (BMW-Bianchi) put together a nice win which also capped her sizable lead in the overall series. Melanie Black (Moots) and Deb Sweeney Whitmore (BMW-Bianchi) finished in 2nd and 3rd which also moved Black into 2nd for the series. Elizabeth Frye (Cannondale / CCN) also had a very impressive season winning the first 5 races of the series but did not race Salisbury and finished 3rd in the series.
Men's Pro1/2 Results:
| | | |
| --- | --- | --- |
| 1 | Will Black | Moots |
| 2 | Travis Livermon | Cannondale / CCN |
| 3 | Nathanael Wyatt | Carolina Fatz / Santa Cruz Bicycle |
| 4 | Noah Niwinski | Boone Velo |
| 5 | Andrew Applegate | Cannondale/CCN |
| 6 | Charles Pendry | Inland Construction Cycling Team |
| 7 | Scott Frederick | Inland Construction |
| 8 | William Messenger | Mock Orange |
| 9 | Benjamin Miller | Standard Pacific Homes |
| 10 | John Cox | Mock Orange Bikes/MOB Cycling |
| 11 | Ross Bowden | Cannondale/ CCN |
| 12 | Andrew Oishi | Bull City Cycling |
| 13 | Derek Powers | Carolina Masters |
| 14 | Jacob Florence | Boone Velo |
The 2009 North Carolina Winter Cup racing series will begin January 3rd in Salisbury with a total of 5 races in 5 different locations around the state. For more information go to http://www.nccyclocross.com
Photo Gallery: