by Chris Worden and Joan Hanscom.
West Windsor, NJ – When Tim Johnson wants to send a message, he does it right. After failing to secure the top step on Saturday's USGP podium, Johnson (Cannondale/Cyclocrossworld.com) blazed to victory on a much dryer, stickier course Sunday afternoon, sending a strong message to all that he will be the man to beat for the final USGP rounds in Oregon.
Although the races earlier in the day were characterized by the same derailleur-snapping mud that frustrated and confounded competitors in Saturday's elite race, Sunday's downright balmy 60 degree temperatures and sunny skies were able to dry out the course just in time for the pro men to shred the field with sub-eight-minute lap times. "When you go to a race like yesterday, you're running through some really hard mud and he (Trebon) was just powering away from me" said Johnson after the race.  "Today was another day and another chance".  While the mud was sticky, it was manageable. Johnson's pace, on the other hand, was not.
Preparing for the World Championships in her native Czech Republic, Katerina Nash (Luna) continued on her World Class trajectory to win the women's event ahead of a surprisingly strong Amy Dombroski (Schlamm) and Meredith Miller (California Giant Berry Farms/Specialized).
Answering any critics about who is the dominate racer in the U.S, Johnson initiated his attack on the very first lap, launching off of a surprisingly strong start by Davide Frattini (Team Fuji.) While on form for Saturday's race, series leader Ryan Trebon (Kona – FSA Factory Team) had little answer for Johnson's surge and was stuck negotiating turns back in the chaos of the field.  "I stubbed my toe spikes and got them stuck in the pedals at the start" explained Trebon.
Driscoll, another victim of an unfortunately failed hole shot attempt, sat on Trebon's wheel until they made it up to the front of the race, making use of the pressure Johnson applied to the Kona rider.
Meanwhile, Dan Timmerman (RICHARD SACHS – RGM WATCHES – RADIX) enjoyed one of his best performances of the season, holding third wheel behind Geoff Kabush (Maxxis/Rocky Mountain) before slipping back gradually by the end of the race to finishing in eighth.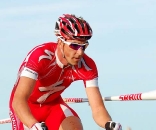 Trebon would eventually drop Driscoll and catch Kabush, but was unable to put a dent in Johnson's minute lead on the race.  "I had pretty good legs today and Tim was riding really strong today" said the series leader, Trebon. "I burned a lot of matches to get back to the front".
In the race for the final podium spot, Todd Wells (Specialized) put together a fantastic ride and became the race sensation.  "If you're going good, you can take your own lines, and starting that far back you can usually increase your speed pretty quick and pass guys on the straights" he said.  Recovering from illness and injury, Wells started his 'cross season late.  " I had a bit of a setback and got sick, but I think it's coming around and hopefully over the next few weeks it will get better and better".
Forced to start from the fourth row, Wells required several laps to advance to Kabush, catching him with two laps to go.  He would then go forward to place third behind Johnson and Trebon, with his efforts earning him the SRAM Most Aggressive Rider Honors.
Driscoll valiantly fought for his fifth place finish and Kabush was rewarded for his early race performance with fourth.
Rounding out the rest of the top ten, Trebon's teammate, Barry Wicks (Kona – FSA Factory Team) clawed himself from the depths of pack-fodder to finish a respectable sixth place, while holeshot-winner Davide Frattini settled for seventh. 19 year-old Swiss prodigy Valentin Scherz (Pro Cycles-Scott Newwork) illustrated his European experience and talent by claiming ninth and winning the U23 competition by a healthy margin over Boulder native Danny Summerhill (Garmin). Gavin Mannion (Hot Tubes) was able to claim the final U23 podium place.
For Johnson, who celebrated his last win at the Boulder Cup by attending a Denver Nuggets Basketball game, the win was "nothin' but net," and once again placed Cyclocrossworld/Cannondale on the top step of the USGP podium.
"We have a great group of guys over at Cannondale who got our bikes ready to go" said Johnson.  "And when you've got so many people behind you and so many people supporting you, you don't want to let them down. You want to give yourself every chance to be successful, it's even more power to get things done."
Note: Despite his second-place finish, Trebon managed to hang onto his Series Leader Jersey. With only one weekend left, expect a fight to the finish in the USGP finale in Portland, Oregon–a race infamous for conditions similar to Saturday's event.
In the women's race, Nash had a surprise challenger early on in Dombroski. Although the Czech superstar broke loose, Dombroski never cracked and finished on the pavement within 30 seconds of Nash. For that she would receive honors as the SRAM Most Aggressive Rider.
The day also saw another powerful ride from US national road champ Meredith Miller, who caught and dropped Georgia Gould (Luna) on her way to a third place ride. "I'm gaining confidence every race, just letting the bike flow, getting used to unweighting the handlebars and going for it," said Miller. As her skills improve and allow her to unleash her road-engine, look for Miller to continue to challenge the cyclocross leader board.
RACE NOTES:
The Under-23 division of the elite men's race showcased what may be the best field of young talent in the history of American 'cross. Swiss rider Valentine Scherz (Scott) won the division ahead of Danny Summerhill (Garmin) and Gavin Mannion (Hot Tubes). All three were in the top 15 and seven riders under the age of 23 placed in the top 30.
The crowds today were nothing short of fantastic. In one muddy turn followed by stairs, the Mid-Atlantic audience did the West Coast one better. In addition to the San Francisco tradition of placing dollar bills in the mud for backmarkers to earn gratuities, the crowd showered the elite men with snack food giving that muddy section the moniker of the "chips and dip section". The roar was loudest at the end when Johnson, victory at hand, snatched some currency for himself.
Ali Goulet (Church of the Big Ring) pounded out a victory in the Masters 35-plus race that kept him in the series leader's jersey. He also turned a first lap that matched the elite men's time.
Yannik Eckman (Clif Bar Development) swept the weekend in the junior division. Sadly, the native of Germany and resident of Colorado is ineligible to represent either America or Germany at the World Championships
Men's Results:
| | | |
| --- | --- | --- |
| 1 | Timothy Johnson | Cannondale/Cyclocrossworld.com |
| 2 | Ryan Trebon | Kona/FSA Factory Team |
| 3 | Todd Wells | Specialized |
| 4 | Geoff Kabush | Team Maxxis-Rocky Mountain |
| 5 | Jamey Driscoll | Cannondale/Cyclocrossworld.com |
| 6 | Barry Wicks | Kona/FSA Factory Team |
| 7 | Davide Frattini | Team Fuji |
| 8 | Dan Timmerman | Richard Sachs – Rgm Watches – Radix |
| 9 | Valentin Scherz | Pro Cycles-Scott-Newwork |
| 10 | Christopher Jones | Team Champion System |
| 11 | Derrick St John | Garneau-Club Chaussures-Ogilvy |
| 12 | Daniel Summerhill | Felt-Holowesko Partners-Garmin |
| 13 | Nicholas Weighall | Rad Racing |
| 14 | Carl Decker | Giant |
| 15 | Gavin Mannion | Hot Tubes Junior Development Team |
| 16 | Luke Keough | Cl Noonan/Coast To Coast/Kam |
| 17 | Ethan Gilmour | US National Team |
| 18 | Jesse Anthony | Team Jamis Bikes |
| 19 | Justin Lindine | Bikereg.com/Joe's Garage/IF |
| 20 | Adam Myerson | Cycle-Smart |
| 21 | Joseph Dombrowski | Haymarket Bicycles/Home Visit |
| 22 | Zach Mcdonald | Stevens/Classic Cycles |
| 23 | Mark Lalonde | Planet Bike |
| 24 | Michael Garrigan | Jetpower/Epic Ride |
| 25 | Joshua Berry | Team Bode |
| 26 | Kirt Fitzpatrick | S. Camel |
| 27 | Brian Matter | Team Geargrinder |
| 28 | Adam Mcgrath | Thule/Van Dessel |
| 29 | Jerome Townsend | Bikereg.com/Joe's Garage/IF |
| 30 | Dave Hackworthy | Team Plan C |
| 31 | Steve Fisher | Rad Racing |
| 32 | Weston Schempf | Athletes Serving Athletes |
| 33 | Chance Noble | California Giant Berry Farms/Specialized |
| 34 | Travis Livermon | Cannondale |
| 35 | Nathan Bannerman | Hagens Berman |
| 36 | Tyler Trace | Trek Red Truck |
| 37 | Justin Robinson | California Giant Berry Farms/Specialized |
| 38 | David Wilcox | Geekhouse Bikes/Boston Rock Gym |
| 39 | Colin Reuter | International Bicycle Centers |
| 40 | Kevin Noiles | La Bicicletta Pro Shop |
| 41 | Peter Bradshaw | Embrocation Cycling Journal |
| 42 | Joseph Schmalz | KCCX/Verge |
| 43 | Emmanuel Goguen | Bikereg.com/Joe's Garage/IF |
| 44 | Mark Batty | Planet Energy |
| 45 | Guillaume Nelessen | Van Dessel Factory Team |
| 46 | Pavel Gonda | CRCA/Pacifico Team |
| 47 | John Burns | Bikeman.com |
| 48 | William Elliston | Van Dessel Factory Team |
| 49 | Carl Hesselein | Whole Athlete |
| 50 | Andrew Reardon | Starbrite Carwash/Moab |
| 51 | Michael Jenks | Highland Park Hermes |
| 52 | Logan Vonbokel | Mesa Cycles Racing Team |
| 53 | Kat Statman | Pioneer Racing |
| 54 | Igor Volshteyn | Champion System Racing |
| 55 | John Crow | Inland Construction |
| 56 | William Street | Sisu Custom Cycles |
SRAM Most Aggressive Rider: Todd Wells
Women's Results:
| | | |
| --- | --- | --- |
| 1 | Katerina Nash | Luna Pro Cycling Team |
| 2 | Amy Dombroski | Clement-Primus Mootry |
| 3 | Meredith Miller | California Giant Berry Farms/Specialized |
| 4 | Georgia Gould | Luna Pro Cycling Team |
| 5 | Alison Dunlap | Luna Pro Cycling Team |
| 6 | Alison Sydor | Maxxis-Rocky Mountain |
| 7 | Laura Van Gilder | C3 Sollay |
| 8 | Maureen Bruno Roy | MM Racing/Seven Cycles |
| 9 | Kari Studley | Velo Bella |
| 10 | Kaitlin Antonneau | Planet Bike |
| 11 | Deidre Winfield | Athletes Serving Athletes |
| 12 | Andrea Smith | Minuteman Road Club |
| 13 | Linda Sone | Planet Bike |
| 14 | Kristin Wentworth | Planet Bike |
| 15 | Linnea Koons | October Factory Racing |
| 16 | Nicole Thiemann | Pabst Blue Ribbon |
| 17 | Erica Yozell | Visitpa.com |
| 18 | Kimberly Flynn | Vantaggio/Specialized |
| 19 | Rebecca Wellons | Nebc/Cycle Loft/Devonshire Dental |
| 20 | Kelli Emmett | Giant |
| 21 | Kristin Gavin | Pabst Blue Ribbon |
| 22 | Anna Milkowski | Bikereg.com/Joe's Garage/IF |
| 23 | Beth Mason | Verge Sport – Test Pilot |
| 24 | Lauri Webber | Secret Henry's Team |
| 25 | Amanda Carey | Kenda/Trainwitheric.com |
| 26 | Kristine Church | Human Zoom/ Pabst Blue Ribbon |
| 27 | Justine Robidoux | Independant |
SRAM Most Aggressive Rider : Amy Dombroski
Photos: