written by Robert Grunau

Fort Steilacoom Park in Lakewood Washington was host to the South Sound Super Prestige, the second stop in the 2014 MFG Cyclocross series. The set piece of the fast course was a long climb that alternated between pavement and firm dirt, followed by a fast loose gravel descent, before dropping back into the infield.
The men fought a tactical race, one that only started to break apart on the second lap when a group six separated themselves from the pack on the final portion of the long climb. That group of six was lead by Raleigh/FSA teammates Adam McGrath and Steve Fisher.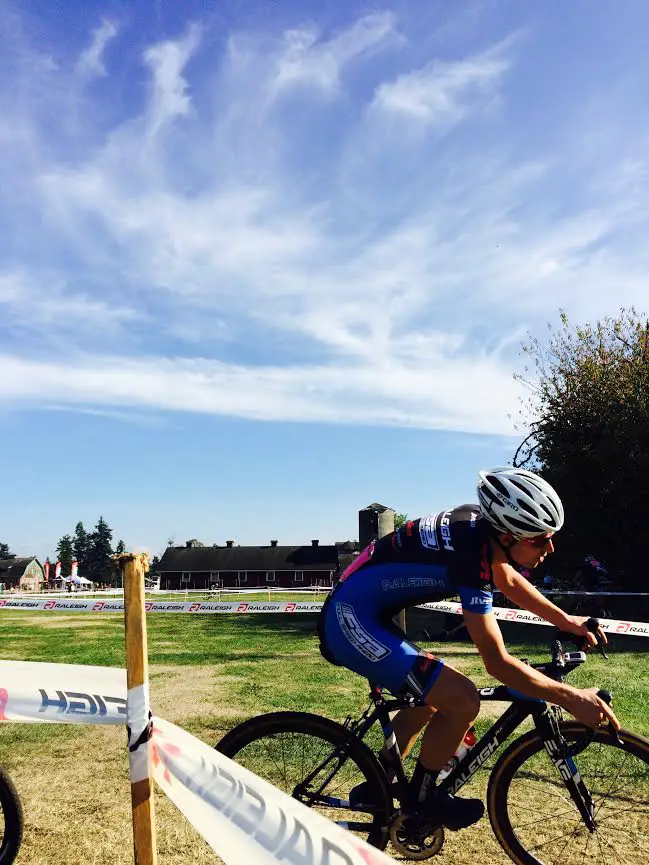 Only one member of that group of six was dispatched coming into the last lap when the pace jumped, and attacks again started in the final flat corners of the course, setting up a drag race down the long paved stretch to the finish between Fisher and Audi's Ian Tubbs. Fisher managed to hold off Tubbs at the line. Finishing off the podium was Spokane's Kevin Bradford-Parish (Set Coaching/Specialized).
Jessica Cutler (Jamis/Bikesport p/b WA Bike Law) took the hole shot with a small gap in the women's race and then used the climb to further distance herself over her closest competitor Kristen Kelsey (AXIOMHVAC-VOLER-CYCLE U). The field was blown apart by the pace allowing Cutler to finish with a 51 second advantage over Kelsey. Monica Lloyd (DFL) rounded off the podium.
The MFG Cyclocross series continues next week at Thornton Sullivan Park in Everett Washington and the return of the double beach. Kristen Kelsey and Adam McGrath lead their respective fields in points.