This week's Mechanical Monday was written by one of the contributors of Issue 29, the Gravel Cyclist, Jayson O'Mahoney, who featured the rise of gravel racing in the United States over the last decade. Today, he delves into the appropriate uses of a Shimano XTR Di2 system for cyclocross and gravel. We have looked at SRAM's latest Rival long cage rear derailleur in the past alongside wide cassettes compatible with XD drivers, but O'Mahoney examines solutions for those wanting Shimano's top-tier groups. You can find more of O'Mahoney's reviews and gravel misadventures at gravelcyclist.com.
For his article on American gravel racing in Issue 29 and other quality content, pick up your back copy today, mailed first class, or get a digital version for quicker gratification. Read it here.
by Jayson O'Mahoney
Why the heck would you want to use MTB specific parts in conjunction with a bicycle intended for gravel cycling?
Those who have ventured to the East coast of the United States know the Ultra Cross courses are tough and the gravel is gnarly. A machine with the option to run extremely low gearing normally associated with a mountain bike, but on a rig with drop bars, offers an explanation. Also, there are the occasions when heavy rain falls, turning a gravel ride / race into a boggy quagmire, where wider tires and mega clearance are the order of the day.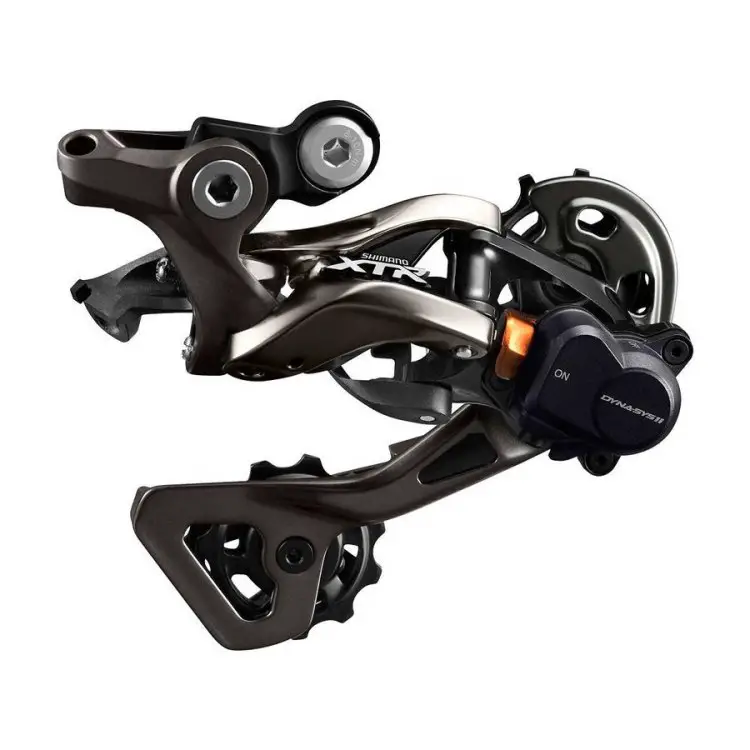 These parts solve an issue that cropped up when I converted my Lynskey Monster Cross bike to 11 speed – all in the name of gaining an extra 36 tooth cog. My Monster Cross bike is a 29'er mountain bike frame with rigid fork and drop handlebars, with a bottom bracket shell width at 73mm, versus a regular road bike bottom bracket shell which measures 68mm in width. The Lynskey was originally built with Shimano Ultegra Di2 10 speed front and rear road derailleurs, 10 speed chain, running in conjunction with a 10 speed Shimano XTR MTB crankset.
When shifting the chain from the small to the big chainring, a front derailleur needs to move a certain distance up and to the right for that change to happen. In the case of a road derailleur involving an MTB width bottom bracket shell, a road derailleur needs to move further to the right than planned by the manufacturer: remember, 68mm road bottom bracket shell versus 73mm MTB bottom bracket shell.
When the Lynskey was originally assembled with a 10 speed road drivetrain, the chain shifted perfectly between chainrings, in both directions. However, an 11 speed chain is narrower internally, narrow enough to make a difference in front derailleur shifting performance. What does this mean? Simply put, the chain will not always catch cleanly onto the shifting ramps of the big chainring, and hence, front derailleur shifting becomes unreliable.
In my situation, once the Shimano Ultegra Di2 11 speed rear derailleur and matching chain had been installed (with an Ultegra Di2 10 speed front derailleur still in place), the chain would only climb onto the big chainring if positioned on four of the eleven cogs on the rear cassette, closest to the spoke side. The rest of the time, the chain would clang around the place trying to shift to the big chainring, and sometimes fall off the small chainring altogether – not optimal.
Then, Shimano XTR Di2 became available.
This meant we spent some time playing with various combinations of cranks, bikes and cassettes, to figure out what works and what doesn't with Shimano XTR Di2 – and, we're using road Di2 shifters. Another helpful resource is Shimano eTube compatibility chart – this takes a lot of the guesswork out of which components work together, and which ones don't.
XTR Di2 Firmware Updates
Before you can think about mixing Shimano's XTR Di2 MTB derailleurs with the company's mechanical brake or hydraulic brake road Di2 shifters, some firmware needs to be updated using Shimano's eTube software. Namely the battery, SM-BTR1 for external or SM-BTR2 for internal; they need to be on Version 3.0.10 – at the time of this article.
Technically, the external battery contains no chip, rather, the holder that seats the battery contains the chip that stores the firmware. The internal battery hides a chip somewhere inside its casing. The road shifters, hydro or otherwise, will not recognize the XTR Di2 derailleurs until this battery update has taken place.
Other components such as Junction Box A – part SM-EW90-A (3 port), SM-EW90-B (5 port), front and rear derailleurs, road shifters, climbing switches and even the SM-PCE1 or SM-BCR2 modules for system configuration / battery charging should have their firmware updated, if available.
Known Incompatibilities

Road Di2 derailleurs and XTR Di2 derailleurs cannot be mixed and matched. For example, you cannot use a Di2 road front derailleur in conjunction an XTR Di2 rear derailleur – Shimano blocks this with the system firmware. Some people will claim it can be done, but we've yet to see a working example.
If Battery update V3.0.10 has taken place, you can no longer mix and match 10 and 11 speed Di2 road derailleurs – note, the firmware which prevents this may be an earlier version – Shimano isn't forthcoming with information on their website. Incidentally, they play well together until this, or a slightly earlier firmware upgrade has taken place.
Junction Box A, part number SM-EW67-A-E – the original junction box for Ultegra 10 speed Di2 does not work with Shimano's XTR Di2 derailleurs.
If using a double chainring crankset, aka 2 x 11, when XTR Di2 is shifted to the small chainring, the system WILL NOT shift beyond the 8th cassette cog. In other words, you will not be able to use your 11, 12 or 13 while on the small chainring. Why? This is to prevent issues with cross chaining. However, similar gear ratios can be attained by shifting to the big chainring, and a bigger cassette cog on the rear derailleur.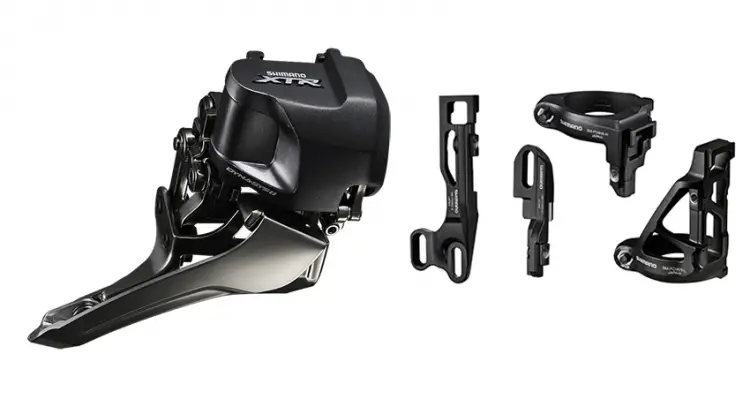 XTR Di2 Tinkering – 1 x 11 System

The XTR Di2 system works flawlessly as a 1 x 11 system with regular or hydro Di2 road shifters – in either case, the front derailleur is not required. Because the XTR Di2 derailleur has a clutch, chain tension is kept consistent to avoid slapping against the chainstay, etc. Keep in mind the clutch does add some drivetrain drag in certain gears. Thankfully, the clutch is easy to disengage, although Shimano may frown up on this during normal pedaling operation.
XTR Di2 Tinkering – Road Cranksets – 2 x 11 System

This scenario involved another Monster Cross bike, which is a full custom rig featuring a 68mm road bottom bracket shell and compact road crankset. In his case, 48 / 34 tooth chainrings are fitted to the crankset.
The Good – Even though the XTR Di2's front derailleur cage is about two centimetres shorter than its road equivalent, it shifts flawlessly between 48T and 34T chainrings.
The Bad – When the chain was on the small chainring, the inner front derailleur cage would rub against the chain when the rear derailleur was shifted to one of the three cassette cogs closest to the spokes. This is due to the decreased bottom bracket width; the derailleur cannot move far enough to the left.
The special XTR Di2 front derailleur mount (the low mount in our case) left a 5mm gap between the seat tube and the mount itself – I don't recall the seat tube size of the frame, but it required us to use the thicker of the two spacer sets supplied with the XTR Di2 front derailleur mount. If a custom, ovalized spacer set could be fabricated, the problem would be solved, allowing the derailleur to sit further left relative to the road crankset.
On the original Gravel Cyclist Facebook post about XTR Di2, Brantley Smith reported he has the XTR Di2 front and rear derailleurs working perfectly on a Raleigh cyclocross bike. Normally, cyclocross frames utilize a 68mm road bottom bracket shell. So, it seems the XTR Di2 front derailleur may work with some road type frames, and possibly not others.
Considering Shimano "allows" the road type Junction A boxes / road Di2 shifters to work with XTR Di2 derailleurs in their firmware, this indicates the system was designed to cater for road bike use, or more appropriately, cyclocross or gravel bike use. Do your research before purchase – mounting the front derailleur is key.
XTR Di2 Tinkering – MTB Cranksets – 2 x 11 System
At the time of writing, the largest chainrings offered by Shimano on their XTR 9000 11 speed series of cranksets is 38 teeth for a double, 40 teeth for a triple and 36 teeth for a single. My Lynskey rig utilizes an XTR FC-M985 10 speed crankset, with 42 / 28 chainrings. Shimano doesn't recommend mixing 10 and 11 speed parts. Rules are meant to be broken.
Cassettes:
With a SRAM PG1170 11-36 11 speed cassette installed, the drivetrain shifts flawlessly on both derailleurs. You will need to place close attention to the rear derailleur B-screw – this needs to be set appropriately to allow for clearance between the top derailleur pulley and the largest cassette cogs.
With a SRAM PG1170 11-26 11 speed road cassette install, the derailleur pulleys need to sit closer to the cassette, accomplished by turning the rear derailleur B-screw counter-clockwise. Otherwise, shifting will be hesitant on some cogs, especially during the downshift. On my bike, the drivetrain shifts flawlessly on both derailleurs. However, with a chain cut to length for a larger cassette, such as the 11-36 referenced above, you will see some chain slack on the small chainring with some of the smaller cassette cogs, such as the 14 tooth. Ideally, if switching wheels or cassettes semi-regularly, it is advisable to switch to a second chain to account for optimal chain length and shifting.
Finally, a brief video demonstration of the Shimano XTR Di2 2 x 11 system in action – on a SRAM PG1170 11-26 road cassette. Don't mind the suspect Di2 wiring hanging all over the place, I'm not quite finished with everything:
Don't want to go down this electronic, more expensive route? Stay tuned for our drivetrain hacks for other cheaper ways to run wide-range gearing for gravel or mixed terrain adventures.