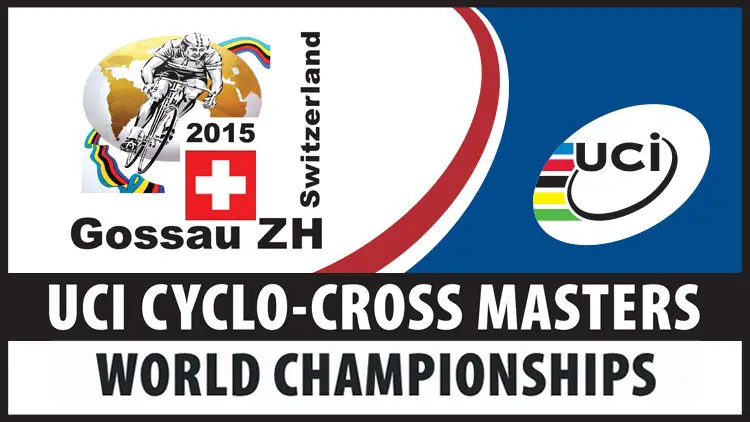 (Gossau ZH, Switzerland)-Last weekend, the 2015 Masters World Championships took place in Europe, encouraging riders from 30 to over 75 to travel to compete for an elusive rainbow jersey.
Last January, we published an article about the shattered dreams at the Masters World Championships, focusing on French-based American rider Lillian Pfluke (RSC Prum), who was forced to compete in a younger age category because of lack of participation in her own age group. This year, not only did her combined group of four get to keep their own category scored separately, but she was able to take her win. Pfluke was the only American to win at this year's championship, a great, long-awaited victory. Because the only American to win races in France, the United States will likely not see the Masters rainbow jersey this year on home cyclocross soil.
Henry Kramer (CalGiant Specialized), winner of last year's 55-59 age group, was unable to defend his title, taking seventh in his large field. American Thomas Hayles (ZG7908) was able to land on the podium in this race, placing third, and Steven Kinney (VC Lancy) also competed in this field, taking 25th. Brian Finnerty (California Giant Berry Farms/Specialized) was the fifth American present at Worlds, unable to finish in the 45-49 Men.
With six wins in the different categories, French riders took home the most victories across the categories. Representation in masters worlds' events are typically different than those found in the elite fields: the Northern European countries of Belgium and the Netherlands, while present, are not dominating in the masters categories. Great Britain distinguished itself this year in the "Masters Masters," (another way of saying that they could call everyone else Baby Masters). All five of their wins came in the 50+ age groups.
2015 Masters World Championship, 30-34 Women
| Rank | Bib | Birth | Name | Country | Team | Lap | Time | Gap (Lead) | Gap (Place) |
| --- | --- | --- | --- | --- | --- | --- | --- | --- | --- |
| 1 | 1004 | 1982 | WITTEK DASSONVILLE Celine | FRA | CV LIEVINOIS | 4 | 35:55,8 | - | - |
| 2 | 1001 | 1985 | BURATO Alna | FRA | AUBER93 | 4 | 37:32,2 | +1:36,3 | +1:36,3 |
| 3 | 1003 | 1983 | JOUBERT Laura | FRA | Univers Cycliste Vitry Frignic | 4 | 37:36,8 | +1:40,9 | +0:04,6 |
| 4 | 1002 | 1982 | ENDRES Kristin | GER | SSG Bensheim | 4 | 39:06,9 | +3:11,0 | +1:30,0 |
2015 Masters World Championship, 30-34 Men
| Rank | Bib | Birth | Name | Country | Team | Lap | Time | Gap (Lead) | Gap (Place) |
| --- | --- | --- | --- | --- | --- | --- | --- | --- | --- |
| 1 | 19 | 1982 | SZKOLNIK Michael | FRA | Girondins de Bordeaux | 6 | 49:08,7 | - | - |
| 2 | 6 | 1985 | CORMINBOEUF Yves | SUI | VC Payerne -Pro cycles -Scott | 6 | 49:23,8 | +0:15,0 | +0:15,0 |
| 3 | 15 | 1983 | GRAF Jürg | SUI | bskGraf-KOBA MTB Team | 6 | 49:31,5 | +0:22,7 | +0:07,7 |
| 4 | 12 | 1982 | MURI Adrian | SUI | vc sursee-creabeton | 6 | 50:38,1 | +1:29,3 | +1:06,6 |
| 5 | 3 | 1983 | DAVIDS Tom | NED | Cicli Basso Vicenza - Reasons | 6 | 51:23,8 | +2:15,0 | +0:45,6 |
| 6 | 7 | 1982 | NIEDERBERGER Joël | SUI | Stöckli Racing Team | 6 | 51:54,4 | +2:45,6 | +0:30,6 |
| 7 | 4 | 1981 | FRETZ Cyrille | FRA | MJC Buhl | 6 | 52:08,9 | +3:00,2 | +0:14,5 |
| 8 | 8 | 1981 | CAVAZZANA Christophe | FRA | ESSEYNOD | 6 | 52:54,6 | +3:45,8 | +0:45,6 |
| 9 | 17 | 1983 | GAUDIN Vincent | FRA | VC Essartais | 6 | 53:10,9 | +4:02,1 | +0:16,3 |
| 10 | 1 | 1981 | BELLETTI Davide | ITA | MX PROJECT | 6 | 53:18,7 | +4:09,9 | +0:07,7 |
| 11 | 9 | 1982 | LAVARDA Diego | ITA | VELOCE CLUB TORREBELVICINO 198 | 6 | 54:33,5 | +5:24,7 | +1:14,7 |
| 12 | 10 | 1984 | MÜLLER Martin | SUI | VC Steinmaur | 6 | 55:11,5 | +6:02,7 | +0:38,0 |
| 13 | 2 | 1984 | BARLOGGIO Damiano | SUI | Team Wittwer / VC Lugano | 6 | 55:30,4 | +6:21,6 | +0:18,9 |
| 14 | 16 | 1985 | LATTMANN Marcel | SUI | VC Hittnau / Haibike by Wolfcy | 6 | 56:15,2 | +7:06,4 | +0:44,7 |
| 15 | 5 | 1982 | CSER Gábor | HUN | Alpinbike Team Endura High5 Gi | 5 | 51:53,7 | -1 LAP | -1 LAP |
2015 Masters World Championship, 35-39 Women
| Rank | Bib | Birth | Name | Country | Team | Lap | Time | Gap (Lead) | Gap (Place) |
| --- | --- | --- | --- | --- | --- | --- | --- | --- | --- |
| 1 | 1102 | 1980 | LINDER Bridget | CAN | Hardcore Bikes | 4 | 43:42,5 | - | - |
2015 Masters World Championship, 35-39 Men
| Rank | Bib | Birth | Name | Country | Team | Lap | Time | Gap (Lead) | Gap (Place) |
| --- | --- | --- | --- | --- | --- | --- | --- | --- | --- |
| 1 | 122 | 1979 | PRIETO GONZALEZ Bruno | ESP | MMR BIKES | 6 | 47:38,5 | - | - |
| 2 | 119 | 1979 | WESTERGREN Jens | SWE | Falu CK/Allebike/B.O.R | 6 | 47:41,6 | +0:03,1 | +0:03,1 |
| 3 | 114 | 1979 | SPIESSER Laurent | FRA | VCU SCHWENHEIM | 6 | 49:29,9 | +1:51,4 | +1:48,2 |
| 4 | 120 | 1979 | DEL RICCIO Carmine | ITA | Sunshine Racers ASV Nals | 6 | 50:18,2 | +2:39,7 | +0:48,3 |
| 5 | 123 | 1980 | BAUMANN Sven | GER | Wolverine Racing / SRAM | 6 | 50:33,3 | +2:54,8 | +0:15,1 |
| 6 | 104 | 1976 | SCHMUTZ Roger | SUI | Die Gartenpflege Plus - VC Mei | 6 | 52:12,1 | +4:33,6 | +1:38,8 |
| 7 | 129 | 1979 | SCHAEFFLER Guillaume | FRA | CC SARREBOURG | 6 | 52:12,6 | +4:34,1 | +0:00,4 |
| 8 | 121 | 1978 | ROBERTS David | CAN | Hardcore Bikes | 6 | 54:20,1 | +6:41,6 | +2:07,4 |
| 9 | 117 | 1976 | BIENIASZ Miros?aw | POL | Elzat Regamet Bieniasz Bike Te | 6 | 55:10,5 | +7:32,0 | +0:50,4 |
| 10 | 116 | 1977 | BRANDENBERGER Frédéric | SUI | VccMorteau-Montbenoît | 6 | 55:20,2 | +7:41,7 | +0:09,6 |
| 11 | 118 | 1979 | CAVAZZANA Laurent | FRA | E.S.Seynod | 6 | 55:58,6 | +8:20,1 | +0:38,4 |
| 12 | 107 | 1980 | KRAAIJVANGER Peter | NED | Specialized Workforce | 6 | 56:22,3 | +8:43,8 | +0:23,6 |
| 13 | 103 | 1978 | JÓZKOWICZ Micha? | POL | KSR Koscierzyna | 6 | 56:26,7 | +8:48,2 | +0:04,4 |
| 14 | 113 | 1979 | SCHLEGEL Christoph | SUI | Imboden Bike Lauterbrunnen | 5 | 47:59,6 | -1 LAP | -1 LAP |
| 15. | 105 | 1980 | VAN VEELEN Mike | NED | Cicli Basso Vicenza - Reasons | 5 | 48:16,6 | -1 LAP | +0:16,9 |
| 16 | 124 | 1980 | ANTELME Olivier | FRA | ES SEYNOD | 5 | 49:11,7 | -1 LAP | +0:55,1 |
| 17 | 108 | 1977 | MENHORN Wolfgang | GER | Team Laura Lauingen e.V. | 5 | 49:34,7 | -1 LAP | +0:22,9 |
| 18 | 109 | 1979 | FORESTIER Claude-Alain | SUI | Montreux Rennaz Cyclisme | 5 | 50:12,5 | -1 LAP | +0:37,8 |
| 19 | 128 | 1977 | BÜHLER Berni | SUI | Team Raiffeisen Aadorf - Elgg | 5 | 52:22,9 | -1 LAP | +2:10,3 |
| 20 | 101 | 1978 | SPINNLER Simon | SUI | Bike Club Olten | 5 | 57:46,0 | -1 LAP | +5:23,0 |
| 21 | 112 | 1980 | MARSON Paul | FRA | SC BRIANCON | 5 | 58:23,7 | -1 LAP | +0:37,7 |
| 22 | 125 | 1979 | FUCHS Sebastian | GER | RSC Rheinbach | 4 | 57:26,1 | -2 LAP | -1 LAP |
| DNF | 110 | 1977 | MORF Beat | SUI | Chälbli Bikes Uster / VC-Hittn | 1 | DNF | DNF | DNF |
| DNF | 127 | 1979 | VAN EYNDT Sven | BEL | | 0 | DNF | DNF | DNF |
2015 Masters World Championship, 40-44 Women
| Rank | Bib | Birth | Name | Country | Team | Lap | Time | Gap (Lead) | Gap (Place) |
| --- | --- | --- | --- | --- | --- | --- | --- | --- | --- |
| 1 | 1205 | 1973 | PLEUß Manja | GER | RSV Bruchhausen-Vilsen | 4 | 38:33,6 | - | - |
| 2 | 1203 | 1973 | HEISE Alana | CAN | Terrascape Racing | 4 | 38:55,0 | +0:21,3 | +0:21,3 |
| 3 | 1204 | 1975 | HODÁ?OVÁ Jitka | CZE | SK Prima Poli?ka | 4 | 44:25,6 | +5:52,0 | +5:30,6 |
2015 Masters World Championship, 40-44 Men
| Rank | Bib | Birth | Name | Country | Team | Lap | Time | Gap (Lead) | Gap (Place) |
| --- | --- | --- | --- | --- | --- | --- | --- | --- | --- |
| 1 | 210 | 1973 | GENTHON Lionel | FRA | BOURG EN BRESSE AIN CYCLISME ( | 6 | 45:55,1 | - | - |
| 2 | 212 | 1974 | FOLCARELLI Massimo | ITA | Drake Team NWSport | 6 | 46:15,3 | +0:20,2 | +0:20,2 |
| 3 | 219 | 1973 | PRIETO GONZALEZ Marco | ESP | MMR BIKES | 6 | 46:54,8 | +0:59,7 | +0:39,5 |
| 4 | 203 | 1971 | DANOWSKI Stefan | GER | BERGAMONT Cyclocross Team | 6 | 47:12,8 | +1:17,7 | +0:18,0 |
| 5 | 214 | 1975 | MYNGHEER Johan | BEL | | 6 | 48:20,7 | +2:25,6 | +1:07,8 |
| 6 | 223 | 1972 | NERINCKX Stefan | BEL | Royal Cureghem Sportief | 6 | 48:29,9 | +2:34,8 | +0:09,2 |
| 7 | 208 | 1971 | SCHÄTTI Roland | SUI | velo-reichmuth.ch | 6 | 48:51,7 | +2:56,6 | +0:21,7 |
| 8 | 215 | 1974 | BRAMOULLE Gérard | FRA | V .C.CANTON DES PIEUX | 6 | 50:18,0 | +4:22,9 | +1:26,3 |
| 9 | 227 | 1973 | RIHA Vladimir | GER | VC Vegesack | 6 | 50:36,1 | +4:41,0 | +0:18,0 |
| 10 | 205 | 1971 | BRUENISHOLZ Rolf | SUI | Big Friends Bike & Snow | 6 | 51:16,1 | +5:21,0 | +0:40,0 |
| 11 | 209 | 1972 | KNOPF Stefan | GER | Radsport Rhein-Neckar | 6 | 51:34,6 | +5:39,5 | +0:18,5 |
| 12 | 213 | 1974 | VETS Jelle | BEL | ECW | 6 | 52:11,7 | +6:16,6 | +0:37,0 |
| 13 | 206 | 1971 | ŠPICAR Rudolf | CZE | Cube Cyklo spicar jilemnice | 6 | 52:54,0 | +6:58,9 | +0:42,2 |
| 14 | 211 | 1971 | NEILSON Jeffrey | CAN | Terrascape Racing | 6 | 53:19,5 | +7:24,4 | +0:25,5 |
| 15 | 222 | 1974 | HUYBRECHTS Jorgen | BEL | | 6 | 53:44,6 | +7:49,5 | +0:25,0 |
| 16 | 218 | 1974 | KRÁTKÝ Pavel | CZE | Sweep cycling | 6 | 54:16,3 | +8:21,2 | +0:31,7 |
| 17 | 217 | 1973 | LALONI Alberto | ITA | U.C. PETRIGNANO | 6 | 54:34,8 | +8:39,7 | +0:18,5 |
| 18 | 225 | 1975 | SABADEL Mike | FRA | Vélo Sprint du Grand Alès | 6 | 55:14,9 | +9:19,8 | +0:40,0 |
| 19 | 216 | 1971 | ALVES GUTIERREZ Jose | ESP | CENTENO C2C | 5 | 47:05,9 | -1 LAP | -1 LAP |
| 20 | 204 | 1973 | HAJDINJAK Dusan | SLO | Team Turbo Tropovci | 5 | 47:31,2 | -1 LAP | +0:25,2 |
| 21 | 226 | 1973 | MIODO?SKI Jaros?aw | POL | Elzat Regamet Bieniasz Bike Te | 5 | 48:09,8 | -1 LAP | +0:38,5 |
| 22 | 220 | 1972 | MINIATI Leonardo | ITA | ZHIRAF | 5 | 48:44,6 | -1 LAP | +0:34,8 |
| 23 | 202 | 1972 | JAQUET Michael | SUI | Cyclocross Romandie Suisse | 5 | 49:14,3 | -1 LAP | +0:29,7 |
| 24 | 228 | 1972 | SCHIWY Andreas | GER | Sportfreunde Puchheim | 5 | 49:20,9 | -1 LAP | +0:06,5 |
| 25 | 201 | 1974 | FUJITA Hirohiko | JPN | Roppo Racing | 5 | 53:29,0 | -1 LAP | +4:08,0 |
| 26 | 224 | 1972 | WENZEL Erick | CAN | Croix de fer | 4 | 52:26,3 | -2 LAP | -1 LAP |
| DNF | 207 | 1971 | GROSS Kurt | SUI | Big Friends / BSO | 3 | DNF | DNF | DNF |
2015 Masters World Championship, 45-49 Women
| Rank | Bib | Birth | Name | Country | Team | Lap | Time | Gap (Lead) | Gap (Place) |
| --- | --- | --- | --- | --- | --- | --- | --- | --- | --- |
| 1 | 1301 | 1970 | CSEH Veronika | HUN | Alpinbike Team Endura High5 Gi | 4 | 43:05,7 | - | - |
2015 Masters World Championship, 45-49 Men
| Rank | Bib | Birth | Name | Country | Team | Lap | Time | Gap (Lead) | Gap (Place) |
| --- | --- | --- | --- | --- | --- | --- | --- | --- | --- |
| 1 | 315 | 1970 | PAGNIER David | FRA | CC Villeneuve saint germain So | 6 | 43:40,4 | - | - |
| 2 | 319 | 1968 | BERNER Ralph | GER | VC Frankfurt 1883 | 6 | 44:09,7 | +0:29,3 | +0:29,3 |
| 3 | 311 | 1970 | GONZÁLEZ LUIS Cástor | ESP | MMR Bikes-Garaje Paco | 6 | 46:08,9 | +2:28,4 | +1:59,1 |
| 4 | 326 | 1969 | CARRER Luigi | ITA | ASD TEAM EUROBIKE | 6 | 46:35,5 | +2:55,0 | +0:26,6 |
| 5 | 303 | 1968 | GARNIER Laurent | SUI | Cyclocross Romandie Suisse | 6 | 47:20,3 | +3:39,8 | +0:44,7 |
| 6 | 321 | 1967 | PANZARINI Gianni | ITA | Drake Team NWSport | 6 | 47:58,9 | +4:18,4 | +0:38,5 |
| 7 | 329 | 1970 | MÜLLER Mike | GER | RSV Rheinstolz Wyhl | 6 | 48:01,2 | +4:20,7 | +0:02,3 |
| 8 | 308 | 1970 | MÅRD Hans | SWE | Cykloteket racing team | 6 | 48:02,1 | +4:21,6 | +0:00,8 |
| 9 | 302 | 1966 | TRIEBEL Pascal | LUX | UC.Munnerefer Velosfreen | 6 | 48:22,0 | +4:41,5 | +0:19,9 |
| 10 | 323 | 1966 | DUCRET Pascal | FRA | aspttnacy | 6 | 49:26,5 | +5:46,0 | +1:04,4 |
| 11 | 327 | 1969 | PERINI Paolo | ITA | S.C.ALTAIR | 6 | 49:34,5 | +5:54,0 | +0:07,9 |
| 12 | 309 | 1966 | ROLLAND Christian | FRA | SC BRIANCON | 6 | 50:51,8 | +7:11,3 | +1:17,2 |
| 13 | 305 | 1966 | SCHERTENLEIB Bruno | SUI | VC Steinmauer / Radsport Wyser | 6 | 51:06,4 | +7:25,9 | +0:14,6 |
| 14 | 312 | 1966 | PIETRE David | FRA | VC MONCTEAU | 6 | 51:35,8 | +7:55,3 | +0:29,3 |
| 15 | 318 | 1967 | KURET Iztok | SLO | KD ALPE | 6 | 51:40,2 | +7:59,7 | +0:04,4 |
| 16 | 301 | 1968 | PAULIN Andre | SUI | TREK Bicycle / G.Manna | 6 | 51:41,5 | +8:01,0 | +0:01,3 |
| 17 | 310 | 1969 | HUBER Christophe | FRA | | 5 | 44:02,7 | -1 LAP | -1 LAP |
| 18. | 316 | 1970 | CAULIER Christophe | FRA | T.C.N | 5 | 44:42,4 | -1 LAP | +0:39,6 |
| 19 | 320 | 1967 | TIMM Hans-Jörg | GER | HRV Hamburg | 5 | 47:14,9 | -1 LAP | +2:32,4 |
| 20 | 314 | 1967 | ZIVKOVIC Zoran | SRB | Cyclemania Kragujevac | 5 | 49:37,4 | -1 LAP | +2:22,5 |
| 21 | 330 | 1970 | PULSTER Christoph | GER | RF Nuernberg e.V. | 5 | 50:23,4 | -1 LAP | +0:46,0 |
| DNF | 304 | 1970 | FINNERTY Brian | USA | California Giant Berry Farms/S | 4 | DNF | DNF | DNF |
| DNF | 322 | 1968 | BELLEVILLE Laurent | FRA | ES SEYNOD | 1 | DNF | DNF | DNF |
| DNF | 325 | 1968 | FERRUZZI Fabrizio | ITA | ZHIRAF | 0 | DNF | DNF | DNF |
2015 Masters World Championship, 50-54 Women
| Rank | Bib | Birth | Name | Country | Team | Lap | Time | Gap (Lead) | Gap (Place) |
| --- | --- | --- | --- | --- | --- | --- | --- | --- | --- |
| 1 | 1401 | 1964 | TERRIEN Martine | FRA | AS ST HILAIRE DE RIEZ CYCLISME | 3 | 35:08,7 | - | - |
2015 Masters World Championship, 50-54 Men
| Rank | Bib | Birth | Name | Country | Team | Lap | Time | Gap (Lead) | Gap (Place) |
| --- | --- | --- | --- | --- | --- | --- | --- | --- | --- |
| 1 | 423 | 1962 | ROACH Philip | GBR | Team Jewson / M.I Racing / Pol | 6 | 44:09,2 | - | - |
| 2 | 419 | 1965 | VERHAEGEN Guido | BEL | CYBER 12 | 6 | 44:18,9 | +0:09,6 | +0:09,6 |
| 3 | 428 | 1965 | WUYTS Hans | BEL | Rock Werchter Toekomstvrienden | 6 | 44:22,5 | +0:13,2 | +0:03,5 |
| 4 | 409 | 1964 | LASTOWSKY Matthias | GER | RC Wendelstein / Gunsha Racing | 6 | 45:49,7 | +1:40,4 | +1:27,1 |
| 5 | 415 | 1964 | HONEGGER Roger | SUI | RTU Powerteam Felt / VMC Hombr | 6 | 46:14,3 | +2:05,0 | +0:24,6 |
| 6 | 421 | 1963 | RAIBLE Armin | GER | Blau Weiß Buchholz / PERSONAL | 6 | 46:27,0 | +2:17,7 | +0:12,7 |
| 7 | 422 | 1965 | MERTENS Dirk | BEL | ENTENTE CYCLISTE DE WALLONIE | 6 | 46:42,8 | +2:33,5 | +0:15,7 |
| 8 | 427 | 1963 | SCHMID Carlo | SUI | Zürich-Affoltern | 6 | 47:15,4 | +3:06,1 | +0:32,6 |
| 9 | 430 | 1963 | LOIZEAU Stéphane | FRA | ASPTT RENNES | 6 | 47:57,4 | +3:48,1 | +0:42,0 |
| 10 | 401 | 1964 | BALLAT Anton | SUI | V C Steinmaur | 6 | 48:00,1 | +3:50,8 | +0:02,6 |
| 11 | 402 | 1965 | HIRS Dany | SUI | Felt-Sram-Zipp-Team / VC Gippi | 6 | 48:01,8 | +3:52,5 | +0:01,7 |
| 12 | 426 | 1965 | CHEVRIN Eric | FRA | CC SARREBOURG | 6 | 48:21,8 | +4:12,5 | +0:19,9 |
| 13 | 412 | 1964 | SCHMIDT Hans-Peter | GER | RV Blitz Oberbexbach | 6 | 48:55,2 | +4:45,9 | +0:33,4 |
| 14 | 425 | 1965 | FRAIEGARI Massimiliano | ITA | ASD FIORMONTI TEAM | 6 | 49:11,5 | +5:02,2 | +0:16,3 |
| 15 | 433 | 1964 | BALAK Pavel | CZE | Moravec Team | 6 | 49:22,3 | +5:13,0 | +0:10,8 |
| 16 | 434 | 1963 | BALAK Leos | CZE | Moravec Team | 6 | 50:36,6 | +6:27,3 | +1:14,2 |
| 17 | 438 | 1963 | POTET Jean Yves | FRA | cycle amical civraisien | 6 | 50:46,5 | +6:37,2 | +0:09,8 |
| 18 | 437 | 1963 | RISTAU Rene | GER | RC Kleinmachnow/Crossmasters c | 6 | 51:16,8 | +7:07,5 | +0:30,2 |
| 19 | 417 | 1964 | PREISINGER Georg | GER | Gunsha Racingteam | 6 | 51:49,1 | +7:39,8 | +0:32,2 |
| 20 | 420 | 1962 | ROGER Roger | FRA | | 6 | 53:10,5 | +9:01,2 | +1:21,3 |
| 21 | 406 | 1964 | MÜLLER Gabriel | GER | RSV Rheinstolz Wyhl | 5 | 44:42,4 | -1 LAP | -1 LAP |
| 22. | 411 | 1964 | RUF Werner | GER | Radteam Aichach 2000 | 5 | 44:54,1 | -1 LAP | +0:11,6 |
| 23 | 416 | 1962 | BUSBY Peter | GBR | Team Jewson MI Racing | 5 | 45:03,3 | -1 LAP | +0:09,2 |
| 24 | 407 | 1965 | GRÜNWALD Robert | GER | RC Kaufbeuren | 5 | 45:36,9 | -1 LAP | +0:33,6 |
| 25 | 436 | 1962 | ZEISEWEIS Ralf | GER | RSV Bruchhausen-Vilsen | 5 | 46:56,0 | -1 LAP | +1:19,0 |
| 26 | 404 | 1962 | STÖHR Walter | GER | TV Dorf-Erbach | 5 | 47:10,4 | -1 LAP | +0:14,3 |
| 27 | 432 | 1962 | DE MOOR Marco | NED | DRV de zwaluwen | 5 | 47:23,8 | -1 LAP | +0:13,4 |
| 28 | 414 | 1963 | FUNK Walter | GER | TSG Leutkirch | 5 | 49:02,0 | -1 LAP | +1:38,1 |
| 29 | 403 | 1963 | LIEBEMANN Karl-Heinz | GER | RSV Stuttgart-Vaihingen | 5 | 49:57,6 | -1 LAP | +0:55,6 |
| 30 | 431 | 1961 | PRUDIL Jiri | CZE | SK PRIMA POLICKA CZECH REPUBLI | 5 | 51:42,6 | -1 LAP | +1:44,9 |
| DNF | 429 | 1965 | ALONSO VILLARON Daniel | ESP | MMR BIKES | 1 | DNF | DNF | DNF |
| DNF | 408 | 1963 | WEPPNER Thomas | GER | Rockefeller Cyclocross Team | 0 | DNF | DNF | DNF |
2015 Masters World Championship, 55-59 Women
| Rank | Bib | Birth | Name | Country | Team | Lap | Time | Gap (Lead) | Gap (Place) |
| --- | --- | --- | --- | --- | --- | --- | --- | --- | --- |
| 1 | 1504 | 1959 | PFLUKE Lillian | USA | RSC Prum | 3 | 31:34,4 | - | - |
| 2 | 1503 | 1960 | PIZZOLOTTO Lucia | ITA | S.C.D.DOPLA TREVISO | 3 | 32:11,4 | +0:36,9 | +0:36,9 |
| 3 | 1501 | 1959 | BÖRJESSON Carina | SWE | Trek Sweden Racing/ Åstorps CK | 3 | 35:30,1 | +3:55,7 | +3:18,7 |
| 4 | 1505 | 1959 | ERMOULT Arlette | FRA | LES BLEUS DE FRANCE | 3 | 37:19,0 | +5:44,6 | +1:48,8 |
2015 Masters World Championship, 55-59 Men
| Rank | Bib | Birth | Name | Country | Team | Lap | Time | Gap (Lead) | Gap (Place) |
| --- | --- | --- | --- | --- | --- | --- | --- | --- | --- |
| 1 | 522 | 1960 | DAVIES Steven | GBR | Hargroves cycles | 5 | 39:05,5 | - | - |
| 2 | 517 | 1960 | VERLOO Mark | BEL | Toekomstvrienden | 5 | 39:38,0 | +0:32,4 | +0:32,4 |
| 3 | 521 | 1958 | HAYLES Thomas | USA | ZG7908 | 5 | 41:12,7 | +2:07,2 | +1:34,7 |
| 4 | 503 | 1960 | ERDMANN Lars | GER | RV Germania Hamburg | 5 | 41:20,9 | +2:15,4 | +0:08,1 |
| 5 | 507 | 1956 | ANDERSSON Benny | SWE | Trek Sweden Racing/Åstorps CK | 5 | 41:34,0 | +2:28,5 | +0:13,1 |
| 6 | 516 | 1957 | LAMETTE Denis | FRA | LES BLEUS DE FRANCE | 5 | 43:36,3 | +4:30,8 | +2:02,2 |
| 7 | 509 | 1956 | KRAMER Henry | USA | CalGiant Specialized | 5 | 43:47,1 | +4:41,6 | +0:10,8 |
| 8 | 501 | 1958 | GENET Daniel | SUI | Cyclocross Romandie Suisse | 5 | 43:53,5 | +4:48,0 | +0:06,3 |
| 9 | 529 | 1960 | BARTOLEWSKI Wojciech | POL | CTC SCOUT | 5 | 44:19,1 | +5:13,6 | +0:25,6 |
| 10 | 524 | 1960 | EYQUARD Dominique | FRA | | 5 | 44:50,9 | +5:45,4 | +0:31,7 |
| 11 | 502 | 1957 | CHABBEY Jean-Marc | SUI | Montreux Rennaz cyclisme | 5 | 45:14,3 | +6:08,8 | +0:23,4 |
| 12 | 513 | 1960 | WIDMER Andy | SUI | bskGraf-Rollmat MTB Team | 5 | 45:42,7 | +6:37,2 | +0:28,3 |
| 13 | 520 | 1959 | BATTISTELLI Carlo | ITA | U.C. PETRIGNANO | 5 | 46:32,4 | +7:26,9 | +0:49,6 |
| 14 | 519 | 1958 | SEDLÁ?EK Ji?í | CZE | S.K.Ji?í Team | 5 | 46:37,1 | +7:31,6 | +0:04,7 |
| 15 | 514 | 1958 | GRAF Urs | SUI | bsk Graf RV Altenrhein | 5 | 46:44,0 | +7:38,4 | +0:06,8 |
| 16 | 526 | 1959 | RÜBLING , DR. Uwe | GER | Dresdner SC 1898 e.V. | 5 | 48:23,5 | +9:17,9 | +1:39,4 |
| 17 | 512 | 1957 | BERSET Guy | SUI | Montreux-Rennaz Cyclisme | 4 | 39:23,2 | -1 LAP | -1 LAP |
| 18 | 505 | 1960 | KOLLROSS Andreas | GER | RV Pfeil Magstadt | 4 | 39:36,2 | -1 LAP | +0:12,9 |
| 19 | 508 | 1957 | BAUMANN Christian | SUI | Triathlon Team Oensingen | 4 | 39:55,3 | -1 LAP | +0:19,1 |
| 20 | 515 | 1959 | ZWILCHER Franz | GER | VC 1883 Mindelheim | 4 | 40:12,9 | -1 LAP | +0:17,6 |
| 21 | 506 | 1960 | OIRSCHOT VAN Frank | NED | Team Brabant 2000 | 4 | 40:28,7 | -1 LAP | +0:15,7 |
| 22 | 528 | 1956 | VALENTINI Marco | ITA | | 4 | 40:49,8 | -1 LAP | +0:21,1 |
| 23 | 523 | 1957 | CHIERUZZI Sandro | ITA | gs avis mtb amelia | 4 | 41:43,2 | -1 LAP | +0:53,3 |
| 24 | 504 | 1959 | BOLLIGER Urs | SUI | VC Volketswil | 4 | 42:46,7 | -1 LAP | +1:03,5 |
| 25 | 518 | 1956 | KINNEY Steven | USA | VC Lancy | 4 | 43:38,0 | -1 LAP | +0:51,2 |
| 26 | 511 | 1960 | ELSENER Hans | SUI | RV Altenrhein/bischibikes-kopi | 4 | 47:46,0 | -1 LAP | +4:08,0 |
2015 Masters World Championship, 60-64 Men
| Rank | Bib | Birth | Name | Country | Team | Lap | Time | Gap (Lead) | Gap (Place) |
| --- | --- | --- | --- | --- | --- | --- | --- | --- | --- |
| 1 | 605 | 1951 | MCMULLEN David | GBR | Cotswold Veldrijden | 5 | 42:26,8 | - | - |
| 2 | 604 | 1954 | HUNT Roy | GBR | colnago bbb morganblue | 5 | 42:47,3 | +0:20,4 | +0:20,4 |
| 3 | 611 | 1955 | PERRET Daniel | FRA | Saint Denis Cyclisme | 5 | 43:00,1 | +0:33,3 | +0:12,8 |
| 4 | 616 | 1951 | GRAF Paul | SUI | bskGraf MTB Team | 5 | 45:35,9 | +3:09,0 | +2:35,7 |
| 5 | 614 | 1954 | ROBERTS Andrew | GBR | Cotswold Veldrijden | 5 | 46:25,2 | +3:58,4 | +0:49,3 |
| 6 | 613 | 1955 | BRUSCH Lubomír | CZE | SWEEP Chomutov | 5 | 47:12,3 | +4:45,5 | +0:47,1 |
| 7 | 607 | 1955 | BURZI Massimo | ITA | Cicli Taddei | 5 | 47:36,9 | +5:10,1 | +0:24,5 |
| 8 | 615 | 1952 | COCCI Marcel | FRA | velo club spiripontain | 4 | 38:42,1 | -1 LAP | -1 LAP |
| 9 | 608 | 1952 | FLOURET Rémi | FRA | VC MONT-AIGOUAL PAYS VIGANAIS | 4 | 39:33,4 | -1 LAP | +0:51,2 |
| 10 | 618 | 1954 | MIERSCH Wolfgang | GER | Dresdner SC 1898 e.V. | 4 | 39:44,0 | -1 LAP | +0:10,6 |
| 11 | 612 | 1955 | CAPLAN Jean Marc | FRA | UC CHATEAUROUX LABOIRATOIRE FE | 4 | 39:49,5 | -1 LAP | +0:05,4 |
| 12 | 609 | 1952 | HAERING Roland | SUI | VC Wohlen/Radquerteam Häring | 4 | 40:01,3 | -1 LAP | +0:11,8 |
| 13 | 617 | 1955 | COURTEILLE Patrick | FRA | vc ferte mace | 4 | 42:52,1 | -1 LAP | +2:50,7 |
| 14 | 601 | 1954 | HUGUELET Roland | SUI | Cyclocross Romandie Suisse | 4 | 43:26,8 | -1 LAP | +0:34,6 |
| 15 | 610 | 1954 | HAMILTON David | GBR | Unit 6 Crossfit | 4 | 44:27,4 | -1 LAP | +1:00,6 |
| 16 | 606 | 1953 | SCHNEIDER Felix | SUI | VC Volketswil/bischibikes-kopi | 4 | 45:45,1 | -1 LAP | +1:17,7 |
| 17 | 603 | 1953 | PROBST Bruno | SUI | VMC Aarwangen / Tri Team Oensi | 4 | 49:35,7 | -1 LAP | +3:50,6 |
| 18 | 602 | 1951 | CANTILLO Carmelo | SUI | velo club ac broye Lucens | 4 | 50:32,6 | -1 LAP | +0:56,8 |
2015 Masters World Championship, 65-69 Men
| Rank | Bib | Birth | Name | Country | Team | Lap | Time | Gap (Lead) | Gap (Place) |
| --- | --- | --- | --- | --- | --- | --- | --- | --- | --- |
| 1 | 708 | 1949 | GALISSAIRE Jean Bernard | FRA | A.V.C. Libourne | 3 | 26:44,9 | - | - |
| 2 | 705 | 1950 | LONGAUER Ladislav | SVK | CK Banská Bystrica | 3 | 27:12,6 | +0:27,6 | +0:27,6 |
| 3 | 702 | 1947 | MERTENS Francois | BEL | entente cycliste de wallonie | 3 | 28:28,6 | +1:43,7 | +1:16,0 |
| 4 | 707 | 1950 | BRULON Guy | FRA | Vélo Tourisme Tranzault | 3 | 30:00,5 | +3:15,6 | +1:31,8 |
| 5 | 706 | 1948 | MOONEY Peter | GBR | Rugby Velo | 3 | 30:44,6 | +3:59,6 | +0:44,0 |
| 6 | 701 | 1950 | KUPPER Heinz | GER | RIG Freiburg | 3 | 31:26,5 | +4:41,5 | +0:41,8 |
| 7 | 704 | 1947 | BENOIST Daniel | FRA | uc landellaise | 3 | 36:04,4 | +9:19,4 | +4:37,8 |
2015 Masters World Championship, 70-74 Men
| Rank | Bib | Birth | Name | Country | Team | Lap | Time | Gap (Lead) | Gap (Place) |
| --- | --- | --- | --- | --- | --- | --- | --- | --- | --- |
| 1 | 802 | 1945 | BARNETT Victor | GBR | welland valley cc | 3 | 28:31,0 | - | - |
| 2 | 803 | 1944 | MEURIOT Jean-Marie | FRA | Union Sportive Pétruvienne Cyc | 3 | 32:13,0 | +3:42,0 | +3:42,0 |
| 3 | 805 | 1942 | GINLEY John | GBR | Condor RC | 3 | 32:21,8 | +3:50,8 | +0:08,8 |
| 4 | 804 | 1942 | KERHERVE Gérard | FRA | Union Sportive Pétruvienne Cyc | 3 | 37:08,5 | +8:37,5 | +4:46,7 |
| 5 | 801 | 1944 | FIVIAN Herbert | SUI | RC Olympia Biel - Team Merida | 3 | 38:50,5 | +10:19,5 | +1:41,9 |
2015 Masters World Championship, 75+ Men
| Rank | Bib | Birth | Name | Country | Team | Lap | Time | Gap (Lead) | Gap (Place) |
| --- | --- | --- | --- | --- | --- | --- | --- | --- | --- |
| 1 | 901 | 1939 | IVES Michael | GBR | TEAM JEWSON MI RACING | 2 | 28:42,4 | - | - |