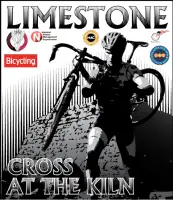 PHILADELPHIA, PENNSYLVANIA — Kris Auer and Andy Taus, seasoned UCI promoters, have conceived of two new races that are destined to become part of MAC Series lore and mark the finale of the 2011 MAC Series:  Geler Votre Cul Cyclocross and Limestone 'Cross at the Kiln.
Heading into the final two races, Andrew "Bad Andy" Wulfkuhle (C3 Athletes Serving Athletes) leads the Elite Men's category and Maurice Gamanho (Van Dessel Factory Team) is on the verge of making MAC history by joining the select group of racers to win the Elite 35+ category.
Only 75 points separate first place Stacey Barbosa (Elite Endurance Training Systems) and fifth place Laura Van Gilder (C3 p/b Mellow Mushroom) in the Elite Women's competition. Wedged snuggly between first and fifth are Kristin Gavin (Team CF), Patty Buerkle (VA Asset Group p/b Artemis-Trek), and Arley Kemmerer (C3 Athletes Serving Athletes), all of whom threaten Barbosa's lead.
Geler Votre Cul:
Saturday, December 10, the Fair Hill Park Fairground, a familiar venue to mid-Atlantic 'cross and mountain bike racers, hosts Geler Votre Cul, round 13 of the series.  Event sponsors C3 Athletes Serving Athletes and Secret Henry's Team promise a new twist on a course familiar to many MAC racers.
The promoters promise, "New technical features and virgin land.  Of course there will be single track and a trip through the barns."  Rumors have circulated about rings of fire and log jumps on the course. Only the log jumps have been confirmed.
The non-Francophone may puzzle over the event's name, but the race promoters nailed the spirit of 'cross when they picked this moniker. Roughly translated, it suggests the freezing of one's rump. And who's rump hasn't frozen during a 'cross race?
Race #13 of the series, conceived and organized by the same folks who brought Charm City 'Cross, Granogue 'Cross, and FSVS XCross to the 'cross-crazy MAC, offers a killer combination of practical experience and profound wisdom. Twenty 20 Cycling, Henry's Bikes, Wooden Wheels, Bikeline of Wilmington, and the Not-For-Profit Velo Amis combined forces to put on this race ensures a challenging, creative course.
Judging from the course map, it appears that a bit of double track has also been added. Perhaps the transition area will be the ring of fire?  Best to wear one's flame-retardant skin suit.
Bon Chance, mes amis.
Limestone Cross at the Kiln:
The Limestone 'Cross at the Kiln , the 14th and final round of this year's MAC series, arrives the following day and also serves as the Atlantic Regional Championships.  As with Geler de Votre Cul Cyclocross, Limestone 'Cross at the Kiln boasts a lot of behind- the-scenes 'cross experience.
Promoter Andy Taus and course designer Michael Yozell, the masterminds behind Nittany Cross, have dreamed up another winner.   Those who braved this race's debut in January 2011 will recall the snow and frigid temps that turned Allentown into Anchorage and made a twisting, turning, hill-atious course even more treacherous.
Although the promoters lack the power to control the weather, this year riders will be reminded of summer as each lap forces them to traverse a sand section and a creek three times. Perhaps skinsuits should be traded for swimsuits?
It's fitting that the MAC series end with two new races designed by Series veterans. Taus and Yozell rallied Bicycling Magazine, South Mountain Cycles, Gotham Cyclists, N.E.M.O., Inc., and Kaeplmuur Independent to lend a hand and present this race.   The accumulated passion and knowledge of cross in this group guarantees an excellent event.
It seems like a lifetime ago that racers trudged through the sea of mud at Nittany Cross, the MAC opener in September.  'Cross season has come and gone in the Mid-Atlantic.  Don't miss out on the end of the final races of the season.