When Litespeed designer Brad DeVaney walked the new T5g model over to a common area to help us with photographs, he instinctively began perfecting each detail: the rim decals needing to be aligned, the chain moved into the larger gear, and every blemish on the frame cleaned.
DeVaney clearly understands giving attention to the little things, as well as appealing to the market of riders who want a bicycle that is half a mode of transportation, half a piece of art.
If the owners of Litespeed's T5g are anything like the same riders who have the T5 road model, they might find themselves cleaning their T5g bikes a little more often. For this model, Litespeed decided to take on the challenge of creating a performance adventure bike.
When  DeVaney used the words "Gravel Bike," he was quick to add that the T5g was far from the touring geometry typically associated with adventure bikes. He began with Litespeed's performance road geometry in mind, and then began making accommodations for the needs of gravel races.
While the rear stays are obviously longer than a road bike, with a tire clearance at 700 x 43c, the front end is a much tighter design than a touring or cyclocross model.
The bottom bracket is also much lower than anything you'll generally see on a cyclocross course. As  DeVaney said, "It's a model where a rider will have a head down in the drops while expecting long days in the saddle."
The wheels are another unique feature: Stan's NoTubes ZTR Grail, which are also designed with performance adventure races in mind. They have a thru-axle, and are build for an 11-speed drivetrain, features  DeVaney called necessities for his build.
Litespeed calls the T5g a bike you can do everything on: race road and even cross, although the model is not specifically designed for the latter. The T5g is available now at local Litespeed dealers, with a frame price at $2,200.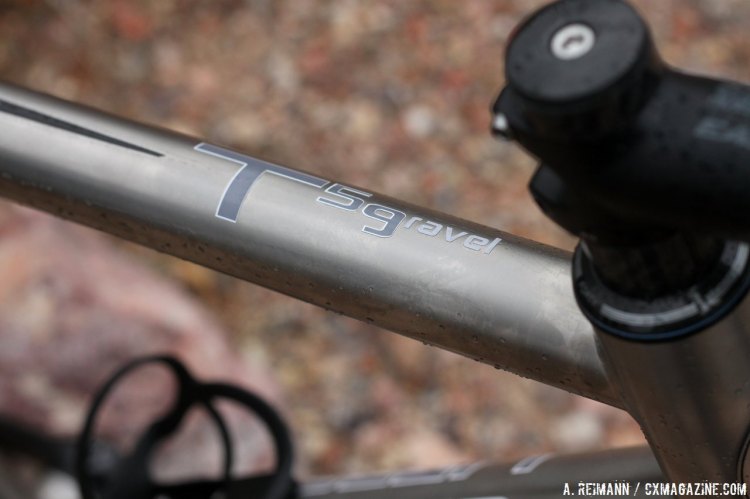 The g is for gravel in Litespeed's T5g. © Cyclocross Magazine