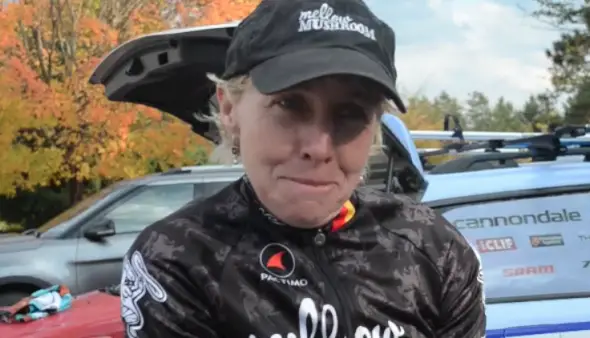 Laura Van Gilder has been having a great cyclocross season, though by all accounts she should be tired after such a  stellar road one leading up to it. Still, Van Gilder took a Nittany win and then doubled up at Rochester with back to back wins at Ellison Park. And after chatting with her, it looks like she and her new Mellow Mushroom/Van Dessel team are going to be going strong for the rest of the season as well. We checked in to find out how the race played out on Saturday, and how she was enjoying her new Aloominator bike from Van Dessel.
On her new kit… It's the Van Dessel and Mellow Mushroom kit combined!
On her new bike… I love it. It's so responsive, it's just really sort of intuitive. It works for a lot of different courses. I'm totally thrilled to be on this bike.
On the race… This is my first time. It's conflicted for me in the past so I was excited to come. I knew it was a climbier course than other stuff we do. On the pre-ride, I realized it was quite a bit of climbing! It made me nervous, to be honest with you. I knew it was going to be a little about being consistent and remembering it's a long race. The officials said five or six laps, so…
On four laps to go… I told myself to take a calming breath and settle in for more racing. It became more about what I was going to do to maximize my finish. I wasn't going to tear it up for those final four laps, I wanted to pick and choose my moments.
On the course… There were some technical sections, there were some climb-y sections, and Emma White was with Mo Bruno Roy and I for most of it. Then Emma came off, she might have had a tiny mistake that created a gap and it grew, but she was having a fantastic ride. So then it was about Mo and I. I made a mistake with two to go at a corner, and that gave Mo a gap on the descent, which was good for her since she was descending very well, and I conservatively closed it quickly. Then we saw one to go. I was feeling it at that point! I led that final lap and I chose the place I was going to make my move, prior to the hill, so I could get that corner and be conservative if I needed to, and not be put on the ropes. She closed the gap a bit on the barriers, though! It was a good course, great spectator venue. It would be a different race in the rain though.
On the race… I think they did a great job and I think it's worth people making the trip to Rochester
On the field… It's a more open race. People did a lot of racing and traveling, and now they're saving for the C1s later. I don't think they should discount it though. It's still worth it. But when you have all these back-to-back big weekends, you do need to take some time off. But it was still a really competitive race.
On a weekend off… Last weekend I took the weekend off. I did race locally. You can't get me away from bike racing sometimes! It's hard to find that weekend off. They need us there, they're putting on a good event, they're putting out good money, so you need to show up.
Watch the full interview here: