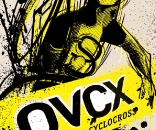 CINCINATTI, OHIO —  Kentucky's Rob Kendall is the new Elite Men's Champion of the Zipp OVCX Cyclocross Tour presented by Papa John's while Andy Messer's late season charge and final race victory has netted him the Elite Masters 35+ crown.  Mitch Kersting bested a 46 rider Elite field at Saturday's Kings CX in Cincinnati to take his fourth Zipp OVCX Tour victory of the year.  But it wasn't enough to overcome the narrow points lead that Kendall, his Bob's Red Mill teammate, had established with consistent top finishes throughout the 2011 season.  Ironically, the top three Elite Men's finishers finished the race in inverse order of their final points standings.  Kendall's third place finish was good enough to secure the season championship and Kersting's win moved him past Shawn Adams (CycleSmart) for third in the final standings.
Finishing between the two Bob's Red Mill riders, both for the day and for the season, was 17 year-old Luke Haley of Louisville's powerful Red Zone Junior Cycling Team.  Haley first came to national prominence this summer as one of 15 riders selected for Geoff Proctor's cyclocross camp in July.  His decision to compete in the faster Elite Men's field rather than the Juniors this season paid dividends with a consistent presence at the front of the field and a runner-up placing in the prestigious Zipp OVCX presented by Papa John's season championship.  Though he didn't win a race or the season championship, Haley served notice that he is a force that will have to be reckoned with for the foreseeable future.
While Luke Haley had a standout year, the same could also be said for the rest of his Red Zone Junior Cycling teammates, who captured no fewer than three season championships.  Katherine Santos and Nick Dietrich swept the Elite U19 Women's and Men's Titles, respectively, while Emily Falk captured the Women's 15-18 development division.  Other Junior champions were Spencer Petrov (Lionhearts) in the Men's 15-18, Alex Christian (Lionhearts) in the Boys 13-14, Francis Haley in the Girls 13-14, Will Bobrow (Papa John's Racing Team) in the Boy's 10-12 and Sydney Lach (Zephyr Wheels/Cycle Sport) in the Girls 10-12.
Indiana's Andy Messer (DRT Racing) completed a dramatic come-from-behind charge to win the Tour's Elite Masters Men 35+ season championship.  As late as Halloween weekend, Messer barely registered in the top ten.  But five victories in the Zipp OVCX Tour's final six races, including the season finale at Cincinnati's Kings CX, took him past all competitors.  Kentucky's Brian Schworm (Pedal Power Cycling) and Indiana's Micah Fritzinger (Schellers Fitness & Cycling) battled throughout the season with Schworm taking the second step on the season podium by a scant 6 points.  Messer's Bloomington, Indiana neighbor Frederick Rose (BikeReg.com) was the highest-placing 45+ rider at every race on the Zipp OVCX Tour this year to dominate the Elite Masters 45+ standings.
With Niki Dallaire having already clinched a perfect score and her second consecutive Zipp OVCX Elite Women's Title two weeks prior, the primary focus of the Women's racing at Kings CX was on the Women's Elite Masters 35+ Championship.  Taking advantage of Dallaire's absence in Ohio was hometown hero Gerry Schulze who won the Elite Women's race outright for the second time this year to cement the season title ahead of her Bio-Wheels/Reece-Campbell Construction teammate Malissa Petrov.  Other Women's Zipp OVCX Tour season champions were: Cooper Ambjorn (Team CNC) in Category 3, Lindsay Rodkey (Velo Bella) in Category 4 and Karin Reed (Secret Cycling) in Category 4 Masters.
Michael Jernigan (Justin's Nut Butter) and Chad Needham (Main Street Velo) stood atop the season podium in Men's Category 3 and Category 3 Masters 35+, respectively, while Lou Beckmeyer (UBS/7Hills Racing) took the Cat. 3 45+ title by a paper thin margin of just two points ahead of Bryan Horton (Rogue Racing Project).
In Men's Category 4 action, Season Championships were snared by Ryan Hubbs of the Speedway Wheelmen (Open), Clarksville Schwinn Racing's Doug Voss (35+) and Century 21's John Wischmeier (45+).  Luke Woodard, representing Trek Store Cincinnati, won six races en route to the Zipp OVCX Open Single Speed Championship.
Overall, the Zipp OVCX Tour continued to grow as an average of 109 Cat. 4's and 37 Juniors competed in each race, more than the Tour's total average entry across all classes as recently as 2006.  In 2011, the Zipp OVCX Tour presented by Papa John's also became one of the most technologically advanced cyclocross series in the world.  Mandatory chip timing for all classes at all races yielded results in which riders could compare their relative position and lap times for every lap against those of other riders in any class.  At the season-ending Kings CX, even the heckling went digital.  Full standings and lap times for every rider are available online at www.OVCX.com.  In the realm of mechanical technology, this year's Zipp OVCX Tour pioneered the Zipp Athletes of the Week program in which selected amateur riders received the opportunity to use world class wheel technology from Zipp Speed Weaponry absolutely free.  Never a series to rest on its laurels, plans for next year's Zipp OVCX Tour are already in progress with a likely increase in the number of races as one of America's most prestigious cyclocross series looks to raise the bar even further.