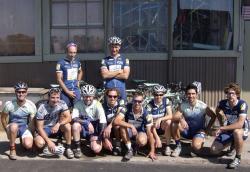 Although Sarah Kerlin was already seen ripping the Elite Women's race in Seattle last wekend in the HRS / Rocklobster colors, they team has just annonced their final, official roster for this season:
by Brent Chapman
HRS/Rock Lobster 2008-2009 Cyclocross Team Announced
Team HRS/Rock Lobster enters its fifth season with the goals of continuing to dominate San Francisco and Nor-Cal cyclocross races and will also be sending some elite members to select U.C.I. events and Cross Nationals thanks to a continued title sponsorship with HResource Solutions of Santa Cruz California and factory support by Rocklobster Cycles.
Last season the team tallied over 20 victories and nearly 100 podium places,  swept the podium for the NCNCA cup, and a podium spot at Lebbeke Kleicross Belgium.
For 2008 with 35 riders including Elite and new up'n coming racers in 2 states, the team is one of the most formidable west of the rockies and is locked and loaded for a full-frontal assault on 'cross.
More info and updates available at http://teamrockblogster.blogspot.com
Sponsors:
HResource Solutions, Rock Lobster cycles, Jeff Traugott guitars, Value Outsourcing, Mavic sports, Easton-Bell sports, Chris King, Paul Component Engineering, Challenge tires, Ristorante Avanti, and Blackburn .
Racers:
Elite Team:  Stella Carey, Sarah Kerlin, Ben Popper, Aaron Odell, Aaron Kereluk, David Wyandt, Joshua Snead.
Elite Masters: Max Clifford, Tim Watson, Matt Jordan, Evan Adams, Sean Coffey, Brett Lambert, Steve Gile, Frank Kalcic.
A-Men: Dean Poshard, Scott Chapin, Nick Purtscher, Alex Work, Jeff Patton.
Staff:
Directeur swiggif / Sommelier: Paul H. Sadoff
Mechanic : Ryan C. Bontrager
Stylist : Simon Vickers
Publicity and logistics : Brent Chapman
Inventory and treasury control : Tim Watson
Mascot and inspiration : Scott "buckethead " Chapin.