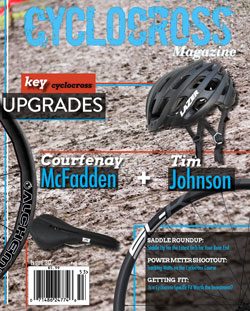 This Mechanical Monday appeared in Cyclocross Magazine Issue 30, which also features a showcase on Courtenay McFadden, an interview with Tim Johnson, reviews about the best helmets for cyclocross, a saddle shootout, an in-depth look if getting a cyclocross-specific bike fit is a worthwhile investment and much, much more.
Want more in-depth 'cross tech content and mechanical tips and tricks like these?
Be sure to subscribe to Cyclocross Magazine. We offer quarterly print subscriptions and a digital all-access subscription that gives you 24/7 access to Cyclocross Magazine's current issue and our library of back copies.
---
by Chance Noble
You're halfway into your local race, and it's muddier than you expected, perhaps one of the most mechanical-inducing races you have done all season. Even with a sizable rider field, you are maintaining your position or doing even better than expected.
The peanut butter mud, clay, or gritty sand of the course has violated every nook and cranny of your bike possible, wantonly eating away at the bike, and you've passed more than a handful of riders on the side of the course who look like they are struggling with their brakes or derailleurs. However, you are comforted, having faith that the so thoughtfully prepared tool kit in the pit with your name on it can take on any mechanical issue.
Then a lace or strap breaks right before the run-up, letting your entire shoe fall victim to the mud vortex and getting lost in the earth as numerous riders pass you by, taking brief satisfaction in your misfortune. You gather your shoe and haphazardly stumble back to the pits, only to realize you forgot duct tape, toe straps, and anything that could secure your shoe.
Some of us have been in that position, although there are certainly scores of others that might do well learning from the misfortune of others. The reality is, regardless of the conditions, mechanicals happen more often in cyclocross than in other cycling disciplines. Showing up to the race without the appropriate pit tools is like showing up in an August race in a thermal skinsuit. Perhaps there is a better analogy for being unprepared in this context, but if there is one guy who knows the ills of being unprepared, it is myself. Do yourself a favor: If you care about your race result, don't show up unprepared.
The luxury of having spare bikes and pit crews is a far cry for the vast majority of us. In relation to all the effort we put into being a part of this great sport, it doesn't take much to prepare a pit tool kit that will, at worst and excluding catastrophic failure, prevent the dreaded DNF next to your name on the results.
While many thousands of dollars can be spent on team trailers and equipment elsewhere in the race venue, the playing field is surprisingly leveled in the pit. After reaching out to Calvin Jones of Park Tool, I asked him what the necessary tool for use in the cyclocross pit is. "Simply the 5mm hex key from the PH-1 set," he answered. "You can solve more problems and make more people happy with a 5mm hex key than any other tool." The essential elements in the cyclocross pit tool kit are similar for different level users.
What is included in professional kits that typical novice collections lack are spare parts that are brought to every race, and of course, the mechanic to do the work while you are back out on course. The quality of tools can vary as well.
You are not building a bike in the pit, and in order to save time, your pit tool kit should be optimized to have only the tools you need. You don't want to be digging through tools you would never use in the pit. Stu Thorne of Cyclocrossworld elaborated on the essentials. "We take a small assortment of tools to the pit in the event we have to do a fairly major repair, such as replacing a shifter," he explained. "Basically a multi-tool, side cutters, Phillips screwdriver, chain tool, small brushes for cleaning, pick and some type of Leatherman multi tool. It's not often that you need more than a multi-tool. And of course we always have a hand held air pump with us." Lube, towels and spare parts including levers, a rear derailleur and hanger, chain, cables and small parts are also included in the small, repurposed camera bag.
If you are alone, the best thing you can have in the pits is a spare set of wheels. If you have to do much more than a wheel change and you are without a mechanic and spare bike, your goal will likely be just finishing.
After getting the advice from those professional mechanics as well as offering some advice from my own unlucky experiences, I have put together several lists offering some of the essential ingredients for the pit tool kit, which can be put together for $75 and contained in a small backpack. Of course, just having these tools at your disposal is only one part of the solution, while being intimately familiar with using them in action will mean that you don't have to depend on a stranger's generosity to get you back up and running. Having a spoke wrench can be a major asset to help a rider finish a race, especially someone who has cantilever brakes, but it won't do much good to anyone who has never attempted to true a wheel.
Some of the most vital parts on the first list are those that can be applied in inventive situations, such as duct tape and zip ties, while brushes and rags are a far superior way of getting a drivetrain back into shape while keeping your fingers and gloves relatively clean.
If you have a mechanically-inclined friend and a spare bike, the second list opens up the possibilities for pit work. This advanced kit, also contained in a small backpack, is a continuation of the previous list, and can be had for about $300.
Hopefully, your trip to the pit will be speedy. If not, there is always another race to go for glory. Make sure you go prepared to finish your race, regardless of what the cyclocross gods have in store for you on the day, and don't forget to include a bottle opener!
Single Bike Pit Kit
Pedro's ICM Multi-tool
Large adjustable wrench (for fixing a bent derailleur hanger)
Spoke tool
WD-40
Condition-appropriate lube
Rags
Small brush
Duct tape
Electrical tape
Zip ties
Pit Bike & Buddy Pit Kit
CDI preset torque wrench (with appropriate bits and torque setting)
Phillips-head screw driver
Park Tool P-Handle Hex Wrench Set
Appropriately-sized Torx wrenches
Needle-nosed pliers
Leatherman Wingman Multi-tool
Stan's tire sealant
Brake pads
Spare tubes (if using clinchers)
Tire levers (if using clinchers)
Tape measure
Scissors
Bar plugs
Park Tool PolyLube tube
Floor pump or Craftsman cordless inflator with presta head
HotHands Hand Warmers
Do you have any tips or must-have equipment you take with you to the pits? Let us know in the comments, and we'll be glad to share any must-haves!