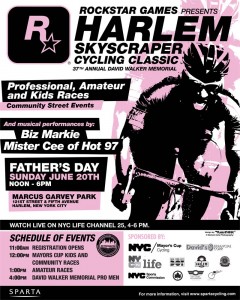 OK, so it's all paved, sans dirt and grass, and the circuits are only a little more than a kilometer. But, while waiting for cyclocross season to kick off, why not try your hand – and legs – at a fast-paced urban criterium? The Harlem Cycling Classic sounds like a great one, too.
Rockstar Games Presents 37th Annual Harlem Cycling Classic
Olympians and hip-hop icons to headline Harlem cycling classic June 20th
Featuring live television coverage, hip-hop headliners, DJ event, Mayor's Cup for children's races and David Walker Memorial Pro/Am
New York, NY – Amateurs and Olympians alike will descend upon Harlem's Marcus Garvey Park on Father's Day, June 20 to compete in the 37th annual Harlem Skyscraper Cycling Classic presented by Rockstar Games.
Olympic Champion Walter Perez of Argentina and four-time World Champion Franco Marvulli  will return to the city that inspired the Madison, their track racing specialty. German track racing stars Leif Lampater and Christian Grasmann will join them on June 20 to chase a $15,000 prize on the 0.75 mile, perfect square racecourse around Marcus Garvey Park (121st Street & Fifth Avenue) in Harlem.
"These racers are the professional showmen of cycling," said Race Director John Eustice, "Their incredible turns of speed and ability to play to the crowd perfectly complement our mission of returning cycling to its American roots as an exciting and glamorous entertainment product."
The United States Olympic Committee has named the Harlem Cycling Classic as the New York City representative for the worldwide Olympic Day Celebration. A ceremony will be held during the children's races, between the hours of 12:00 and 1:00 pm.
This year's David Walker Memorial Pro/Am and children's races have also been designated as NYC Mayor's Cup events, awarding the winners of each division with an NYC Mayor's Cup and title of "Fastest Riders in New York City." The NYC Mayor's Cup is a program of NYC & Company's Sports Marketing Department, which was recently revamped to include more sporting events than ever before throughout New York City.
"Cycling in New York City has a long and storied tradition dating back to the 1800's when Madison Square Garden was first built for track cycling," said Senior Vice President for New York City Sports Marketing Andrew Gould. "The sport of cycling has continued to flourish in New York City throughout the years, due to world-class events such as the Harlem Cycling Classic, and it brings me tremendous pleasure to add a new chapter to this event by awarding the prestigious NYC Mayor's Cup to this year's winners."
Sponsoring the race for a second consecutive year gives Rockstar Games the opportunity to mix their passion for cycling with an event that enriches the community. Members of Rockstar Games will be on-hand with Rockstar-branded merchandise near the start and finish lines.
"Cycling is a die-hard passion for many of us at Rockstar," said Sam Houser, Founder of Rockstar Games.  "We look forward to a day filled with exciting bike races and entertainment. It's a real honor for us to be involved once again with such a prestigious New York City street event."
"NYC Media is pumped to be airing the 37th annual Skyscraper bike race live on NYC life, channel 25," said Todd Asher, Chief Operating Officer of NYC Media. "This marks NYC life's first venture into live sports in our short history and we could not be more proud of our role in helping provide quality content to the biking community, the Harlem community and the City as a whole on Father's Day."
The race day will begin with a series of children's and community races from 12:00 p.m. to 1:00 p.m. The children's races have been designated as NYC Mayor's Cup events, which will crown "the fastest riders in New York City."  Each child who competes will be given a free helmet and T-shirt courtesy of the New York City Department of Transportation. Winners of the children's races will each receive a free bicycle.
The United States Olympic Committee has named the Harlem Cycling Classic as the New York City representative for the worldwide Olympic Day Celebration. A ceremony will be held during the children's races, between the hours of 12:00 and 1:00 pm.
Adding to the block party atmosphere will be live performances by hip-hop icons Biz Markie and Mister Cee amongst other performers. New York City's famed Wafels & Dinges and Frites & Meats food trucks will be at the event for all in attendance.  Jumbotron screens and a series of amateur races will warm up the crowd for the David Walker Memorial Pro/Am at 4:00 p.m.
The late David Walker, an NYPD Community Affairs Officer, founded the Harlem Skyscraper Cycling Classic with the purpose of inspiring children to ride bicycles for exercise; to introduce them to a healthy lifestyle; to provide a productive outlet to harness their energy; and to teach safety, responsibility, and sportsmanship. The present-day event pays homage to the classic American bike races of the Roaring Twenties that were rich with speed, money, and glamour.  Cyclists can register in advance to compete at www.bikereg.com.  Race day registration will be available onsite.  For further information, please visit: www.skyscraper-harlembikerace.com.
About Rockstar Games
The Rockstar Games label was founded in 1998 to create the most innovative and progressive interactive entertainment.  It is a wholly owned subsidiary of Take-Two Interactive Software, Inc. (NASDAQ: TTWO). For further information, please visit www.rockstargames.com.
About NYC & Company
NYC & Company is the official marketing, tourism, and partnership organization for the City of New York, dedicated to maximizing travel and tourism opportunities throughout the five boroughs, building economic prosperity, and spreading the positive image of New York City worldwide.  General information is available at www.nycgo.com/sports.
About NYC Mayor's Cup
The new NYC Mayor's Cup platform was created by NYC & Company's Sports Marketing Department, which was formed in December 2008 as a result of the New York City Sports Commission's integration under the NYC & Company umbrella. The NYC Mayor's Cup series encompasses a variety of sports throughout the year including track and field, cross-country running, cycling, lacrosse, kayaking, wrestling, field hockey, rugby, chess, wheelchair basketball, and now table tennis. New tournaments will be added to the existing Mayor's Cup series throughout the year; the roster now includes 10 events that draw more than 10,000 participants each year.
About NYC Media
NYC Media is the official TV, radio and online network of the City of New York, informing, educating and entertaining New Yorkers about the City's diverse people and neighborhoods, government, services, attractions and activities. NYC Media oversees several television channels, a radio station and other online assets. NYC life – Channel 25 on most systems and Channel 22 on Cablevision – explores art and culture, entertainment and lifestyle, and history and education, and features the people and places that make our City unique. Visit nyc.gov/media to learn more and to find out where to watch.
About Sparta Cycling
Sparta Cycling provides race promotion services to deliver world class events that meet the needs of sponsors, teams and riders, spectators, and supporting communities.  Areas of expertise include course design and technical issues, sponsor development and relations, media, and publicity.  In addition to the Skyscraper Harlem Cycling Classic, Sparta operates and promotes the Univest Grand Prix, a UCI-sanctioned multi-day race.  Additional information is available at: www.spartacycling.com.
About Take-Two Interactive Software
Headquartered in New York City, Take-Two Interactive Software, Inc. is a global developer, marketer and publisher of interactive entertainment software games for the PC, PlayStation®3 and PlayStation®2 computer entertainment systems, PSP® (PlayStation®Portable) system, Xbox 360® video game and entertainment system from Microsoft, Wii™, Nintendo DS™, iPhone™, iPod® touch and iPad. The Company publishes and develops products through its wholly owned labels Rockstar Games and 2K, which publishes its titles under 2K Games, 2K Sports and 2K Play. The Company's common stock is publicly traded on NASDAQ under the symbol TTWO. For more corporate and product information please visit our website at www.take2games.com.