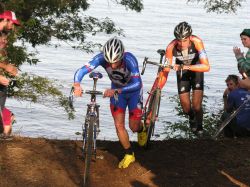 For the second day in a row, Ryan Trebon (Kona) dueled with Tim Johnson (Cannondale – Cyclcrossworld.com), and just like yesterday, his massive accelerations out of the corners softened Tim Johnson and finally shed him with two laps to go. And just like yesterday, Dombroski won again in New England and remains undefeated in the Verge New England series, but today she enjoyed a large lead midway through the race and didn't face yesterday's close challenge by the other women.
Some new faces were at the front of the men's race, with Dan Timmerman (Team Race Pro) and Justin Lindine (Target Training) mixing it up with the big boys, and CXM contributor Nick Keough (CRCA/Sakonnet) taking top U23 honors and finishing in 9th.
Full report below. Also see our live coverage archive here, for the blow-by-blow action.
by Alan Atwood
The cyclocross gods blessed the 10th anniversary of this New England classic with bright sunny skies, perfect temperatures, and fast conditions. The leading duo of Amy Dombroski (Velo Bela-Kona) and Ryan Trebon (Kona) took advantage the most in winning both days of the 2008 Erdinger Grand Prix of Gloucester, held at Stage Fort Park in Gloucester.
On Sunday, there was no slowing down Dombroski, as she rocketed away from everyone early on before the race got to the newly created super-runup that mirrored the infamous "Putney Wall" to a degree. But unlike yesterday, she led from start to finish completing her second double in 2 weeks, taking a huge lead in the NECCS series and assuming the leadership in the NACT series as well. After lap 2, all eyes were on the race for second, as a big group formed of Kerlin, Wellons, Annis, Kathy Sherwin (Velo Bela/Kona), Josie Jacques-Maynes (Specialized/KMC p/b Cal Giant), and Maureen Bruno Roy (MM Racing p/b Seven Cycles). With her eyes on a NACT lead potentially in the future, Kerlin went for it on the last lap and shot past everyone to take 2nd alone, while Wellons redeemed herself with a big-time sprint over Sherwin and Bruno Roy to round out the podium.
Day 2 brought similar conditions but a much different course, and Trebon would not allow a similar surprising move to force his hand on this day. He took off from the get go and only Johnson could follow, leaving everyone else in the dust. The 2 heavyweights would battle it out all day while the chasing group contained the other contenders, including Driscoll, Dan Timmerman (Team RACE Pro), Justin Lindine (Targettraining), and Andy Jacques-Maynes (Specialized/KMC p/b Cal Giant). The 2 series leaders showed why they were in their respective jerseys at the end when Trebon just powered away from Johnson for the second straight day, while Driscoll dropped his running mates to round out the podium. Trebon now holds a sizable lead in the NACT series, and Driscoll's 2 top 5 efforts allowed him to maintain the NECCS lead going into the next series races in Northampton, MA on November 1st and 2nd.
In other races, U23 leader Will Dugan was tested by a surging Toby Marzot (Fiordifrutta) and Nick Keough (Jittery Joe's/Sonic), and when Dugan stumbled on Sunday to finish way back, that left the door open for Keough's brilliant top 10 ride on Sunday to take over the series lead. Jonny Bold (Corner Cycles) held onto the Masters 35+ lead with a great ride on the weekend. Only Mark McCormack could hold Bold's wheel on Sunday, allowing Bold to increase his slim lead going into Northampton. Kevin Hines is showing he will be tough to beat for the upcoming 45-49 national championship with a pair of solid showings, ever widening his lead. He could potentially wrap up the series next time in Northampton with a pair of wins. Junior national champion Luke Keough (CLNoonan/Coast-to-Coast/KAM) is in a similar position after winning for the 4th time in 4 tries on Sunday, widening his lead over 2nd place Manny Goguen (Minuteman Road Club).
The 2008 Verge New England Championship Cyclocross Series is brought to you by Verge Sport, makers of fine cycling clothing and products since 1993; by Cycle-Smart, purveyors of personalized cycling coaching and solutions for riders across the country; by Cycle-Ops, makers of high-tech accessories to meet any indoor training plans; by Echappe, rent-to-own the latest in race wheels – try before you buy at Echappe; by BikeReg.com, the official online registration service of the NECCS; and by Paul Weiss Photo/Video, the official photographer of the NECCS. You can visit these sponsors and get more information on the series by going to the web at http://www.necyclocross.com.
Elite Men's Results:
Ryan Trebon
Tim Johnson
Jamie Driscoll
Dan Timmerman
Justin Lindine
Andy Jacques-Maynes
Jesse Anthony
Matt White
Nick Keough
Adam Myerson
Elite Women's Results:
Amy Dombrowski
Sarah Kerlin
Maureen Bruno-Roy
Rebecca Wellons
Kathy Sherwin
Josie Jacques-Maynes
Sally Annis
Anna Milkowski
Amy Wallace
Kristin Gavin