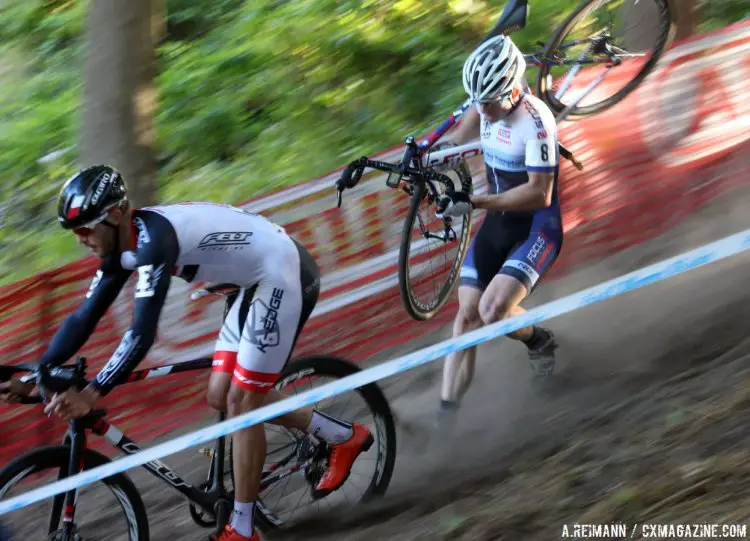 Danny Summerhill and Stephen Hyde descended the Rochester section open only to the elite races. © Andrew Reimann
The full UCI Cyclocross Calendar, revised only a little over a month ago, is currently up, and there are less than 40 days until the season begins.
The Ellison Park Cyclocross Festival p/b Full Moon Vista begins the season with a race that starts off the season right, demanding equal parts technical ability and fitness. As a race nestled in Upstate New York, the Ellison Cyclocross Festival has been a long-overlooked race until last year, when a full load of American cyclocross pros came out to compete for C1 points.
We have personally tested our legs on the course for several years, and were impressed by both the course design, as well as the family-friendly crowd of spectators, that we awarded Ellison Park as one of the top racing destinations in the United States in our Issue 26.
Women's Elite podium at Full Moon Vista Cyclcoross. © Andrew Reimann
The front side of the course is dominated by what the announcers call the cyclocross Alpe d'Huez, and for a good reason. When you're not climbing the switchbacks up to the top, it's because you are descending back and forth like an alpine skier. The rest of the course is littered with punchy climbs, technical passes, and gnarly roots that prevent you from keeping those PSIs too low.
Last year, the course designer switched things up with an elite-only section, which was made of a quick, punchy down hill, followed by a sharp uphill that most pros had to run. This year, the promoter alluded to a few sections that will be new and were added by the suggestion of Jeremy Powers, including a couple of banked turns followed by a short uphill off-camber.
For the rest of the season, you might be struggling on a power section, but you'll likely be thinking: It could be worse, I could still be riding up those endless climbs at Ellison.
The races will be held September 4th and 5th, with a respective C1 and C2 race. For long-weekenders, Full Moon Vista is also throwing a non-sanctioned night-fondo for Friday the 4th as well as allocated time for the pros to pre-ride the course later in the day.
Use the slider for more pictures of Ellison Park. More information: Ellison Cyclocross Festival's Website and Registration