This fall Cyclocross Magazine is providing free publicity for local teams hosting free cyclocross clinics as our way of saying "thank you" to folks giving back to the sport we love. If you are in the area, please spread the word about this free clinic and consider taking your 'cross-curious friends. 
---
CORALVILLE, Iowa. Each year when the temperatures get cold (now September), cyclocross comes to Iowa City at the annual Jingle Cross festival. Now, cyclocross will be in town full-time at the newly-created Coralville Creekside Cross park located just outside Iowa City. The new Creekside Cross came about via a partnership between the city of Coralville and a group of local 'cross racers led by John Stonebarger. The venue features a total of 2.6 miles (and growing) trails that can be used to create weekly cyclocross practice courses.
Despite the location in Iowa, Stonebarger said the course provides enough elevation to provide a challenging practice venue. For example, at least week's practice, they were able to include a brutal 130 feet of climbing into the day's one-mile practice course. The Coralville facility will be open two days a week for practice this fall, and Stonebarger and others are hoping it will be open daily once the newly-seeded portions of the facility mature.
Last month we reported on the new USA Cycling guide on Sustainable Cyclocross, and the Coralville Creekside Cross project is a great example of what can come from working with local stakeholders.
"It started with a little conversation with the right people," said Iowa City Cyclocross member Nick Sobicinski. "Then a solid group of community advocates along with an enthusiastic and willing city staff pulled together to pull something off that wasn't even being discussed at this time a year ago. The climate in the Iowa City area was just right as well and we were able to build off the excitement Jingle Cross had been cultivating for the past decade. We got lucky to have found a nearly perfect venue with great terrain, unique features in the huge terraced hillside and old barn yards, along with some established city park features like restrooms and concessions that will only enhance the experience for those using the venue."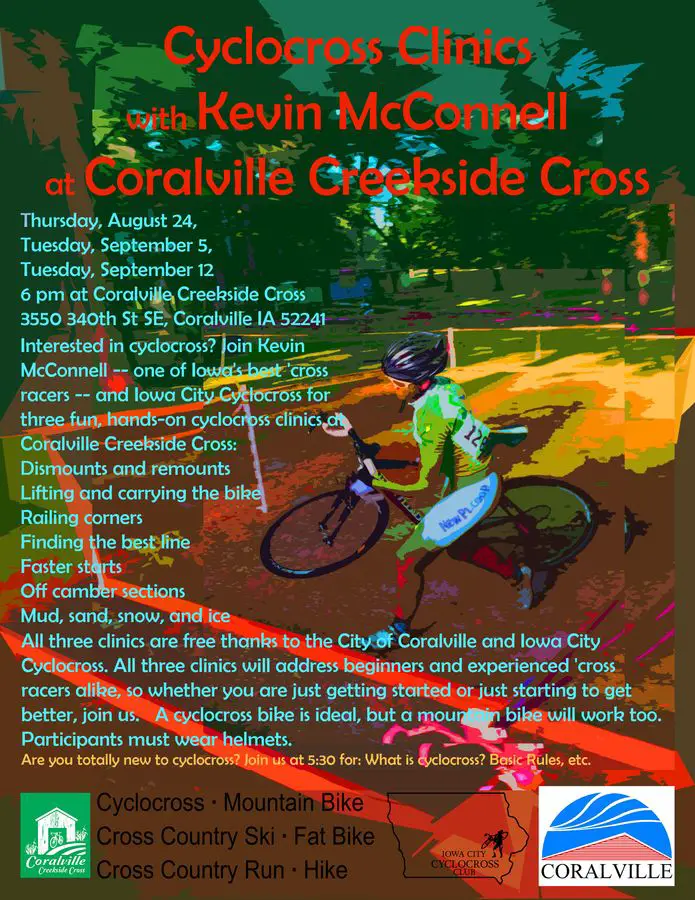 Free Cyclocross Clinics at Coralville Creekside Cross
Iowa City Cyclocross will be offering three free cyclocross clinics at the Coralville Creekside Cross facility this fall. The clinic will be led by Kevin McConnell, who is one of Iowa's most accomplished cyclocross racers.
The free clinics will be held on the following days:
Thursday, August 24
Tuesday, September 5
Tuesday, September 12
Clinics start at 6pm and Cyclocross 101 session will be held each day at 5:30pm. Clinics will include work on dismounts and remounts, railing corners, finding the best line and riding off-cambers. The clinics will be designed for riders of all skill and experience levels, so all Iowa cyclocross riders in the area are invited to attend. All bikes are welcome and the only requirements are a helmet and a desire to have fun.
The Coralville Creekside Cross park is located at 3550 340th St. SE in Coralville.
For more information, e-mail Iowa City Cyclocross at IowaCityCyclocross [at] gmail.com or see its Facebook page.
https://www.facebook.com/photo.php?fbid=10211765570112648&set=gm.832532550254104&type=3&theater