If you think you're excited early about the start of cyclocross season, Florida has you beat. While most people think of Cross Vegas as the start of the season, the Florida 'cross devotees get things going in late August, and they're already working on race prep now. Typically, Florida races are attended by… racers from Florida. But this year, promoter Dan Millstead is hoping to put FLCX on the map as a destination race worth the trip—compared to the snowy conditions of New England in December, this might be a nice break!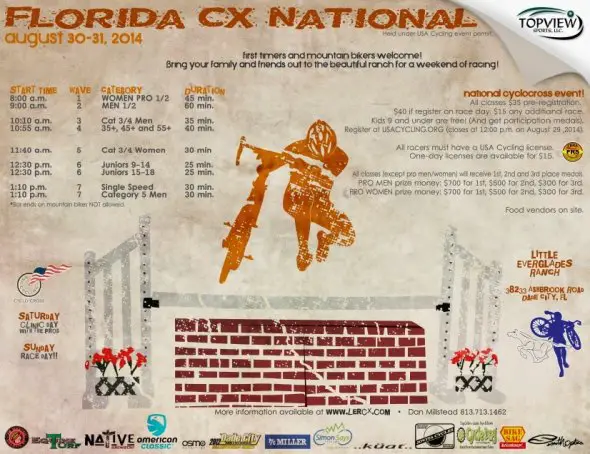 by Alex Hutchinson
For a brief moment, I thought I was lost. Maybe it was the early morning wake-up, maybe it was a lack of caffeine. My two-hour drive north was mostly on the highway but after snaking through a couple small, hilly towns, I ended up on a narrow dirt road. There were trees on my left, a pasture on my right, and not a person in sight. Even my dashboard Garmin had given up, as an Australian female voice named Sheila announced, "You have arrived at your destination." I was parked at a stop sign in front of working railroad tracks wondering where I went wrong?
When I crossed the tracks, it was like a magical haze faded away revealing the green rolling hills and meadows of a new world. I took it as a sign, well, there actually was a sign. It said "Cyclocross" and had an arrow that pointed the way. Little Everglades Ranch in Dade City, Florida, is a well-hidden slice of heaven. This 2,000 acre working ranch breeds Hanoverian horses, Thoroughbreds and Belted Galloway Cattle. Noted for its expansive beauty, these meticulously groomed fields also host some the area's most exciting athletic events including Savage Race, Rugged Maniac and the Great Bull Run.
On August 30th and 31st, 2014, the ranch will be home to the first Cyclocross National race of the season. The ranch has seen series races and the state championship coordinated with precision and professionalism. This chance to step up to the next level of racing—a national calendar event—is a welcome opportunity.
Kicking things off was a get-together on June 29th called "Ride the Ranch." This was where potential racers, especially new ones, could get a feel for the terrain they would be up against. It was here that I found myself testing a new bike and my cyclo-virgin legs against rolling dirt roads, cow-pies and miles of Florida's most scenic inland beauty.
A group of more than sixty riders gathered at the main pavilion then set forth on a quest deep into the expanse of the ranch. Event organizer Dan Millstead led the procession on a four-wheeled metal mule. Over the course of the next hour, we encountered several sandy stretches, grassy meadowlands and passed by a few swamps. The animal onlookers were many and varied. From the peeking alligators to the curious horses to the stampeding cattle, they all took note of our presence on their property.
Who showed up for this ride? Every type of rider on every size of tire. Some Village Idiots came up from Sarasota, RND Racing showed pack pride from Lakewood Ranch, there were riders from Pinnacle Wheel Works, SWAMP, Tampa Bay Cyclocross, myself representing SCORR and many more.
After being introduced to the land, most riders took a short beer break but quickly returned to practice. One very experienced coach named Zoltan Tisza broke into an impromptu 'cross clinic. 20 or so riders gathered in the shade to listen to his technique tips and then followed him onto the trail to practice. After a few laps of dismounting/remounting and lifting my bike, the heat became very apparent. It was time for another cold beer.
By noon, the BBQ had arrived and the crowd gathered one last time for food and drinks. It was a relaxed yet festive atmosphere with everyone talking about the coming season but especially excited for the National race that will kick it off.
So, the build up has begun for what will be a prolific event. The Florida CX National will take place August 30th and 31st, 2014. There will be a clinic day with the Pros, cash prizes for Elite men and women, plus many hours of racing action. Stay updated by joining the Florida Cyclocross Series Group on Facebook.
Make sure you're subscribed for Issue 26, which will feature Florida cyclocross at its finest.