Earlier this season, we saw evidence of a new SRAM 12-speed road group coming, thanks to public sightings of Jeremy Powers and Wout van Aert's bikes in Rochester, Gavere and Tabor.
Now we've got the official details of the upcoming group, and much to our surprise, it's actually four groups under the AXS family.
The line of Red eTAP road-oriented components features 12-speed cassettes, 1x RED 1 eTAP and RED eTAP 2x chainring options, and 12-speed electronic shifters and derailleurs.
It also includes 12-speed electronic Eagle X01 and XX1 shifters and rear derailleurs, an electronic Rock Shox Reverb dropper post, and some interchangeability between components. A Bluetooth mobile app (available on Google Play and Apple iTunes) helps the user configure and maintain all the components.
Today, we deep dive into the new component options from SRAM, with a focus on cyclocross and gravel applications.
SRAM AXS Highlights
Before we get into the nitty-gritty, here's a brief summary of what's new from SRAM:
AXS is a new ecosystem that allows new SRAM electronic components to communicate and be configured and monitored by a Bluetooth-enabled mobile app.
SRAM is adding one extra cog and speed to its 2x RED eTAP drivetrain, making it a 23-speed setup (small/small is blocked).
SRAM now has a 1x RED 1 eTAP option, as ridden by Cyclocross Worlds winners and medalists in Bogense last weekend.
SRAM has made RED eTAP more offroad worthy not with a clutch but with a fluid damper in its rear derailleur.
Everything in AXS relies on XD and XD-R drivers and 12-speed cassettes.
SRAM Eagle AXS introduces new XX1 and X01 electronic derailleurs and shifters that work with existing Eagle cassettes, chains and crankset. The derailleurs also work with RED ETAP AXS shifters, but the cog spacing and chain width are different between Eagle and RED.
SRAM Red eTAP AXS is available today, while Eagle AXS comes out in April.
SRAM says a Force version will be released in April.
Got all that?
Since January 14, I've ridden five different bikes with different variations of the SRAM AXS electronic component system, on different terrain.
With the limited but diverse ride experience on the components, I attempt to break down what the new component options mean for consumers, especially cyclocross racers and gravel riders.
AXS = Access to New Technology, Gearing, One Road Derailleur
AXS is short for "access," not "axis." With the launch of SRAM AXS, consumers gain access to significantly more SRAM Red eTAP gearing options, with another cog out back, eight X-Sync 2 wide-narrow chainring sizes (36-50t) and three 2x chainring options, paired with three XD-R cassette options.
New replaces old in terms of components. The new SRAM Red eTAP 12-speed drivetrain shares nothing in common with the 11-speed eTAP except for derailleur batteries and brake calipers.
The two generations of components are not compatible with each other, even though the shifters are largely unchanged other than some new textures and easier access to the battery.
The RED eTAP AXS group has just one rear derailleur. There isn't a WiFli long cage option, a separate Red 1 option or a clutch 1x option. The Red eTAP AXS derailleur doesn't even use a clutch. Instead, for chain security on both the 1x and 2x configurations, the rear derailleur uses what SRAM calls Orbit.
Orbit is a fluid damper that doesn't add resistance during shifting while still greatly reducing chain slap. The derailleur skips the roller bearing clutch and cage lock found on the Force 1, Rival 1 and Apex 1 derailleurs.
The cassette and chainrings are new, with new tooth profiles and narrower spacing between cogs. There are new 4-arm X-Sync 2 chainrings with narrower, more sculpted teeth and new cassettes that require an XD-R freehub body.
The Flattop chain is also new. It's asymmetric, and designed specifically for the RED eTAP AXS components. It comes with a one-time-use quick link. The unique design is the result of SRAM's goal of building a strong and quiet chain, and when the chain is clean, SRAM seems to have achieved its goal.
Want even more gear range? You've got access to that by pairing an X01 or XX1 AXS electronic Eagle rear derailleur and 10-50 XD cassette with SRAM Red eTAP AXS shifters. SRAM staffers call this the mullet bike setup: all business in the front, and party in the back.
It's worth noting that while Eagle derailleurs will work with SRAM RED AXS shifters, the chain and cog spacing are different. RED AXS is narrower because the cog spacing is tighter. An Eagle cassette's huge 50t cog overhangs the hub shell, and the spacing is wider. SRAM says you cannot use an Eagle chain on a RED AXS drivetrain. As to whether you can use a Campagnolo 12-speed chain? Of course, it's not recommended but we're sure someone will try.
Consumers also gain power meter options. All cranksets are available with Quarq power meter options, and in the 2x setups, the power metering is built into the chainring and is an easy, if not expensive, upgrade by just swapping the two chainrings.
The crankset adopts SRAM's new "DUB" bottom bracket standard. Single chainring setups use a four-arm spider, similar to that found on the entry-level Apex 1 crankset but not identical. Rings now use eight inner bolts, not three, to attach to the crank arm.
AXS to Eagle
SRAM's released its Eagle 12-speed mountain bike drivetrain three years ago, and has since been focused on bringing the 12-speed mountain bike drivetrain to lower price points in the form of the GX and NX lines.
Today, with the launch of X01 and XX1 Eagle AXS, SRAM has gone the other way by adding two new high-end Eagle options. With electronic Eagle AXS, it also has opened up the world of pairing Eagle's 10-50 12-speed cassette with drop bar shifters.
Just as with Shimano, SRAM's electronic mountain bike derailleurs will work with the new electronic road shifters, with some exceptions. Pair one of the two rear derailleurs with an Eagle cassette and eTap shifters and you've got an incredibly wide-range 1x adventure setup. (Don't try to pair an Eagle AXS rear derailleur with RED eTAP front derailleur, SRAM warns).
Eagle AXS fortunately relies on many existing components from the mechanical drivetrain. If you're on a budget but want electronic shifting, you could pair an NX-level cassette, chain, crankset and chainring with a new Eagle AXS rear derailleur and the SRAM AXS shifters of your choice and you're ready to go.
The Electric Slide
Dropper posts your thing? SRAM's Rock Shox has AXS-enabled its Reverb dropper post, allowing you to slide on down without cables or levers.
While the travel options and diameters might be a little big for most cyclocross and gravel bikes, you could control the $800 Reverb AXS dropper using eTAP shifters or eTAP blips. If you're used to a cable pull post, the electronic actuation will impress you with its ability to micro-adjust.
There isn't a 27.2mm diameter, nor is there a short-travel option, but if you've got enough post showing, the Reverb AXS could help you bomb some dirt descents.
Reverb AXS Dropper Post Sizes:
Diameters: 30.9mm, 31.6mm, 34.9mm
Travel: 100mm, 125mm, 150mm, 170mm
Lengths: 340mm, 390mm, 440mm, 480mm
AXS = Phone Access via Mobile App
At the heart of the entire AXS ecosystem is a mobile app that handles configuration, firmware updates, maintenance reminders and more.
While the app and a mobile device are not necessary for anyone to set up or ride a bike with RED eTap AXS or Eagle AXS, they are useful to configure component behavior. Whether you want to swap your right and left shifter behavior, or configure shift modes, you can do it while on a ride, from your phone.
The most interesting feature of this app during testing was being able to select between Sequential and Compensating shift modes. Sequential mode, similar to Shimano's Synchro Shift, automatically shifts the front derailleur when you need taller or lower gears.
Compensating mode requires you to initiate a front shift, but will automatically shift the rear derailleur one or two cogs to reduce the jump in gearing.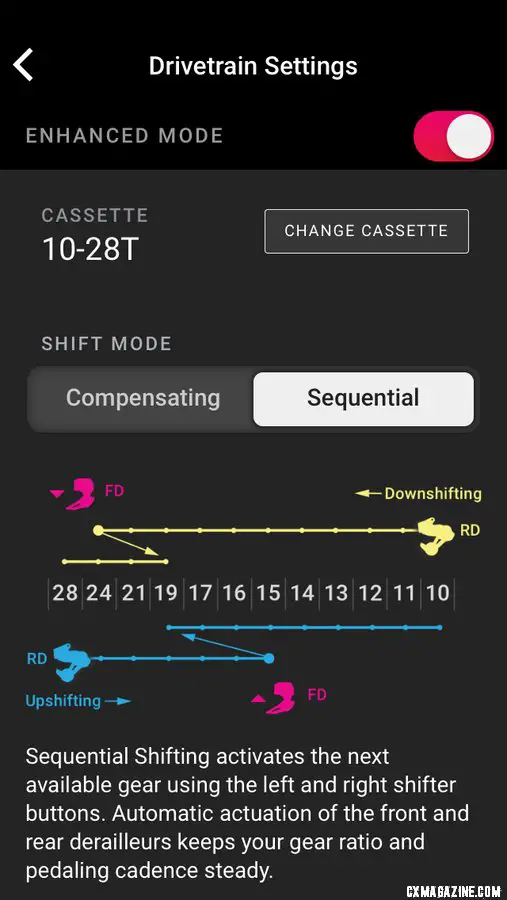 Through the app, you can also configure how many gears multi-shift (holding down the shift button) will shift at a time.
Swap out your cassette for different terrain? You can also record this change in the app, and the information will impact the Sequential mode shifts.
Once you start your ride, if you regret your shift mode choice, you can always turn it off by tapping a little button on the inside of your shifter. These buttons will toggle the shift modes on and off.
The Ride
Enough about the tech. What about the ride?
After a road ride, a gravel ride, a mountain bike ride and then a few rides in my home terrain, I came away thoroughly impressed.
The new SRAM eTAP AXS 2x drivetrain is quiet, quick-shifting, and offers low drivetrain friction. The shifting feels slightly faster than 11-speed eTAP, and SRAM confirmed that shift speed is indeed a bit quicker. When used as a 1x drivetrain, the rear derailleur is set up to shift even faster than in a 2x configuration.
The system, with its new chain, cassette, pulleys and chainrings, is very quiet while clean. Because all the SRAM RED eTAP AXS cassettes are relatively tight in range, the shifts don't require much chain or derailleur movement and they glide into place. It's quite remarkable how quiet shifting is on a 10-28 cassette, even under load.
Swap out the cassette and rear derailleur for massive 10-50 Eagle version, and the familiar clunky sounds of the chain dropping on to each cog return.
The Orbit fluid damper seems to do its job quite well. In all but one situation (more on that later), the chain remained secure and avoided slapping my test bikes' chainstays.
While an extra gear is nice, the bigger story is in the new chainring and cassette gearing options. The new group does not offer a crankset in traditional cyclocross chainring options (36/46), but the 33/46 combination is quite versatile and splits the difference between "compact" 50/34 gearing and cyclocross gearing.
My initial experience suggests that this 33/46 dual chainring combo will do quite well in hilly cyclocross racing, and especially when paired with SRAM's Compensating shift mode, as it won't suffer from such big jump as you feel when shifting between a 50 and 34 chainring up front. The 35/48 and 37/50 combinations also offer 13-tooth jumps, but start to limit your lowest gear for the longest climbs. Think these gears sound a little small for your biggest efforts? A 48/10 equates to a 53/11—a gear most of us don't come close to using in cyclocross and gravel.
Shift Mode Sampling
Just as Shimano offers with its E-TUBE Project app, SRAM allows configuration and customization of shifting controls with its AXS mobile app.
In gravel and cyclocross riding with a 2x setup, SRAM's Compensating shift mode is both intuitive and convenient. Whether you are shifting to the small chainring or big, the auto-shift in the rear eliminates a few manual shifts, lets you focus on the course, and reduces the shock to the legs.
Sequential shift mode was another story. While it effectively lets you forget about front shifting as you make your way through the bike's gearing, therein lies the danger. As someone who grew up on friction down tube shifters, it's been forever ingrained in my brain that I need to let up on my pedaling force while shifting up front. In Sequential mode, it's easy to not realize you're about to trigger a shift up front. That's a blessing, and in my case, a brief curse.
Heading into a little riser, I downshifted while out of the saddle. Since I was in my big ring and near the top of the cassette, the Sequential shift triggered a shift to the little ring to avoid cross-chaining, but I continued to pedal as if it'd just be a rear shift. The chain dropped off both rings and left me on the top tube, quite surprised.
Later, SRAM's Nate Newton determined my front derailleur's limit screw wasn't perfectly adjusted. We pushed the limit screw into the point where the front derailleur's cage was barely rubbing the chain, and I gave it another shot. Sure enough, I couldn't drop the chain no matter how much I tried. However, at least for now, the experience cemented my preference to be in control of when a front shift happens.
Recreational cyclists and commuters may enjoy the Sequential mode, but SRAM does not expect many racers to adopt it.
A Plethora of Gearing Options, with One Hole
For a second-generation electronic group, the SRAM RED eTAP AXS is quite impressive. SRAM has introduced a lot of new gearing options along with user-friendly customization controls.
SRAM has cornered the 1x market, and reports that nearly 3 out of 4 participants in the 2018 Cyclocross Nationals in Reno were riding its 1x drivetrains. Not every SRAM 1x fan will want to race to upgrade to the new group. Cyclocrossers using SRAM 1x drivetrains who use 11-42 (or 10-42 XD) wide-range cassettes for gravel and general riding (and sometimes swap to tighter cassettes for cyclocross racing) may feel left out by the new offering.
Sure, you can pair the 10-50 Eagle cassette and rear derailleur with RED eTAP AXS shifters, and enjoy 1 extra cog and a wider range, but you're stuck with the 10-50 cassette with the Eagle derailleurs. The mountain AXS derailleurs are not designed to work with a SRAM Red cassettes, forcing you to swap rear derailleurs if you want to run tighter gearing than a 10-50.
Our take is that for strong riders, there are sufficient gearing options for cyclocross racing. The 10-33 is similar to an 11-36, but that's the widest range offering. Here's a look at the new 1x gearing options under AXS, compared to some popular ones today:
1x SRAM RED 1 eTAP Cassette Options & Comparisons
| Cassettes | Low | High | % |
| --- | --- | --- | --- |
| 12-speed Red | 10 | 26 | 260% |
| 12-speed Red | 10 | 28 | 280% |
| 12-speed Red | 10 | 33 | 330% |
| 12-speed Eagle | 10 | 50 | 500% |
| Legacy 11-speed | 11 | 32 | 291% |
| Legacy 11-speed | 11 | 36 | 327% |
| Legacy 11-speed | 11 | 42 | 382% |
| Legacy 11-speed | 10 | 42 | 420% |
The 2x SRAM RED eTAP AXS options allow for plenty of range of gearing, with the added benefit of smaller jumps between cogs because of the extra gear. It's worth noting that even with a 12-speed cassette and 2 chainrings, there are only 23 "speeds" because SRAM blocks out the small/small 10t combination.
In riding, on road, gravel and mixed terrain, with the two-chainring setup, it's hard not to find the right gear. The 13-tooth jump up front and small steps in the SRAM RED eTAP AXS XD-R cassettes address all the complaints 1x drivetrain haters have with wide-range cassettes.
The chainring combinations and cassette options offer similar or wider gearing than popular combinations on the market now:
2x SRAM RED eTAP Gearing Range & Comparisons
| SRAM RED eTAP AXS: | 33/46 | 35/48 | 37/50 |
| --- | --- | --- | --- |
| | % | % | % |
| SRAM RED AXS 12-speed 10-26 | 362% | 357% | 351% |
| SRAM RED AXS 12-speed 10-28 | 390% | 384% | 378% |
| SRAM RED AXS 12-speed 10-33 | 460% | 453% | 446% |
| | | | |
| Traditional Offerings: | 34/50 | 36/46 | 39/53 |
| | % | % | % |
| Existing 11-speed 11-28 | 374% | 325% | 346% |
| Existing 11-speed 11-32 | 428% | 372% | 395% |
| Existing 11-speed 11-34 | 455% | 395% | 420% |
It seems like with the first release of the new eTAP AXS group, SRAM is targeting the segment of cyclists that uses competitors' products because of gearing or chain management concerns with SRAM's current 2x options. Company representatives conceded this fact and hope the new RED eTAP AXS will win over enthusiasts who remain on Shimano 2x, clutch-based drivetrains for gravel.
However, if you're a SRAM 1x fan who swaps between cassettes and are excited to add an extra cog and electronic shifting, you may want to wait until more derailleur or gearing options are released before jumping on the AXS bandwagon. Perhaps that will come in April with the expected launch of SRAM Force eTAP AXS?
Cyclocross Worlds Proven
At the 2019 Cyclocross World Championships in Bogense, Denmark, a handful of athletes were testing the new AXS components, with several of them ending up on the podium.
Give the results, we can say the tests went quite well. SRAM RED 1 eTAP AXS won both the U23 races, with Top Pidcock and Inge van der Heijden eTapping their way to rainbow jerseys.
In the Elite races, Wout van Aert and Marianne Vos both took medals riding the Red 1 eTAP AXS setup, while Laurens Sweeck and Jolanda Neff also piloted the drivetrain to top-ten finishes. It appeared that Ellen Noble had a test group on her bike as well.
What's Missing?
The SRAM RED eTAP AXS and Eagle AXS drivetrains are impressive in action. However, after enjoying more time on the system in familiar terrain, I've started to develop a wish list for the next iteration of AXS components.
My first wish is related to front shifting, and it's not because of my single chain drop in Sequential mode. The SRAM RED eTAP AXS front derailleur uses Yaw and shifts quite well. However, I think it could benefit from having some smart auto-trim.
Newton says you need to push the front derailleur's inner cage plate up against the chain when it is slack, and chain tension will remove any noise while pedaling. This is the same guidance as with Red eTAP 11-speed. This process doesn't quite result in a silent drivetrain. During easy spins, you can still hear a bit of rubbing. When you get the chain just a little bit dirty, which happens at times in cyclocross and gravel, the new, quiet drivetrain suddenly becomes very noisy when you're in the lowest gear, with a constant grinding against the derailleur's plate. I could back out the limit screw a bit, but after my Sequential chain drop, I'm a little paranoid about an untimely chain drop.
For us cyclocrossers, it would also be nice to see a lower profile derailleur design, similar to Shimano's Shadow Plus. Just one windblown knock over on the drive side was all it took to tweak a derailleur hanger. A bent hanger is certainly better than ruining an expensive derailleur, but a lower profile might save a few hangers, derailleurs and races, especially in slippery conditions.
Prospective customers who are drawn to the built-in power meter options should note that the power meter is built-in to the dual chainrings. SRAM expects the chainrings to last several years under average use. But if you want to change chainring sizes or damage your chainrings hopping the barriers, a replacement set will cost you a whopping $800.
Lastly, after riding a Mondraker Foxy Carbon 29 mountain bike to sample the Eagle AXS components before rushing off to the airport, I was thoroughly impressed by the electronic actuation of the Rock Shox Reverb AXS post. Can we get a shorter travel, 27.2mm version for the drop bar crowd? It would also be really cool in the future to have the AXS levers control suspension fork lockout. I'm swerving out of my lane, but in chatting with Andri Frischknecht, he agreed.
Weights and Pricing
SRAM eTAP AXS and Eagle AXS are SRAM's top-of-the-line component options, and of course won't come cheap. Component groups start at $3198 for Hydraulic Road Disc 1x, while a 2x option goes for $3648. That's $450 for an extra chainring, front derailleur and battery.
There are also options with power meters and aero shifters and chainrings. See the table below for all variations.
SRAM RED eTAP AXS Component Group Pricing:
| AXS Group | MSRP usd | MSRP euR (incl. VAT) | MSRP gbp (incl. VAT) |
| --- | --- | --- | --- |
| 2x Hydraulic Road Disc Brake w/ Power | $4,158 | € 4,118 | £3,794 |
| 2x Hydraulic Road Disc Brake | $3,648 | € 3,618 | £3,349 |
| 2x Rim Brake w/ Power | $3,998 | € 4,018 | £3,604 |
| 2x Rim Brake | $3,488 | € 3,518 | £3,159 |
| 1x Hydraulic Road Disc Brake w/ Power | $3,708 | € 3,668 | £3,294 |
| 1x Hydraulic Road Disc Brake | $3,198 | € 3,168 | £2,849 |
| 1x Hydraulic Road Disc Brake Aero w/Power | $3,688 | € 3,764 | £3,362 |
| 1x Hydraulic Road Disc Brake Aero | $3,178 | € 3,264 | £2,917 |
| 1x Rim Brake Aero w/Power | $3,348 | € 3,368 | £3,004 |
| 1x Rim Brake Aero | $2,838 | € 2,868 | £2,559 |
The two XX1 and X01 Eagle AXS options, available in April, vary slightly in pricing and have few unique-to-AXS components:
SRAM XX1 & X01 Eagle AXS Component Group Pricing:
 
MSRP USD
MSRP EUR (incl. VAT)
MSRP GBP (incl. VAT)
XX1 Eagle AXS DUB Groupset (Rear Der wBattery, TriggerShifter wClamp, Crankset DUB 170/175/Boost cranksets, w/DirectMount 34T, Rainbow Chain 126links, Cassette XG-1299 10-50T, Charger/Cord, Chaingap Gauge)
$2000
€2100
£1950
X01 Eagle AXS DUB Groupset (Rear Der wBattery, TriggerShifter wClamp, Crankset DUB 170/175/Boost
wDM 32T, Rainbow Chain 126links, Cassette XG-1295 10-50T, Charger/Cord, Chaingap Gauge)
$1900
€2000
£1900
Overall, the component group looks to have put on a little weight compared to 11-speed eTap based on published group weights. We don't yet have a component-by-component comparison, but here are official group weights that you can compare to previous SRAM numbers for 11-speed eTAP here.
SRAM RED eTAP AXS Component Group Weights:
| RED eTap AXS | 2X | With Power | 2x power | 1x Aero |
| --- | --- | --- | --- | --- |
| RED Disc | 2,518g | 36g | 2,553g | 2,103g |
| RED Rim | 2,254g | 36g | 2,290g | 2,070g |
| RED Disc Aero | 2,343g | 36g | 2,379g | 2,159g |
| RED Rim Aero | 2,052g | 36g | 2,088g | 1,868g |
Timing
SRAM has said that as of the time you are reading this piece, bike companies, online retailers and local bike shops will already have road bikes in stock with the new SRAM Red eTAP components, while SRAM Red eTAP AXS component groups will be available shortly as well.
SRAM Eagle AXS will hit the market a bit later, most likely in April.
The company was also upfront about a SRAM Force AXS group coming in the near future, likely April, but would not share any details on that group.
Verdict
While SRAM's Red eTAP drivetrain is not revolutionary or a game-changer, it's an attractive, intuitive, high-performing system that begs consideration if you are building up a high-end 2x road bike or gravel bike. The chainring and cassette options make it hard not to find the perfect gearing for your ride, and the Orbit fluid damper works really well. And the wireless communication makes for such easy bike builds—no cables or wires to route, zip tie or thread. If I was building a two-chainring bike, the SRAM RED eTAP AXS group would be a top choice.
It's worth noting that I've only got a handful of rides on a 2x system, and just a few minutes on a 1x setup with an Eagle cassette. However, for cyclocross racing or a do-it-all bike, I'm not so sure yet if the SRAM Red 1 eTAP AXS system would be my top choice. If Jeremy Powers and Wout van Aert rely on 10-33 cassettes, the widest range offered with the Red derailleur, is that enough range for a very amateur B racer like myself?
What about the RED 1 option? I tend to enjoy having one bike set up for all types of riding. Ride trails or gravel during the week, race cyclocross on weekends. For such riding, I'm typically on an 11-42 cassette and a 40t chainring and use that for everything. Maybe for a flatter course I'd run a tighter cassette, but most of the time, I can't be bothered to change it before a race. My results don't matter that much. Half of the time, at least in hilly California, I find a course feature where the low 42t cog comes in handy, even if running might be faster. And nearly every weekday ride, I'll find myself in the low gear.
For my purposes, I think I'd rather stick with the SRAM Red 2x eTAP AXS option. Sure, it's not what Powers, Vos, Van der Heijden or Pidcock used at Worlds, but most of us aren't as strong as them, and I'm certainly not.
SRAM has done such a good job converting cyclocross racers to 1x drivetrains, that it seems weird to now prefer a SRAM 2x option on one bike to tackle everything. Yet it's evidence to the fact that the company built a high-performing, reliable drivetrain that works well for all kinds of off-road riding.
This is just the first generation of AXS, and the second generation of eTAP. It wouldn't be a surprise to see a longer-cage rear derailleur and wider-range XD-R cassette in an upcoming iteration. For now, I'll admire the top pros riding SRAM RED 1 eTAP AXS, and enjoy riding SRAM 2x once again in the form of the 2x variant.
Stay tuned as we put more miles on our test group.
For more on the new groupset, see our profile of Tom Pidcock's S-Works CruX from Worlds.
More info: sram.com or shop now and support our coverage.