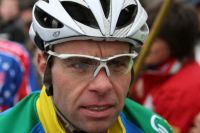 by Bart Hazen of The Daily Peloton
Van IJzendoorn Wins, Groenendaal Podiums in Last Home Race at the 1st Annual GP Richard Groenendaal – St. Michielsgestel
The first Gran Prix Richard Groenendaal was won by Dutch rising star and Young gun Eddy van IJzendoorn (AA Drink). Eddy van IJzendoorn and Belgian star Bart Wellens animated the whole race. In the final lap, Van IJzendoorn attacked and dropped Wellens to take his first ever pro victory. Bart Wellens and hometown rider Richard Groenendaal completed the podium.
Richard Groenendaal rode his last laps in his own "backyard" of Sint Michielsgestel today. The 37 year old will end his active cycling career at end of the 2008 season and will become a director sportif with the AA Drinks team.
After finishing third Groenendaal stepped off his bike at the finish line and made a big bow towards the public to thank them for their support. He also got a Royal badge of honor from the mayor of Sint Michielsgestel, as he became "Ridder in de Orde van Oranje Nassau".
The race itself was animated by Eddy van IJzendoorn and Bart Wellens. They attacked in the first lap and created a gap on the first chasers led by almost the whole AA Drinks teams with Richard Groenendaal, Thijs Al and Mitchell Huenders.
In the final part of the race Groenendaal attacked out of the chasing group and was about ten seconds behind the leaders as they turned onto the final lap. It was a strong effort, but he couldn't close the gap to the lead group. In front Van IJzendoorn got rid off his Belgian companion to win the first GP Richard Groenendaal.
Van IJzendoorn said "I'm glad I have won this race. Richard gave me a chance to ride for the AA Drinks team and this is my way to thank him"
Americans espoirs Danny Summerhill and Nick Weighall were at the race and raced in the combined field with the men. Summerhill finished 21st. Photos and full results below:
Photo Gallery:

Full Results Men

1 Eddy Van IJzendoorn AA Drinks Cycling Team
2 Bart Wellens Fidea Cycling Team
3 Richard Groenendaal AA Drinks Cycling Team
4 Bart Aernouts Rabobank Continental Team
5 Thijs Al AA Drinks Cycling Team
6 Mitchell Huenders AA Drinks Cycling Team
7 Gerben De Knegt Rabobank Continental Team
8 Philipp Walsleben BKCP-Powerplus
9 Thijs Van Amerongen Vacansoleil Cyclingteam
10 Patrick Van Leeuwen
11 Ben Berden Revor Cycling Team
12 Twan Van Den Brand Sunweb ProJob
13 Boy Van Poppel Rabobank
14 Wilant Van Gils ZZPR.NL
15 Roy Van Heeswijk
16 Jan Van Dael Sunweb ProJob
17 Lukas Kloucek Sunweb ProJob
18 Marcel Meisen
19 David Willemsens Revor Cycling Team
20 Stef Boden AA Drinks Cycling Team
21 Daniel Summerhill
22 Daan De Jonge
23 Keiichi Tsujiura
24 Jerry Kallenfels EasyPay
25 Bram Schmitz