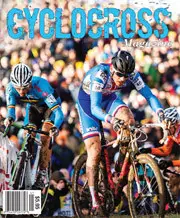 Issue 24 of Cyclocross Magazine hit newsstands—both real and virtual—in the past week, and you're not going to want to miss this one! From Nationals winners and their top training secrets to the craziness that was the World Championships in Hoogerheide to bikes and the drivetrains that make 'cross racing more fun, this isn't an issue you'd want to miss.
Want cyclocross anytime, anywhere? For those of you who haven't already made the switch from print to digital, now's the time. With Cyclocross Magazine available in three different platforms—Uberflip, iTunes and Google Play for Android—it's easier than ever to read the world's only magazine dedicated to all things 'cross, no matter where you are. And via iTunes or Google Play, you can get it instantly.
You'll likely shred a few $50 tires this year, but our $22 subscription is the best and most reliable cycling bargain in town.
Long line at the grocery store? Download our app from iTunes (here for the iPad version and here for the iPhone version) and subscribe for access to all the cyclocross content you can handle, or browse the Apple Newsstand to see what the latest issue holds.
For those Android-users out there, we have you covered with our app available in the Google Play store, so you'll never have to glance longingly at your buddy's iPad as he reads an interview with Jonathan Page or Lars van der Haar to get psyched up for a race.
And for those of you who want to read the magazine on your computer, your Kindle, or most other places, there's Uberflip. Not only is it a cross-platform way to subscribe, Uberflip boasts (in addition to a standard subscription) our All Access Digital Pass, which allows you to read every single back issue of Cyclocross Magazine, so you can see how far we—and the sport—have come over the past few years.
Still love paper? We don't blame you, and we still have our print subscriptions available here.