At the tail end of April, USA Cycling named Derek Bouchard-Hall their new CEO, replacing Steve Johnson, who would cede his role in June. With his appointment, American cyclocrossers and gravel racers wondered how the new CEO might impact their sport. Bouchard-Hall is no stranger to the world of cycling, and was a professional cyclist from 1994 and 2002. His accolades include countless wins and podium finishes in the disciplines of both road and track.
Bouchard-Hall moved to Great Britain a few years after his professional career in cycling was over, and for the last four years, he's been an executive for Wiggle, an online retailer of cycling and running products.
Cyclocross Magazine was the first publication to interview the new CEO, as Andrew Reimann spoke with Bouchard-Hall about the current status of cycling in the United States and the direction he wants to take cyclocross and gravel as well as his goals for growing women's cycling.
CYCLOCROSS MAGAZINE: You've built a life and career around cycling. Where did the passion originate from?
DEREK BOUCHARD-HALL: I didn't start cycling competitively until my freshman year in college, but it was something
I quickly became passionate about. Everything about cycling interested me, with the mechanical elements, the speed and the strategy; there were so many elements that appealed to me. I've always been big into sports, but once cycling took hold at Princeton, it really stayed with me.
CXM: What is your experience as a participant in cyclocross?
DBH: I think most cyclocrossers would call my participation in cyclocross reasonably light. I raced as a cyclocross roadie for my offseason, and certainly checked off a number of races in New England. I was racing against guys like Adam Myerson, Mark McCormack and Tim Johnson, but eventually those guys would take off from me. I had a lot of good power for cyclocross, but no technique. Every race I'd be able to take a few corners, catch up to the leaders and then try and stay with them, but after a while those guys would just leave me behind.
CXM: Are you a current fan of the sport as well? Any live spectating?
DBH: I am. Since I'm based in London, my live spectating has been great as I'm practically the tunnel away from seeing races in Belgium. My favorite event each year is the Superprestige Diegem for the sake of convenience. Not only is it a little bit more of a relaxed atmosphere, but it also allows me to meet with some of my favorite American athletes, such as Jonathan Page.
CXM: Are there any lessons you've taken from your career starting in Princeton that you would like to apply to collegiate cycling and development programs?
DBH: Collegiate cycling is such a great opportunity for growth, and what is so special about it is that it is unique to America. Collegiate racing really isn't big outside the United States, and it is something we need to encourage and support. Well-known athletes go through collegiate racing programs, but even better is the amount of passionate fans that are made from those programs, and they end up helping create a huge community and fanbase.
The biggest lesson from collegiate cycling is the natural team element involved, where these events let riders care about everyone on team, no matter if they are good or bad. Every result matters, and I think that kind of approach to cycling is important.
CXM: How do you expect your experience at Wiggle to guide you as the new CEO of USA Cycling?
DBH: There are a few big factors I can take from that role, both fundamental business practices I've learned as well as my experience with managing people. I oversaw large teams and built that background, and while USA Cycling isn't exactly a business, I have core business skills that are easily applicable to an organization like USA Cycling.
Another thing to remember is that Wiggle is a consumer-centered business. In the end, you have to think about what the customers want. Certainly we could take the easiest route for us, but that is not the same package that people demand. Finally, I think that both are equitable in that there is a fundamental requirement to understand the cyclist and what they need.
CXM: What are the greatest challenges you see ahead in the next five years for cycling in the United States?
DBH: Many. The core of cycling in the United States is fantastic. It has more participation than ever, and the recent description of cycling as "the new golf" is great. We are strong on the women's side and very competitive at international events.
However, we are also facing a post-Lance Armstrong era, and one of the biggest goals is to get past the doping issue and getting it out of the conversation. Unfortunately, the sport is still synonymous with doping, and we will have to get past this.
Another great element is that we are seeing a huge expansion of gravel events and Gran Fondos, but they are not directly related to us.
I think, finally, another challenge is that we don't currently have the resources to invest in athletes the way I'd like us to. Supporting them is important for our growth and recognition. We also have to find that balance to focus on racing experiences for everyday amateurs as well, and apply energy to governing the sport. We have to find ways to grow the sport at both the elite and grassroots levels.
CXM: Let's just touch back on gravel for a second since you mentioned it. Those events are not just the definition of grassroots—they are also rides that have grown extensively without USA Cycling. What do you think USA Cycling has to offer those events?
DBH: I heard that we should really look into regulating it.
No really, at the risk of sounding sycophantic, I think that the fake article you [guys] did on gravel events was one of the best April Fool's Days ever.
CXM: Oh, it caught your attention?
DBH: I remember reading it halfway through and thinking that this might actually be something that is plausible. But in all seriousness, I think that to date, there's no clear role that we have, but we have to look in the value propositions that we can offer promoters and race directors.
I think the most clear of everything there is insurance. We've put in a lot of effort into our insurance program. Some of those race directors currently choose to do little to none [with respect to insurance], and we can offer them great packages. In the end, the relationship has to be about us asking ourselves what is the value we can offer them.
CXM: And what about cyclocross? Do you have a vision to develop cyclocross, which is currently more under your umbrella?
DBH: The sport is very healthy. It is taking off. We want to let cyclocross grow without standing too much in the way. We have development programs in Europe, and we are supporting racing series around the country. Again, striking the balance between supporting the high-level programs as well as the grassroots events is important, and we want to ensure that both get our support.
@ryantrebon please say more. I'd love your thoughts at [email protected]. As a legend of our sport, your views matter to me.

— Derek Bouchard-Hall (@DBouchardHall) September 24, 2015
CXM: You are arriving at a time where cyclocrossers have mixed feelings toward USA Cycling. Part of this is due to the problems that occurred in Austin for Cyclocross Nationals. In what ways will USA Cycling ensure there isn't a repeat of those events?
DBH: That was a difficult episode for the cyclocross community. Bike races are complicated, and it's hard to control all the elements. That event gave us the opportunity to learn more about every variable and put measures in place. We learned that test events are crucial. That event was quite stinging to USA Cycling.
We put in so much effort, and it was soul-crushing. Learning from that is now a part of our emotional makeup.
CXM: In the announcement of you coming into this position, you stated "I could not be more excited to be returning to the sport I love at this time in its history." What exactly is it about this time that makes it pivotal for cycling in the USA?
DBH: A few reasons. We are in an inflection point in the relationship with doping. It will always be a significant challenge, but the era of everyone is doing it is over, and everyone clearly feels that it is cheating.
We are also seeing the growth of women's cycling. Lastly, we secured financial footing, which we didn't always have. Now we're not operating at a loss. We can invest in things like more efficient IT, as well as great opportunities for expanding membership, and building off of our past.
CXM: You stated that the growth of women's cycling is an area we should capitalize on. What is being done to encourage further growth?
DBH: It is a hard challenge. Again, we need to look at additional investments at the grassroots level and the Elite end. The goal is getting attention on women's cycling heroes and our Olympic athletes, and eventually manage a healthy ecosystem to support it. I will admit that there is no magic bullet in this case. It will be a long, steady process. But we should focus on the event level, ensuring that prize money and the right categories are helping with the growth of participation.
---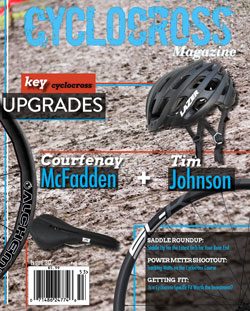 Our interview with Derek Bouchard-Hall was originally published in Cyclocross Magazine Issue 30, which also features a showcase on Courtenay McFadden, an interview with Tim Johnson, reviews about the best helmets for cyclocross, a saddle shootout, an in-depth look if getting a cyclocross-specific bike fit is a worthwhile investment and much, much more.
Want more in-depth cyclocross interviews and feature stories?
Be sure to subscribe to Cyclocross Magazine. We offer quarterly print subscriptions and a digital all-access subscription that gives you 24/7 access to Cyclocross Magazine's current issue and our library of back copies.