By the end of this year's Paris-Roubaix, seven riders were left to contest the final sprint as they wound their way into the velodrome. In the final five kilometers, Zdeněk Štybar surged forward from the lead chasing group to join the leaders, not wanting to let anyone join him in tow as he attacked.
He still had enough gas in his tank for one final effort in the velodrome, and knew he would need to use it as the ferocious German sprinter, John Degenkolb of Giant-Alpecin, was also in the group.
Although the 2014 Cyclocross World Champion attacked in the sprinter's lane with a little less than 300m to go, Degenkolb was already locked onto the Czech's wheel, and swung himself around to take the win by a bike length. Štybar, meanwhile, managed to take a close second place.
Lars Boom, a former cyclocross legend turned Spring Classic and Tour rider, stayed just off the podium to take fourth overall.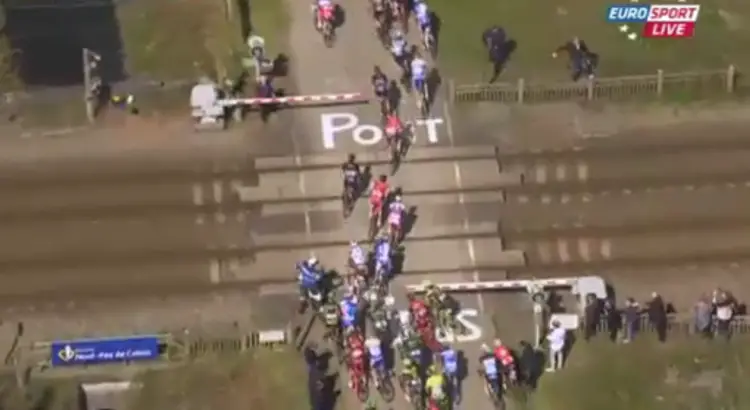 Train crossing at Paris-Roubaix, splitting the peloton. Photo from Euro Sport Live footage
One notable event in the middle of this edition's Paris-Roubaix was a train crossing that split the peloton, regulating the front half of the group to hold up for those who were caught up at the crossing. This still didn't prevent riders from sprinting beneath the falling barriers. While one rider collided with the gates, there were no serious injuries from the event.