Live Coverage of the women's race: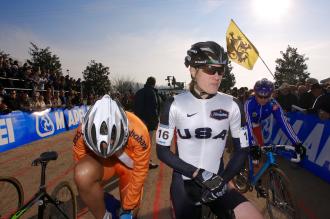 Thirty Eight Women are lined up to start the race, from 12 nations on a sunny day here in Treviso, Italy for the 2008 Cyclocross World Championships. Hanka Kupfernagel of German, 3-time worlds winner, has to be the favorite based on her recent performance. Looks like Katie Compton (USA), last year's silver medalist will give it a shot, despite her recent debilitating muscle problems. She's on the front line, third from the left based on her UCI points. Other Americans to start are Kerry Barnholt, Sue Butler, Amy Dombroski, and Rachel Lloyd.
0:00: They're off. Daphny Van Der Brand (Netherlands) got the holeshot. Two Americans collide, with one going down. It's Rachel Lloyd who's down, but she gets up quickly.
3:00 They're still bunched up. No clear gaps yet.
6:00: Canadian Wendy Simms is leading the race just six minutes in! There's a big group still. Katie Compton was last up the first steep (26 percent grade) climb, visibly limping and in pain.
Helen Wyman of Great Britain goes down in a tricky corner. Kupfernagel is chasing in second. Rachel Lloyd is in the top 10! She changes bikes her second time going through the pits.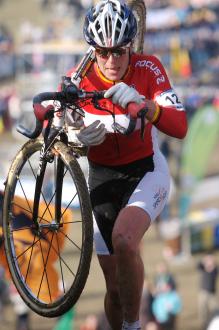 9:17: Multi-world champ Hanka Kupfernagel (Germany) takes over as they approach the start/finish. The favorites except for Compton are surfacing to the top. Daphny Van Den Brand (Netherlands) and defending champ Maryline Salvetat (France) are in the top three. As a comparison, the top espoir did a 7:01 first lap. Compton didn't finish the first lap, a sad end to a great season.
14:43: Christelle Ferrier-Bruneau (France) and Kupefernagel are off the front together, with Van Den Brand, Lloyd and Simms chasing 5 seconds back. The North Americans are representing. Behind it looks like the Americans Sue Butler, Kerry Barnholt, and Amy Dombroski are riding close together. It's no longer clear if Compton is racing. Perhaps her leg problems have caused her to pull out.
18:22 Kupfernagel and Ferrier-Bruneau cross the line after two laps. They shaved 12 seconds off the first lap time. Lloyd is in third! Simms is just behind. They're trailing by 7 seconds. The next group has four Dutch riders given chase.
21:50 Van Den Brand is giving chase to the lead two, but they're 20 seconds back. Former world champ Laurence Leboucher (France) is in the chase group now too, with Lloyd missing her mount after the run-up. Simms is still there, but Lloyd's bobble has her a few seconds back.
23:00 Kupfernagel has attacked Ferrier-Bruneau, and has an instant gap.
27:19 two laps to go for Kupefernagel. Ferrier-Bruneau is five seconds back, and making time on the road sections. That was a sub 9 minute lap, they're getting faster! Marianne Vos (Netherlands) is plowing through the field, having been down by 30 seconds, and in three laps is now only down 10 seconds! Lloyd is going backwards, and is now outside the top eight now.
31:00 The North American pair of Lloyd and Simms are fading. Simms is struggling on the steep run-up. Looks like Dombrowski and Butler are also having good rides, but it's hard to place them.
32:22 Vos continues to accelerate, and looks to be gaining time on second. Leboucher is still there in medal contention.
33:45 Vos is now paying for those blazing laps. She must have had the fastest laps of the day, but now is slowing. It's Kupfernagel, followed by Ferreir-Bruneau, Leboucher, and then Vos.
35:31 Kupfernagel and Ferreir-Bruneau have just changed bikes. The leaders have surprisingly used the pits a lot, considering the dry, sunny conditions.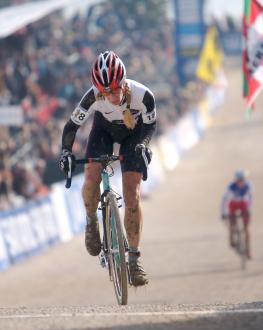 36:27 Kupfernagel comes through with one lap to go. Vos comes through with 20 seconds to go in third, with Leboucher in fourth. Sylvetat is fifth, Simms comes through in sixth. Lloyd still leads the Americans, sitting around tenth. Kerry Barnholt looks to be riding well.
39:52 The chasing trio are the two Frenchwome and Vos. They're 22 seconds behind, and likely racing for silver barring a disaster by the German.
41:30 Vos is attacking her fellow chasers, but they hang on tight. Kupfernagel hits the run-up stairs for the last time. Vos is accelerating again, dropping the two French women.
43:30 Kupfernagel is still hammering at the front, hitting the road section for the last time. She looks to have a comfortable margin but Kupfernagel isn't leaving anything to chance.
44:44 Kupfernagel starts to celebrate in the finishing road section.
45:14 Kupfernagel wins her fourth world title. She did an 8:48 last lap, the fastest of the race! Vos finishes in second at 15 seconds back, and collapses at the finish line. Leboucher finishes in third, continuing France's strong showing at worlds. Lloyd finished as the top US rider in 9th, an impressive ride. Barnholt was the second US rider at 20th, followed by Dombroski in 21st, and Butler in 22nd. Compton did not finish, a minor blemish to her stellar season.
Kupfernagel, 33, was very excited with her fourth win. "I'm very happy, I didn't do too many races this year, but I had really good condition," Kupfernagel said at the finish. "There was a lot of pressure as the favorite, everyone expects you to win. I knew the race would be long and hard, but I kept cool. The course was very slippery."
Notes: Kupfernagel oddly had her country's name blacked out on her jersey on the podium ceremony. We're not clear why.

Final Results:
1. Hanka Kupfernagel (Germany)		 0:45:15
2. Marianne Vos (Netherlands)		 0:13
3. Laurence Leboucher (France)		 0:17
4. Christel Ferrier-Bruneau (France)	 0:26
5. Maryline Salvetat (France)		 0:52
6. Mirja Melchers-Van Poppel (Netherlands)0:58
7. Wendy Simms (Canada)			 1:04
8. Daphny Van Den Brand (Netherlands)	 1:09
9. Rachel Lloyd (USA)		         1:23
10. Caroline Mani (France)		 1:42
11. Saskia Elemans (Netherlands)	 1:45
12. Reza Hormes-Ravenstijn (Netherlands) 2:12
13. Stephanie Pohl (Germany)	         2:14
14. Nadia Triquet-Claude (France)	 2:18
15. Sanne Van Paassen (Netherlands)	 2:24
16. Pavla Havlikova (Czech Republic)	 2:39
17. Susanne Juranek (Germany)		 2:54
18. Helen Wyman (Great Britain)		 2:58
19. Vania Rossi (Italy)		         3:18
20. Kerry Barnholt (USA)		 3:18
21. Amy Dombroski (USA)			 3:44
22. Susan Butler (USA)		         3:53
23. Elke Riedl (Austria)	         4:44
24. Sanne Cant (Belgium)		 4:54
25. Francesca Cucciniello (Italy)	 5:01
26. Daniela Bresciani (Italy)		 5:02
27. Loes Sels (Belgium)		         5:10
28. Milena Cavani (Italy)		 5:15
29. Veerle Ingels (Belgium)		 5:50
30. Kelly Jones (Canada)		 6:07
31. Mika Ogishima (Japan)		 6:19
32. Gabriella Day (Great Britain)	 6:40
33. Lise Müller (Switzerland)		 7:18
34. Masumi Sakai (Japan)		 8:05
35. Veronica Alessio (Italy)		 8:21
36. Ayako Toyooka (Japan)		 9:56
DNF Birgit Hollmann (Germany)
DNF Katherine Compton (USA)