Choose below for great gift options for that special someone in your life, or heck, treat yourself.
Cyclocross Magazine Polos:
Why wear a shirt with a horse when you don't play polo? Get one of our super limited edition polo-style shirts featuring a cyclocross racer instead of a horseman! $35/shirt
Cyclocross Magazine T-Shirts:
Get one of the limited stock editions of our classic cow-friendly Cyclocross Magazine shirts, by itself ($22, just click the size info below) or along with a subscription to the magazine ($35).
Subscription and Mud, Snow and Cyclocross Bundle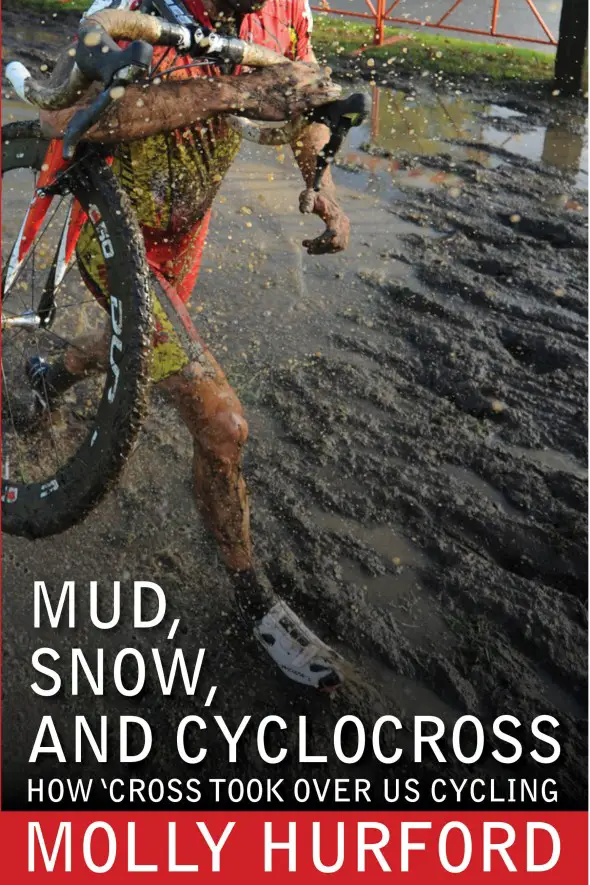 Subscribe to Cyclocross Magazine starting with Issue 20, and get our very own Molly Hurford's Mud, Snow and Cyclocross: How 'Cross Took Over US Cycling ($40)
Gift Subscriptions
'Tis the season to give the gift that keeps on giving. A Cyclocross Magazine subscription.
Available in both a print and digital version, we've got you covered with the only print magazine dedicated entirely to cyclocross!
Simply use the add to cart buttons below, and enter the information of the gift recipient and you're all set.
Print
Give the gift of a standard 4-issue subscription for $22 (17% off the cover price, but the challenge will be finding it) , and a supporter's 4-issue subscription, which at $25 helps us get grow and produce more issues. There's even a benefactor's option (which merely helps us ramp up faster and makes you feel good).
Gift subscriptions are only open to US subscribers.
Digital
Get Cyclocross Magazine on your iPad, iPhone, Android phone or tablet, or even your PC! We've had this for a while, but haven't promoted it well. Currently only $28 for 12 months, a digital subscription gets you instant access to archives of Issues 6-14 (a $72 value) PLUS all future issues for the next 12 months ($96 worth of print magazines for $28). This is a great option for our overseas friends who want to avoid the crazy USPS postage fees we have to pay to send each magazine. To get a free preview or subscribe instantly to Cyclocross Magazine in digital format, visit our digital subscription page on Uberflip.
Print and Digital Subscription Combined – Save 13%!
We've had so many requests for this, it's time to offer it. For one low price of $42 you get 4 issues of our print mag, plus 12 months of access to our digital archives and future digital issues on uberflip.com. That's $6 off the individual prices, and you save over $80 compared to buying all those back copies in print. Choose a username and password for the recipient's digital access, and we'll get you set up in a day or two.
Cyclocross Magazine Kit Now Available
Santa will have to leave an IOU, but if you're still puzzling over a present, consider giving the gift of a Cyclocross Magazine jersey, bib shorts, jacket, arm warmers, cap or even a skinsuit!
The CXM Pit Crew has been sporting, testing, and abusing these Cyclocross Magazine kits over the last year, and we're happy to report they've been supremely durable, eye-catching, and have even helped land a few folks on the podium. Now's your chance to pick up some for your cyclocross friends, or for yourself! Can't stand the feel of spandex, or buying for someone who doesn't spend all of his or her time in the saddle? Options like our CXM hat ($15) or arm warmers ($22) show off CXM pride without involving a chamois, or breaking the bank.
To check out all the bold, stylin' CXM gear and place an order, visit the Pactimo order site and sign in using the password cxmagazine.Then, simply set up an account and start shopping!
Orders ship when we hit our modest minimums (not immediately), and the store will remain open until around January 4th for the first round of orders. The sooner you order, the sooner the kits will be made, so get your orders in, and we should hopefully have you stylin' in under two months.
It's premium cyclocross and cycling gear from Colorado-based Pactimo at affordable prices. Our philosophy is that you should be able to afford to pick up more than one item, look stylish from head to toe, and not have a heart attack when the inevitable cyclocross crash happens (because you were able to afford a second jersey or skinsuit). Plus, you'll be smiling knowing that you're also sporting the colors of the only magazine dedicated to your favorite sport.