Promote the Promoter!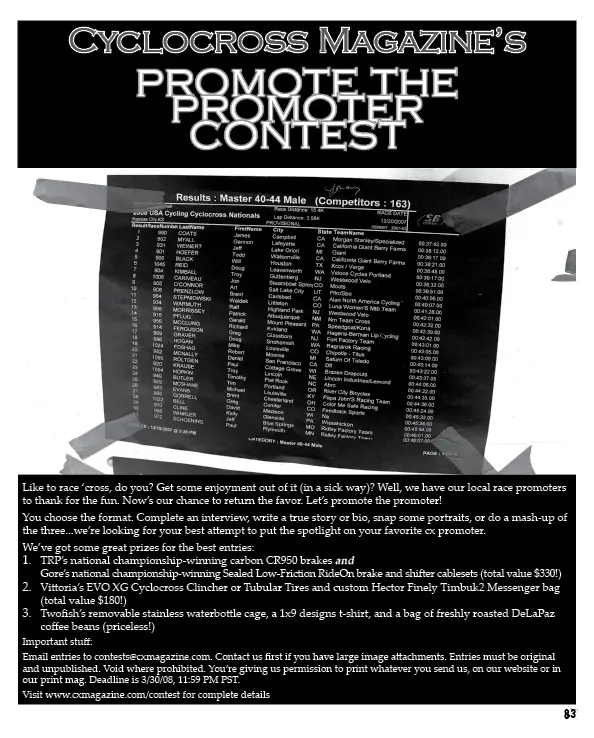 Like to race 'cross, do you? Get some enjoyment out of it (in a sick way)? Well, we have our local race promoters to thank for the fun. Now's our chance to return the favor. Let's promote the promoter! They're the folk that make this sport happen, and they're the folk that are key to the sport's growth. And they often do it without even needing a thank you. Let's let them get their podium time for once, and we've got free swag for YOU to get them up there!
You choose the format. Complete an interview, write a true story or bio, snap some portraits, or all three…we're looking for your best attempt to put the spotlight on your favorite cx promoter.
We've got some great prizes for the best entries:
1. TRP's national championship-winning carbon CR950 brakes and Gore's national championship-winning Sealed Low-Friction RideOn brake and shifter cablesets (total value $330!)
2. Vittoria's EVO XG Cyclocross Clincher or Tubular Tires and custom Hector Finely Timbuk2 Messenger bag (total value $180!)
3. Twofish's removable stainless waterbottle cage, a 1×9 designs t-shirt, and a bag of freshly roasted DeLaPaz coffee beans (priceless!)
Tips:

Being creative helps. Show the promoter's personality. Get funny stories. Request tips for other promoters or promoters-to-be. Ask questions about costs, UCI, sandbagging, and first-timer races. Send a picture or two. Get some quotes.
Important stuff:
Deadline is 4/10/08, 11:59 PM PST. This is extended from the 3/30 deadline printed in our magazine due to slow delivery.
Email questions and entries to contests /at/ cxmagazine.com. Enclose your name, address, email, and telephone #. Contact us first if you have large image attachments. Entries must be original and unpublished. Void where prohibited. You're giving us permission to print whatever you send us, on our website or in our print mag. You do not need to be a subscriber to enter or win, but don't you wanna support the mag before you take free swag? Judges' decisions are final.