Chamois Cream
Whether you're going for functional or fashionable, chamois cream makes a great stocking stuffer. Make it a little on the classier end of the spectrum with fancier containers from Buckler or, for those from New England, Honey Bikes via Buckler, mid-range with Betwixt from Zealios Skin Care, or go for a full tube of highly functional cream (in his and hers versions!) from Chamois Butt'r.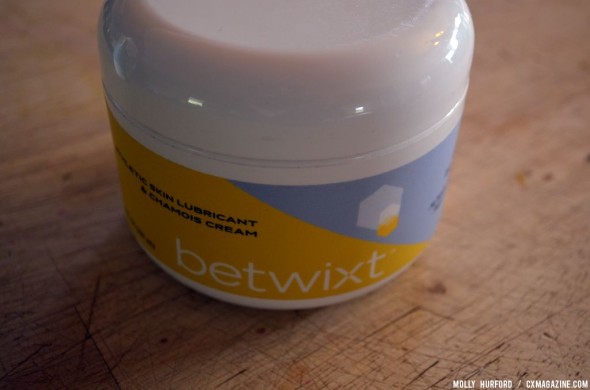 Buckler Crème Fraîche: Their debut chamois cream, the embrocation brand says that "Crème Fraîche is designed to provide anti-friction protection with a bit of a tingle for roughly two hours." We did love the 'bit of tingle' it provided, and one of the major selling points for us (and another great stocking stuffer) were the single use packets, great for stashing in your jersey pocket for reapplication on those longer rides.
Honey Chamois Cream: Along the same vein as Buckler (in fact, an offshoot of Buckler!), Honey chamois cream is a great gift that looks fancy but ultimately will prove to be incredibly functional. It's a "gateway" chamois cream—get them started with something fancy before possibly heading to something more cost-effective. " Honey Chamois Cream includes vitamin E, tea tree oil, and lavender along with a refreshing dose of peppermint and menthol," so it's tingly while it keeps your seat comfortable on those long gravel grinders that New England-based Honey Bikes loves.
Zealios Betwixt: For the vegan cyclist in your life, Betwixt is all-natural and vegan-friendly. "Betwixt is an all-natural, high viscosity chamois cream & athletic skin lubricant. Free of petroleum and petroleum derivatives, this vegan formula is constructed with ingredients derived entirely from plants." And we're happy to say that in addition to being all of these things, it works pretty darn well too!
MSRP: $18.75 (but Zealios has a 25% off sale running through December 20)
More Info: zealiosskincare.com
Her' Chamois Butt'r: We tested the women's version of Chamois Butt'r's offerings. The difference? This cream "utilizes premium ingredients including aloe vera, green tea leaf extract, tea tree oil, shea butter & lavender oil" and is specifically PH-balanced for women. And while the tube may not be as fancy as the other ones on display here, it lasts for quite a while and (not to get gross), it squirts right onto a chamois (though it isn't as liquid as some of the others, more like a diaper cream), so you don't need to drag your fingers through a tub of chamois cream. Unless you're into that.