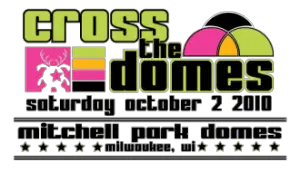 by Paul Warloski
Milwaukee, Wisc. – On a course described as "deliciously evil," Brian Matter (Geargrinder) and Abby Strigel rode away from their respective men's and women's Elite fields to claim victory at Cross the Domes in Milwaukee, WI Saturday, Oct. 2nd.
In the Educator's Credit Union Elite women's race Holly Klug (the Pony Shop) took the early lead while Strigel and Samantha Schneider (Team Tibco) chased. Strigel eventually caught and passed Klug, then rode away. The women's field offered equal payouts to the men.
Matter and Mark LaLonde (Specialized) quickly distanced themselves from the field, and Matter gapped LaLonde up the steep climb toward the end of the race. Matter then maintained a small lead until the finish.
The race was presented by Crankdaddy's Bicycle Works of Milwaukee and promoted by the My Wife Inc cyclocross team. The course, at the Mitchell Park Domes, featured a double sand-pit, twisty loops on fairly rough terrain, a wicked long steep climb and many off-camber turns.
Each race's winner also won a giant cupcake, provided by Lebam Bakery. Cross the Domes was the second race in Wisconsin's Planet Bike Cup.
Brief Results:
Elite Men's Race sponsored by Lakefront Brewery
1. Brian Matter (Geargrinder)
2. Mark LaLonde (Specialized)
3. Mike Sherer (Pony Shop)
Elite Women's Race sponsored by Educator's Credit Union
1. Abby Strigel (Madison, WI)
2. Holly Klug (Pony Shop)
3. Samantha Schneider (Team TIBCO)
Elite Men's 35 plus
1. David Peters (Brazen Dropouts-Cronometro)
2. Louis Kuhn  (The Pony Shop)
3. Jeff Melcher (Team Extreme)
Elite Men's 45 plus
1. Gregory Ferguson (Fisher Midwest Road Team)
2. John Miller (Madison, WI)
3. Mark McGeen  (Team Mack Racing Assoc. LTD)
Elite Men's 55 plus
1. Robert Downs (Planet Bike)
2. Tom Palmer   (Brazen Dropouts-Cronometro)
3. David Sieloff   (Brazen Dropouts/Cronometro)
Elite Women's Category 3
1. Sarah Huang  (ISCorp Cycling Team)
2. Alyssa Severn (Magnus)
3. Corrie Osborne (ISCorp Cycling Team)
Elite Men's Category 3
1. Kevin Berger (Team Wheel & Sprocket)
2. Jeffrey Wat   (Burnham Racing)
3. Antonio Valenti  (Team Pegasus)
Elite Women's Category 4
1. Erin Feldhausen
2. Heidi Kraut (Attitude Sports)
3. Sara Grant (MadCity Velo Club)
Elite Men's Category 4
1. Mitchell Bogardus  (Kenosha, WI)
2. Alexander Martin (U of Wisconsin/Madison Cycling Team
3. Paul Loeper (Madison, WI)