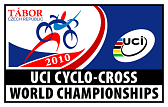 The 2010 Cyclocross World Championships in Tabor is over 10 months away, but the course is already under construction. Based on initial previews from the Czech riders, Katie Compton should be very happy. The five-time national champion loves "heavy" courses, and that's exactly how the new Tabor course is being described.
While Tabor has hosted the Cyclocross World Championships and UCI Cyclocross World Cups before, the new course for next year is in a different location. Martin Bali-Jenčík, editor and photographer of Cyklokros.cz, tells Cyclocross Magazine that compared to the old course, the new one "is moved down closer to the river." Bali-Jenčík says the first race on the course won't be until the Czech Championships, on January 9, 2010, giving the Czech riders the extra advantage of a preview race.
The course is part of a multi-million dollar construction project that will also feature a 1,200 meter inline skating track, beach volleyball and other ball sport courts, a multi-use trail, and to relax after all that activity, a sauna.
The Czech riders have previewed the new course and have expressed their approval (although perhaps not so blatantly as Lars Boom did for the Hoogerheide course in this picture). Czech native Zdeněk Štybar, silver medalist at the last two world championships, told Cyklokros.cz that he thought the new course "will be very heavy and I really love it." He also thinks it's fair, saying, "…it's good, because the best should always win."
Radomir Simunek, who is from Tabor, also finds it to his liking. "The track is beautiful, but heavy," he says. "I think [our team] will have a great psychological advantage, our people will certainly cheer us to make sure we finish first and second."
Simunek also believes the course will be very spectator friendly. "The course will be extremely attractive for spectators…from one place you will have the opportunity to see the whole range. Personally I would love to be in their place to enjoy the championship."
The ability to see most of the race from one spot would be a significant change from the 2009 course in Hoogerheide, which went through Hoogerheide's downtown and was spread out into separate sections. However, as with the course in Tabor, many expected Hoogerheide to be a wet, slippery, muddy course as well, but abnormally cold temperatures turned it into a very hard, fast track. So despite Simunek and Stybar's predictions, the course may still be very fast if the mercury drops.
The initial course preview has two sets of stairs, and surprisingly, a set of barriers, something that's been missing from the last two championships and a course feature that Compton likes. Will it be her year? We already can't wait to find out.
Course preview from the race organizers:
Course previews:
For more info on the 2010 World Championship in Tabor: