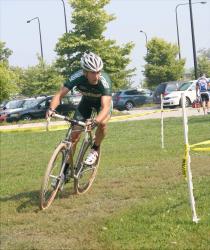 By Imelda March
Not exactly cross weather for Race #1 of the Chicago Cyclocross Cup; however, that did not stop 288 racers from coming to frolic in the warm, sunny and 73 Fahrenheit temperature day on September 21, 2008.
The race course did not disappoint as it kept experienced and amateurs alike on their "pedals" through a twisty, flat and fast cross course.
Elite Men
The boys from Evanston's Pony Shop came out in full force and made it look easy out there. These guys will be the one to chase down in this years campaign. Together, the winner Brian Conant (Pony Shop) and Luca Lenzi (Pony Shop) managed to fend off 3rd place finisher Scott McLaughlin (Sram).
Elite Women
June Upshaw (Verdigris Custom Homes) was conspicuously missing from this year's road campaign and showed dominance in her first day out at Chicago's season opener. She overtook 2nd place finisher Rebecca Much (XXX Racing AthletiCo) for the win followed by Holly Klug (Killjoy) in third place.
Prior to the race I caught up with June and she said, "I love this course." With this you can surmise that she arrived early and studied every knick and cranny of the course.
Upcoming Events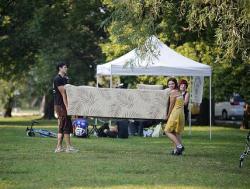 Events abound in this year's series, as the series continues with racing on Sunday, October 5 with round two of the Chicago Cyclo-cross Cup in DeKalb, Illinois. After the weekend of racing, nationally recognized nutritionist Monique Ryan, MS, RD, LDN will be presenting her HIGH OCTANE FUEL FOR CYCLOCROSS on Tuesday, October 7. Further information about the series can be found by visiting www.chicrosscup.com