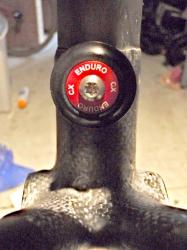 Compton Moving to Carbon?
Cyclocross Magazine has recently hired paparazzi in Colorado Springs of all places. And while the photographers did not find any interesting cyclocross-related items in their late night scan of the offices of USA Cycling (except a CliffsNotes guide to UCI Cyclocross Rules), one did manage to capture this photo through a basement window of the Katie Compton-Mark Legg house.
While the ceramic bearing cable pulley may be a curious item in its own right (can you say bling overkill?), the blurry dark thing it's mounted on is unmistakably a carbon fiber cyclocross frame. Mark Legg-Compton has confirmed they are helping to test and develop a new carbon frame, but assured CXM that Katie will be racing on her Scandium Primus Mootry frames again this year.
Gloucester Registration Opens, Adding Beer?
Gloucester's famous cyclocross race is already 10 years old. Registration opened three days ago, and already some categories are almost full. Worried you'll be left out in the cold? You needn't be. Sources tell Cyclocross Magazine the event will have its first beer tent this season to celebrate its 10th birthday. So if even if you're not racing, you'll till be able to stay warm and feel like puking even without pinning on a number.
Compton going carbon? G-star getting drunk? How's that for investigative journalism? We did our own homework, and you heard it here first (even if it may not be true). No reporting here about a TV network reporting on a cycling website that's reporting on sources reporting about a magazine that will be reporting a certain former champion cyclist may or may not be coming back and may or may race 'cross. You heard that, right? Credible sources told us…