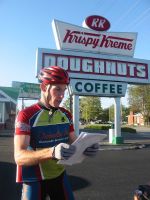 Already sad the season is over? Miss the thrill of racing and the camaraderie of your buddies? The folks in Louisville addressed this problem by adding a bit of creativity to their racing scene with their "Clandestine Cross" race. We received this report from one of the participants.
Report and photos by Suzanne Webster
We have a friend who would tell us tales of distant lands called Portland and San Francisco and regale us with stories of strange lawless people there who engage in underground, illicit activity – like brazenly racing their 'cross bikes at non-sanctioned locales. No pre-reg? No race fees? We gasped. How can this be? How does it work? Do you really think we can pull it off in Louisville? He laughed maniacally as he explained it – ours would be different: a little bit of alley cat, a little bit of Oktoberfest, a dash of Fight Club and a sprinkling of DFL – shaken, not stirred. He'd say it's the way 'cross should be. Races are fun – why wait till Sunday? He'd tell us in hushed tones about how everyone would be secretly notified of the gathering place – mere hours before the questionable-and-possibly-objectionable activity would take place. It was like the hash house harriers of cyclocross, only there's no flour marking a trail – just pin flags and maybe some orange paint if you were really lucky. We wanted in. Who doesn't want in on some blatant lawlessness on 'cross bikes?
The word was quietly spread on how to go about joining the super secret group. We got the email around noon on race day with the meeting place. Aliases and alibis were strongly encouraged; bright, logo-ed gear was strongly discouraged and may even be ridiculed. It's clandestine cross with an official name, which may be the only official thing about it: The Thursday Night Throwdown. You don't roll in your team kit – it connotes a certain seriousness that's frowned upon. Plus, you want to remain as unidentifiable as possible – in case the cops show up.
We meet at a local Krispy Kreme; which is not at all clandestine and just serves to throw everyone off. This way, we look like a bunch of law abiding citizens gathering for a leisurely bike ride. There is a general excitement and buzz among the group, which of course has nothing to do with bourbon swigs from the flask. We're eager to discover what lies ahead.
There is a review of the course map and a reading of the rules – yes, there are rules. They mostly involve beer laps and bell laps as well as escape plans and routes should the cops show up. And while not written in the rules – cheating and course cutting is totally acceptable – even encouraged.
After we've been briefed on the general drill, we head off to the second, 'undisclosed' location. What do they say about 'never going to the second location'? No good can come of that. Indeed. The first race is being held on the rolling hills and sports fields behind the local high school, but there's one caveat: soccer practice, while nearing an end, is still going on. Practice normally runs until 6 – it's now 6:30. Trouble. The course starts on the 'backside' and we stash our loot in the bushes closest to the break in the chain link fence. Makes for an easier get-away, should the need arise.
Our fearless leader takes us on a brief tour of the course; which includes an ass-kicking mandatory run up, followed by the mandatory run down – which is only mandatory if you want to retain your teeth on that rock wash out. We're advised to stick to the very edge of the field where the teenage South American contingent is still playing a very serious game of soccer. While we're all on bikes and could easily ride away, no one wants to mess with that crew.
We were led through the field of deadly walnuts, off-camber hillsides and singletrack hole-shots – all the while weaving around soccer games and doing our best to dodge the perplexed soccer-mom spectators and the occasional wayward half-pint players.
"The kids are not to be used as barriers," our leader explains.
This was just the pre-ride tour. The race begins with a very unofficial, "Everyone ready? Let's go!" and we're off. The race structure is the ultra-casual, 'choose your own category' style. No cat A, B or C at this free-for-all: you know how fast you normally are, but sometimes you just want to win. What's a little sandbagging between friends? Race anywhere from 30 minutes to an hour – or until the cops show up – whichever comes first. The first lap is fast, furious, honest and earnest. The earnestness however, wears off with each trip up the mandatory run up, which was a walk up by the fourth lap. And the honest-ness wears off with each swig from the bourbon flask. Soccer games finishing, cheating and bourbon swigs in full force – twilight descends on the course; the first winner of Thursday Night Throwdown crosses the imaginary finish line and there is a sprint for third place.
Mission of clandestine 'cross in little ol' Louisville accomplished and its' off to the pub for some grub and race recaps, where we have a moment to talk to our fearless leader about what led to the insanity that night: (We'll call our fearless leader "Satan" in keeping with the costume he wore to the Halloween Throwdown)
So, 'Satan', what made you think to organize something so blatantly lawless?
I knew a little bit about the DFL races in SF – they have the same kind of flavor and a more casual "racing" structure than the 'real' races I've been to. They seemed fun, but then we went to Portland last year and while we were there, friends took us to the Halloween Cross Crusade race in Astoria, Oregon. I totally lost my mind! I'd never seen people have such fun at a bike race and when we got home I talked about it constantly. I was really craving that sort of mayhem, but even Satan doesn't have the balls to just start putting on "real" cross races with costumes and kegs – or show up to a cross race in a thong. Last winter there were a bunch of indoor/ outdoor alley cat races in Lexington, which turned out to be really fun – I'd always thought alley cat racing had a great alt-party-culture associated with it and the Lexington races were no different. Basically, I was trying to replicate those kinds of social scenes that had sprung up around bikes and it just so happens that it in our case, it required some little incidentals like trespassing and sneaking around with coolers of beer.
Why not just join in on those alley cat races?
Racing around in traffic – without lights or helmets – wearing skin-tight jeans and chain wallets – doesn't appeal to as many "regular" (i.e. sane) people and it was a little harder to get excited about. Surely, I thought, we could combine elements of all these other types of races and add a little zest to the Louisville cross culture.
What was the thought process?
As you can imagine, Satan has some weird friends and we were all talking about ways to shake up the scene a bit. So after a few nights of drinking beers and gesturing and pointing and making light of the uber-serious racing crowd, we nailed it and the concept for the Throwdown was born.
How do you feel about having 'stolen' the idea from Portland?
Stealing is such a dirty term – I prefer plagiarism. Someone once told me that plagiarism is the highest form of flattery, so I prefer to think we're basically just flattering the folks out west every Thursday night. Despite the redneck jokes, Kentucky has this incredible cycling scene – and a really strong cross-racing scene. The difference is we don't have the same Bacchanalian side-show that they have in the northwest. The Throwdown is just our quirky little catalyst for what we hope will evolve into the weekly party on wheels – that 'other' side of cross racing culture. Think of it this way: Portland is the City of Roses and Louisville is Derby City. Every May, someone in Louisville makes a blanket out of roses and it gets wrapped around the winner of the Kentucky Derby. So really – if you look at in those terms, we're in the business of taking stuff from Portland and making something cooler out of it.
Those could be fightin' words in Portland.
Satan doesn't condone fighting, so maybe I should explain it another way. It has been said that no idea is ever totally original, so I guess in Louisville, we just happen to be managing our stolen goods a bit better – er – differently than they do in Portland. It's true we definitely lifted the vast majority of the ideas from all of the events out west – particularly the Cross Crusade. But I think the Louisville crew that came out week after week made the Throwdown a totally original, 90 proof, Kentucky-straight cross-fest.
90 Proof – does that have anything to do with all the bourbon?
Satan avoids the brown water, but god dammit, I want a tequila-short-cut at one of our local races. That's the coolest thing I've ever seen! The beer-lap-as-bell-lap is just the beginning.
Do you think one day someone will speak in hushed tones of the 'cross coolness that happens in Louisville?
We may not have Team Beer or the naked crit yet, but we don't have 125 microbreweries, either. One thing at a time…
Are there any plans for Thursday Night Throwdown to go naked?
We can only hope. I'm working on getting Bag Balm as a sponsor – should help ease people's minds.
Satan, you're so busy with all your mountain biking advocacy and saving parks from being closed down – how do you find the time to do it?
A gallon or two of Jackson's Organic Coffee every day and a very, very, very understanding spouse.
Disclaimer: Cyclocross Magazine in no way condones cycling when combined with alcohol. Please 'cross responsibly.
Photo Gallery: