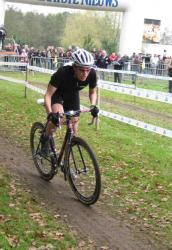 Cyclocross Magazine columnist Christine Vardaros, a regular print mag contributor, sent us this online report of her recent World Cup in Kalmthout. Enjoy her unique perspective of the day as a racer, journalist, pit crew member, and fan.
Kalmthout World Cup Report – perspective from the saddle  
by Christine "Peanut"  Vardaros
The first big event of the cyclocross season here in Belgium is a like a reunion that grows each year as I increase my network of friends.  As a closet social butterfly, I get a kick out of the few minutes filled with hugs, kisses and small talk immediately after I get to the event site.  This time around was no different. It took me a full thirty minutes to make a round trip to the toilet that was only a two minute walk away.
Once back to the van it was onto a quick change into cycling clothes and a bite of pasta. After a few minutes on the trainer, I headed out for a few laps on the course.  At world cups, the elites are treated to 1 ½ hours of warmup time on the course. What a luxury.  I started off on a couple of slow laps with Adam Myerson.  As we meandered around the track, we were passed by many of the big names such as Hanka Kupfernagel (Focus), Daphny Van den Brand (ZZPR.nl), Christian Heule (Rendementhypo), Radumir Simunek (Palmans Cras).  It was a who's who in the 'cross world.  I wish every 'cross fanatic could get the chance, if even once to pre-ride the course before an international event like this.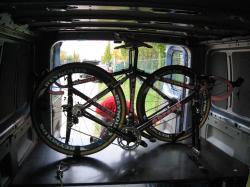 Soon I was on my own for some hot laps where I was still passed by racers such as Richard Groenendaal (AA Drink), World Champ Lars Boom (Rabobank), Bart Aernauts (Rabobank), French National Champ Francis Mourey (Française Des Jeux), and most of the Fidea Team .
After one last pee stop, it was off to the start line. I stood near the back since I knew I could expect a last row callup due to my lack of UCI points from last season.  It was nice to have that extra bit of time to catch up with the other gals such as Sue Butler, Gabby Day (Swift Racing) and Germany's Birgit Hollman. You would think that all focus would be on the course at five minutes before the gun, but it is not always the case! As I was waiting behind the riders, I overheard a conversation between Helen Wyman (Swift Racing) and Hanka Kupfernagel. The topic – peek-a-boo skinsuits – namely the butt region.  They both race for Bioracer clothing and wear white skinsuits so they were naturally turning to each other for empathy .  The difference between them, though, aside from the world champ stripes versus the UK national stripes,  is their butt panels.  Hanka has a double layer panel and Helen does not. Needless to say, their conversation quickly included the word 'rain.'
My goal for the day was top 15.  Two years ago, I placed 14th in this event and last year I was 22nd (despite a delayed start due to a gal who couldn't clip into her shoe just in front of me.) And with good health, I expected that if everything went well I could reach my goal.  When the gun sounded, it was as if the field opened up for me to pass people. I was steadily moving up in the first few minutes with ease, breaking into top 20 on the way to reaching my goal. An overwhelming amount of cheers for me most definitely fueled my effort.  But then it all flipped when a 16-year old Dutch gal riding for  Flexpoint ran directly into me in a single-file sand pit with only one rideable line. She tried to defy the laws of physics by passing us through the thick deep sand and only got as far as my front wheel.  By the time I dragged my bruised body and broken bike (namely my front wheel, left shifter, front locked brake) to the pit, I was in last place.  With quickly widening gaps and motivation quickly diminishing, I passed only a few to finish 30th.
Luckily my dream did not go to waste.  Instead it was awarded to a very deserving individual, Sue Butler, who rode a great race to finish 14th.  I wish I were able to report that Katie Compton won but unfortunately her race was over on the first lap due to the same injury that cost her the World Title earlier in the year.  When she reached the pit where her husband (they are now married, by the way) Mark Legg awaited, she pulled over.  I knew something was amiss when she was one of the gals I passed early in the race. As much as I like the idea of passing a superstar, it only feels good when you do it while they are at their best.
After my race,  it was time to play supporter for Adam Myerson.  I wiped down, grabbed a PROBAR and a water bottle then headed over to the start line to retrieve Adam's jacket.  Usually you are supposed to have an official badge to stand in the starting grid with a rider but I had to fake it.  Jonas' pit pass fell off his lanyard so he took my all-access "USA National Coach" pass. With just the lanyard – attached to nothing – I made it work. I zipped my jacket and pulled the lanyard a tiny bit out so it looked like I had something attached to it.  And it worked.
My next challenge was to sneak into the pit to help Jonas.  With the entrance to the pit blocked by three officials, I had to come up with another way in.  Thanks to the help of a few strong spectators who catapulted me over the fence across from the pit, I got in.
For any cyclocross bike aficionado, the pit at a World Cup is the place to be. Every bike is worth a minimum of $6000, and many have prototype parts or custom adjustments made to their machines. There were some sawed off brakes, bent TRP's, prototype frames and carbon rims. There is even a prototype carbon-specific pad that Team Rabobank started to use. I gotta get some of those!
Aside from the unlimited eye candy, the benefits of watching a World Cup from the pits is that you have a front row seat to the action. Nobody can stand in the row in front of you. They also have an oversized TV screen showing the action. It is to show us when to expect the racers and to help warn us if they might need a bike.  Since Adam didn't need his spare bike, we had lots of time to watch the race and check out bikes.
Afterwards, I interviewed Adam on his experience out there, what advice he has for fellow Americans looking to make the trip overseas later this year, and what it's like to sit on both sides of the sport of cyclocross (he is a racer and on the UCI Cyclo-Cross International committee responsible for everything from determining start and prize monies at Superprestige events to determining which UCI events will have a women's category.)  The interview will be posted here shortly.
After the race, Jonas and I went back to the van to pack up and leave.  But instead we were treated to a surprise.  Jonas' mom showed up with food and wine.  We had a whole bag of fresh breads such as olive focaccia, crunchy raisin-hazelnut mini breads, multi-grain brown bread, moist 16-grain bread and a pine nut, olive, rosemary concoction.  She served them with various dips like hummus, soft herbed un-cheese and  tomato-basil spread. It all went down well with the bottle of red.  For those thirty minutes it took to stuff my face, the pain from my bumps and bruises momentarily disappeared as did my memory of the emotional rollercoaster I had been on earlier in the day.
Friday morning it is back on the road headed to Tabor, Czech Republic. It is about 30km south of Prague.  The van leaves at 4am – heck, showers and coffee are overrated (I tell myself.)
Thanks for reading!