Tonight we were fortunate to get live race results from our guy in Seattle, Sean Horita.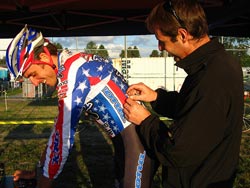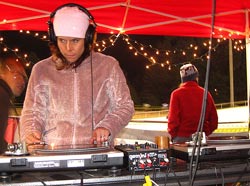 Christian Huele, the Switzerland Cyclocross National Champion and 6th ranked rider in the world, won tonight's FSA Star Crossed race in Seattle, besting Ryan Trebon (Kona) in a close sprint. Barry Wicks (Kona) led most of the race, before stacking it in a turn coming off the velodrome on the 4th lap. Huele attacked after Wicks crashed, forcing Trebon to chase. Wicks eventually caught back up to the leading two, and pulled hard at the front before blowing on the last lap. Coming into the final, Trebon led out the sprint, with Heuele coming around to take the race by less than a wheel. Comeback boy Andy Jacques-Mayne finished an amazing fourth place in his first big race back after his horrific crash this summer.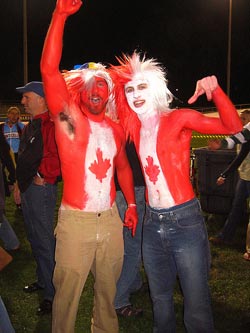 In the woman's race Wendy Williams (River City Cycles) beat Sarah Kerlin (HRS) in a sprint as well. Wendy Sims(Kona), Sue Butler (River City Cycles), Kristi Berg (Cycle U/Redline) rounded out the top 5.
Richard Feldman (Durance) won the Master's 1/2 race, and Andrew Brown won the Master's 3/4 race. The top Men's 3/Bs was Steve Fisher of Rad Racing, whose team swept the top three spots and were way out front. Conal Groom battled Carl Hulit in the 4's race, until Hulit bobbled on the last lap coming on the grass from the velodrome.
More photos and details to come! Check back soon.
Got photos or a race report to send us? Email us at info < at > cxmagazine.com
FYI: Our print issue is almost done…want to make sure you get a copy? Sign our form at the top of the page to get notified when it's ready. We'll be taking subscriptions soon!