by Clifford Lee and Andrew Reimann
With single ring set-ups all the rage, specialty companies are hard at work to give us all a variety of options in ring size, bolt circle diameter or direct mount for SRAM.
At Interbike 2015, Wolf Tooth Components showed its commitment to the single ring movement with their Drop-Stop chainrings available in a wide variety of sizes in almost every conceivable bolt circle from road to mountain, and even SRAM direct mount cranks.
Wolf Tooth Components has been expanding its single ring offerings for most conceivable BCD and sizing combinations. © Clifford Lee / Cyclocross Magazine
They have continually worked on perfecting the tooth profile for the best chain retention and mud evacuation, which means that 'cross is on their mind. A steel version is available for a 104mm BCD, 4 bolt mountain bike crank if you want the ultimate in durability. Wolf Tooth has gone further to produce supporting products for the conversion to a single ring set-up with the production of a set of large cogs to go with Shimano and SRAM cassettes. The GC cogs are teeth with each model designed specifically to mate with a particular stock cassette.
To allow stock derailleurs to handle the expanded gear range of the cassette, Wolf Tooth components also produces derailleur adapters; the Road-Link and Goat-Link allow the specific derailleurs to accommodate the new large rear cog. We have both a Goat-Link and GC cog undergoing review. Stay tuned for a full review.
Praxis Works has also been at work on products catering to the new single chainring craze with a wide-narrow front ring in 40 and 42 teeth. We saw a new chromoly steel wide-narrow ring for a 104mm BCD for the rider seeking durability when using a single ring, but alloy wide-narrow rings are available in 130,110, 104, 96 and 94mm BCD. They also introduced a 11-40 wide range 10 speed cassette for those with a lot of older 10 speed Shimano/SRAM-splined wheels.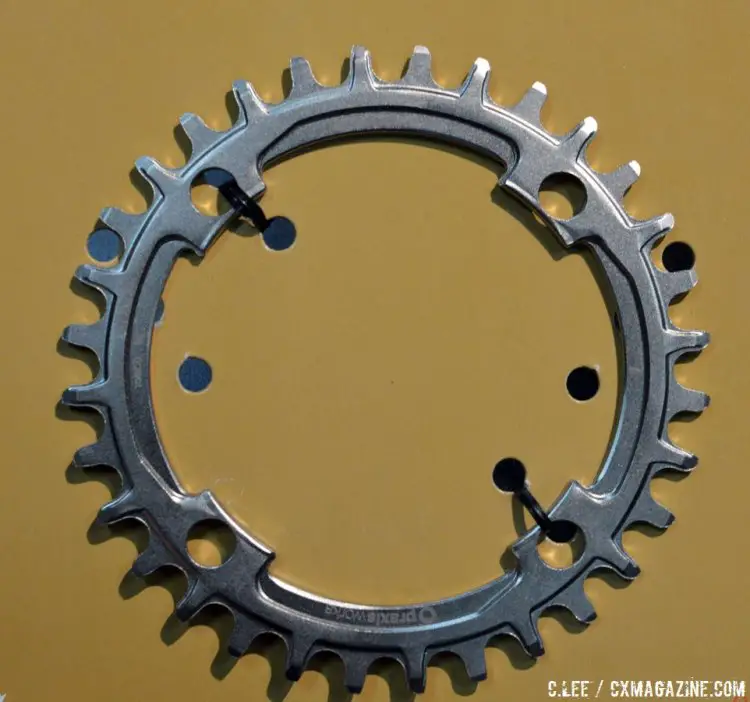 Praxis Works' new stainless steel wide-narrow single ring. © Clifford Lee / Cyclocross Magazine
WickWerks understands the demand for a single chainring drivetrain, and has quietly made a wide/narrow system for cyclocrossers and mountain bikers alike. However, that technology is simply the garnish for the company. As for the meat and potatoes, WickWerks has always turned to its double chainring system with what they have boasted to be the fastest shifting chainrings in the cycling world.
For 2016, we saw WickWerks' latest unveiling that could take the gravel world by storm: a 53/34 double chainring system. The system could be ideal for those rides with enough pavement to want as much higher-end torque as a rider can get, but with enough gravel climbs to beg for a lower gear, and WickWerks provides an impressive range for both, and shown in the video below:
Usually, a separation of a tooth count at this magnitude is a recipe for a dropped chain. Thinking that the demonstrator might have been playing a little soft with the shifting between the big and small chainrings during the filming, we didn't pull any stops with the same rings on a SRAM equipped system. Even with us trying to drop the chain while the drivetrain was crossed, the shifting remained flawless.
Looking for a wider range for cyclocross instead of gravel? WickWerks also has a 46/33 system. Both are built for a 110 BCD crankset and will run a little over $150.
For pictures of all three systems, use the slider below. More info: wickwerks.com, praxiscycles.com and wolftoothcomponents.com