by Tim Westmore
Although the weather threatened on several occasions, rain for the most part stayed away from today's course at Manzanita Park. The occasional drops of rain that did fall failed to make any significant impact on conditions. The rain earlier in the week dampened the course to make it tacky in places but also removed the dust that had been ever-present in earlier rounds.
In the Women's Elite race, Karen Brems (Team Rambuski Law) got off to an early lead and stayed ahead of Ellen Sherrill (Team Bike Station) for the win. Despite the appearance of a comfortable lead, Brems said, "It was really hard. I got a gap on the first lap but I had to keep it going because Ellen [Sherrill] was only 15 seconds or so behind me. I really had to keep on the gas for the whole race. I had a clean race so I was happy about that."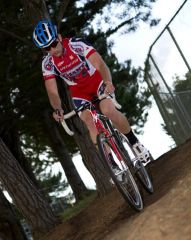 Second place Sherrill raced with gaps both in front and behind for much of the race but was indeed an ever-present threat to improve her position. Officials added an extra lap late that could have altered race tactics. "I was pretty mad when [they] did that," said Brems, with a wry, discerning smile, "I was counting down and figured I had two-to-go and I could hold that pace. Then [they] showed three-to-go. I hung on and survived."
For a while, it appeared that the battle for third would be the race to watch as Stella Carey (Bay 101-HRS Rocklobster) and Courtney van Dimple (Team Rambuski Law) raced for the last podium step. Carey said, "I was ahead of [van Dimple] for the first couple of laps and she caught to me. She passed me and [urged me] to try and catch Ellen [Sherrill] so that motivated me to jump on her [van Dimple's] wheel." Carey continued, "I could tell Courtney [van Dimple] was going slower than me on the hills so I [said to myself] just keep plugging away and go as hard as I can on the hills." This took Carey ahead of van Dimple to secure third place.
Elite Men
Early in the Men's Elite race, Aaron Bradford (Bay 101-HRS Rocklobster) and Tobin Ortinblad (CalGiant-Specialized) were dominant. Both racers set a good pace to build a long gap to third. Misfortune struck, though, as Bradford rolled his wheel and left Ortinblad to assume the lead. "Aaron [Bradford] was laying it down on the up hills and I was right there," commented Ortinblad, "it would have been really close. Who knows, had he not rolled his wheel, [Bradford] would have definitely put me in the pain cave." Ortinblad's hard work had him in the right place at the right time and he stayed conservative after the mishap to take his first CCCX senior win. Abe Rotstein (Freewheel/Hunter) put in a good race to take second place. Bradford dropped to sixth after his incident but showed guts in fighting back and taking third on the very last lap.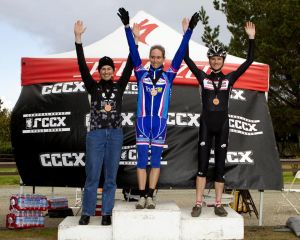 The next CCCX event takes place on 6 December 2011, with the NCNCA District Championships. The venue is Toro Park and organisers are planning to use the "front" course with its long, taxing run-up.