It's been 10 years since Clif Bar's Gary Erickson played a bit part in the Bay Area Super Prestige video for OLN TV on a rainy December Sunday at Coyote Point  – and that bit part describing his infatuation with our sport has come full circle during the 10th anniversary season of Bay Area Super Prestige cyclocross series. For 2012, Clif Bar has returned to support the series as the title sponsor for the entire 2012 Bay Area Super Prestige cyclocross season.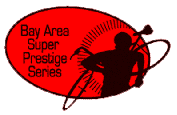 The 2012 Clif Bar Bay Area Super Prestige Cyclocross events kick off September 30th with the first of two visits to Candlestick Point – opposite the 49ers NFL Football stadium in San Francisco. Clif Bar will make its impact by gracing the podiums with the variety of organic energy bars and food products that have made Clif Bar synonymous with the movement to help create a healthier, more sustainable food system.  From Clif Bar itself to Clif Shot energy gels, athletes reaching the 18 different podiums at each race will be rewarded with Clif Bar product.
A look back at the beginning
Digging into the BASP vaults, the promoters have uncovered this series of videos featuring Richard Fries when he interviewed athletes for inclusion in OLN's coverage of the US 'Cross scene in 2003.
Since his first involvement with "Super 'Cross" series in 1997, Fries has continued to foster the growth of the sport via the New England "Shimano Series" and "Providence Cyclocross  Festival." He has also taken his announcing career to new heights, including live official commentary of UCI World Road and Cyclocross championships since 2010. He'll be heading out to Holland this month to get ready for World Roads in Limburg on the Valkenburg, and late January just down the road to Kentucky for this year's historic UCI World Cyclocross Championships.
Five Races at Four Venues for 2012
The 2012 Clif Bar Bay Area Super Prestige Cyclocross events began in 2003 with five UCI-permitted events, the second most anywhere in the US that year. Since starting operations, Pilarcitos Cyclesports have produced 45 'Cross events including a total of eight UCI events and the grand finale of the 2005 USGP of 'Cross at Golden Gate Park in San Francisco.
Their course venues have been stable since 2004 with racing returning to each of the four traditional course locations — Golden Gate Park, Coyote Point, Candlestick Park, and Sierra Point. With athlete registration reaching an average of 700 per event in 2011, and many "B" and "C" fields sold out for the season, Pilarcitos Cyclesports has installed field limits in recent years for their 18 different race categories in attempt to make sure all competitors can actually race to the finish of their events, and not just participate in the culture. Races are no longer UCI or USA Cycling sanctioned, but remain more popular than ever. Registration opens Sept. 1st at BikeReg.com
The 2012 Clif Bar Bay Area Super Prestige Cyclocross events include:
Round 1 -Sunday, September 30 – Candlestick Point State Recreation Area, San Francisco
Round 2 – Sunday, October 21 – Candlestick Point State Recreation Area, San Francisco
Round 3 – Saturday, November 10 – Sierra Point Night Race, Brisbane
Round 4 – Sunday, November 25 – Golden Gate Park, San Francisco
Round 5 – Sunday, December 9 – CCCP CycloCross @ Coyote Point, San Mateo
To add these events to your Google Calendar or find more races in your area, visit Cyclocross Magazine's comprehensive cyclocross race, clinic and training ride calendar.  It currently boasts over 650 events and is growing every day.