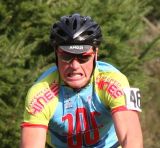 Seattle's Cyclocross Series had it's third race of the year last weekend, and we have two reports from the race. The first from LeRoi Smith recalls the racing action, while the second is from the unique perspective of photographer Janet Hill, as she both recalls and shows the day's action, including an early appearance of some Halloween faces.
Knapp and Stevenson Stamp Their Authority on Third Seattle Cyclocross Stop
by LeRoi Smith
Des Moines, WA – A chill fog and temperatures in the low 40's greeted racers in early morning categories at the third stop in the Seattle Cyclocross Series. A venue snafu resulted in race 3 returning to the South Seatac park that has become the spiritual home of 'cross racing in the Seattle area. The sun came out in time for the later races; and the fans and racers responded creating a festive atmosphere at the barriers, sand pits and both run-ups.
Ann Knapp (Kona) looks to be regaining her form quickly this year. Today she started well and extended her lead all the way to the finish. The battle for second was tight with Jadine Riley's (Team Group Health) climbing and running speed versus Kristi Berg's (Redline Bicycles) smooth skills and power. In the end, smooth and powerful edged the climbs; and Berg came around to take 2nd.
Russell Stevenson (Benaroya Research Institute) walked away from the Mens Cat 1/2 start, extended throughout and won the Elite men's category going away. Second place was decided amongst 3 riders. Kevin Bradford-Parish (Redline Bicycles) and Eric Emsky (Rad Racing) traded attacks while Toby Swanson (Benaroya Research Institute) spent the first 2/3 of the race overcoming a poor start. Swanson was unable to catch Bradford-Parish; but had just enough time and energy to take the final spot on the podium, relegating Emsky to 4th.
This week's Northwave shoe give away was awareded to a random selection amongst the racers in the 9:30 start and went to Amy Wilkerson. The Seattle Cyclocross series could not happen without the support of our great sponsors Redline Bicycles, FSA, Thule, Northwave and New Belgium Brewing. The series continues Sunday October 26th at Steilacoom Park in Lakewood, where racers are either hoping for or dreading the possible inclusion of the UCI-max 80-meter Knapp-time run-up. For complete results and race schedule please visit www.seattlecyclocross.com.
Race Notes:
· Dale Knapp (Kona) overcame a broken seat tube to win the Master Cat 1/2 men's field.
· 500+ racers competed today, keeping the series on track for record participation.
____________________
The Spirit of Seattle 'Cross Through My Lens
By Janet Hill   (See Janet's Seattle Cyclocross Series story here)
Halloween. It's the time of year that every kid loves. Costumes, ghosts, goblins, pumpkins, and candy. Although there was no candy on the SeaTac CX course Sunday, you would think that ghosts were out scaring the riders from the looks on their faces. Here are a few who looked spooked by ghosts, or maybe it was just the dreaded sand pit.
With unseasonably warm temps in Seattle and little rain, the course was very spectator friendly, and rider friendly in my opinion. Many options existed in the sand pit as the course was wide open. As one can see, there were at least three lane choices. Those who choose the left side gained several positions over those who chose the right side.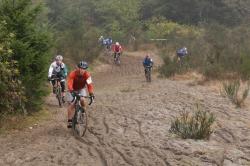 Fall colors were out in bright force at the Seatac course and provided a colorful backdrop for photographs. These riders looked in full control and do I dare say, enjoying their races?
Without epic weather, expressions are everything. Without crashes, cx race courses are too easy. A sandy corner caused more than a handful of riders to slide out and crash.
Young and old, men and women, boys and girls, all racing side by side. All trying their hardest, all succeeding. Helmets off to those who dare to race!