Things are QUICKLY ratcheting up here for this year's race on
Saturday, September 6
. If you haven't checked out and Liked the Facebook page for "spy" photos of the course, do so! After a lot of hard work by a number of crucial volunteer helpers, things are coming together very smoothly. The course is dialed in and will be unlike anything racers in
Michigan
and the upper Midwest have ever seen before. The Velocity USA stairs are painfully awesome, and I'm hoping the ProGold Lubricants pit area will be the site of a flurry of activity on race day. The Kuat VIP parking area will be mowed this week, and the Alma College custom water bottles are set to go.
**A note on parking – PLEASE follow the directions of my volunteers helping create an orderly parking area on race day! See the attached race course and parking map.**
On Friday, September 5, racers can pick up their bib numbers (or "late" register) at the Alma Brewing Company in downtown Alma from 6-8 p.m. The first 25 racers to do so will get a free custom Alma GP / Alma Brewing Company pint glass! On race day the top five category finishers will win awesome swag from Eclipse Cycling, Pace Sportswear, Corset Shop Intimates (YES! Not kidding!), The Sufferfest, and Ass-Savers. Our women's categories are sponsored by Mountain Khakis and will once again be great races to watch! Our local Biggby coffee will have some warm caffeinated roast on site for those that are at the venue really early…
The United Dairy Industry of Michigan is sponsoring the registration tent, which will also host a few vendors on race day. TP Logos has created all of the amazing artwork for the Alma GP including pint glasses ($5) and t-shirts ($15) available on race day only. The fine folks at Seals, Tacia, Bartz, Zainea, & Whitmore optometry have not only helped create the course, but they're also sponsoring the beginner categories with a coupon to help offset USA Cycling's one-day license fee (if you know of a newbie racing at Alma have them e-mail me for the code!)
Cannondale, Wolf Tooth Components, Backcountry Research, Bondi Band, Hammer Nutrition, and Nite Rider are all stepping up with some awesome swag to give away during the two raffle slots after each awards ceremony (12:15 and 3:00 p.m.).
Papa's Sweet Shop will be on site vending food, ice cream, and beverages throughout the day!
The race Technical Guide is online here:
https://docs.google.com/file/d/0B_ufsD2fFoXDUDlRSDN4cFpOOVE/edit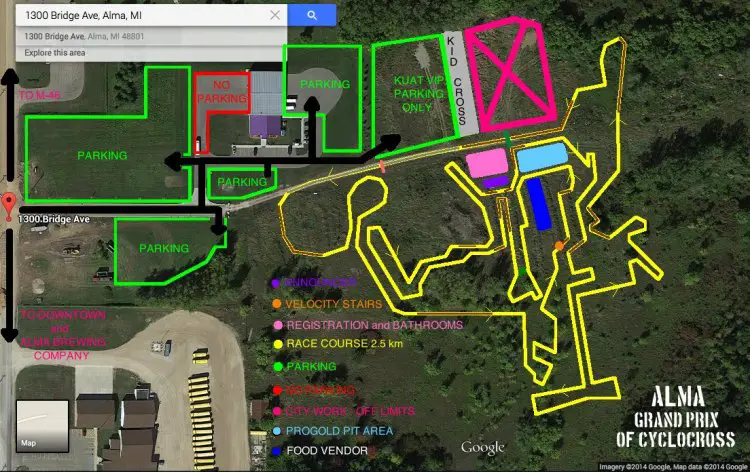 Again, THANK YOU for your support of the Alma Grand Prix. I hope to see you, your family, and your friends racing at this year's kick off to the Michigan 'cross season (and the Tailwind Racing series of races!) on Saturday, September 6!
If you have ANY questions please don't hesitate to e-mail, and as always, SUPPORT THE SPONSORS THAT SUPPORT THE ALMA GRAND PRIX!
Brian