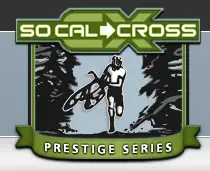 by Dave Sheek
Day two of the California central coast events hit San Luis Obiso for the "SLO Town Throw Down." The course was much more of a mixture of terrain from the previous days Dirt Club 'Cross. The course set in El Chorro park had a variety of dirt, grass, wood chips and sand with fast flowing descents.  Some large holes/bumps made for some good technical additions to the course as riders had to avoid them to not crash or have catastrophic gear failure.
The morning was brilliant and the fog from Morrow Bay cleared out to be another sunny Southern California race. The single-speed race was a great race for the second day as there was another great battle between Stevenson (Spy Optic) and Alan Danger Zinniker (Ritte Racing). But, Stevenson gained a small gap because of his mountain biking skills and dominated the course.
Elite Women:
Ellen Sherrill (Bike Station) came out again hungry for another win. From the start, it was Sherrill but Trina Baumsteiger (Rambuski Law) followed close looking to make a move on Sherrill as she lead the women out on course setting the pace for the second day of racing. Julia Lafranchise (Cynergy Cycles) led the chase as the two front ladies gained some space through lap one.
It wasn't long until Sherrill, like the day before, rode off by herself to solo in for a repeat of the previous day. The race was for second became the real battle as the leader rode away for the win. Lafranchise rode back towards Baumsteiger with teammate Jenna Jammer Kowalski and Amanda Schaper (Ritte Racing) in tow.
By the second to last lap Baumsteiger had moved off the chase group to comfortably take second. Lafranchise put her own gap between the group and rolled in for third. Behind, it was SoCal Cross race promoter Dorothy Wong (The Team SoCal Cross) showing her experience to pass Kowalski and Schaper for fourth. Schaper who made a move through the sand to pass Kowalski rolled in to grab fifth.
Elite Men:
Brent Prenzlow (Celo Pacific/Focus), Chris Jackson (Rambuski Law) and Gary Douville (SDG/Felt p.b. IRT) were one, two, three out of the gate. A lap and one-half in to the race Douville made his move up the back road climb and gained about five seconds starting lap three.
John Behrens (Bailey Bikes) moved his way onto the front group and made his own attack to chase Douville leaving Jackson and Prenzlow working together. Douville led for a few more laps until his bars slipped and challenged his descending ability.  Behrens took over the lead and his teammate John Bailey continued to move up after an unfortunate battle with a hole on lap one that put him down. Bailey brought Jackson up with him and the two worked to reach Behrens.
When the two connected to the front group there was one and one-half laps to go, Jackson instantly attacked with a big surge that split the group up for a lap. Then on the last lap Behrens worked back onto the group after Jacksons effort and he went for the attack. It was a good effort but countered by Jackson and Bailey. Douville slid out before the descent and could not pass Behrens once he was back. The group of four came flying into the last set of barriers before the last two turns of the race. Jackson sprinted it out to take an exciting win. Bailey was second, Douville third after he squeezed around Behrens in the final turns. John Behrns was fourth and Prenzlow was just off the front four to take fifth.
It was a fun weekend of events for the Southern California Prestige Series as it joined the growing central coast cross scene. Next week follow the series south to San Diego for another two days of racing. First will be SPYclocross, Spy Optic's title event and benefiting San Dieguito River Park. Day two will be hosted by Celo Pacific & Adams Avenue Bicycles at the San Diego Velodrome in Balboa Park, an always entertaining event with the Paris Roubiax style velodrome finishing lap.
For more information go to: www.socalcross.org
Elite Women's Results:
| Pos | Name | Club/Team |
| --- | --- | --- |
| 1 | Ellen Sherrill | Bike Station |
| 2 | Trina Baumsteiger | Team Rambuski Law |
| 3 | Julia LaFranchise | Cynergy Cycles |
| 4 | Dorothy Wong | The TEAM SoCalCross |
| 5 | Amanda Schaper | Ritte Racing |
| 6 | Jenna Kowalski | Cynergy Cycles |
| 7 | Holly Breck | Platinum Performance |
| 8 | Nicole Brandt | LA Velocity |
| 9 | Maddie Melcher | The TEAM SoCalCross |
| 10 | McKenzie Melcher | The TEAM SoCalCross |
Elite Men's Results:
| Pos | Name | Club/Team |
| --- | --- | --- |
| 1 | Chris Jackson | Rambuski Law |
| 2 | John Bailey | Bailey Bikes |
| 3 | Gary Douville | SDG / Felt p.b. IRT Wheels |
| 4 | John Behrens | Bailey Bikes |
| 5 | Brent Prenzlow | Celo Pacific / Focus |
| 6 | David Forkner | SDG / Felt p.b. IRT Wheels |
| 7 | David Sheek | SDG / Felt p.b. IRT Wheels |
| 8 | Ted Willard | SDG Felt pb. iRT |
| 9 | Vincent Owens | Sierra Pacific Racing |
| 10 | Gareth Feldstein | Ritte Racing |
| 11 | Sam Ames | Action Sports |
| 12 | Blake Anton | Team Clif Bar |
| 13 | Jay Kwan | The TEAM SoCalCross |
| 14 | Tyler Wertenbruch | Clif Bar |
| 15 | Amrah Hubbard | The TEAM SoCalCross |
| 16 | Paul Kronser | Team Clif Bar |
| 17 | Cody Pratt | sierra bicycle werks/cannondale |
| 18 | Edward Kronfli | PAA / ReMax |
| DNF | Benny Breck | Platinum Performance |
| DQ | Jason Hardy | Twin Six |