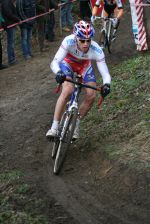 Day 1 of the European countries' national championships saw many favorites reign supreme, with defending champs like Kupfernagel and Stybar retaining their colors and van den Brand winning hers back. See brief reports below, and stay tuned for more coverage on Sunday.
Germany Day 1:
Reigning National Champion Hanka Kupfernagel (Itera – Stevens) fought off 18 year old challenger Sabrina Schweizer (Rad-Union 1913 Wangen e.V.) to take home her 8th career German Elite Women's cyclocross title. The dominating German consolidated her position as odds-on favorite for this year's World Championships by beating Schweizer by 44 seconds and Claudia Seidel (1a – Crossteam) by 1:01.
Sascha Weber (FC Rheinland-Pfalz Flonheim) rolled across the line 9 seconds ahead of Marcel Meisen (Team Kuota – Indeland) to take home the U23 title, with Ole Quast (Stevens Cyclocross Team Hamburg) rounding out the podium at 24 seconds adrift.
France Day 1:
French young gun Arnaud Jouffroy (Vendée U Pays de la Loire) took home France's U23 title, outpacing Mathieu Boulo (AC Lanester) by thirty seconds with Guillaume Perrot (EC Saint-Etienne-Loire) taking home the bronze medal at 32 seconds, just out sprinting Fabien Taillefer (Roubaix-Lille-Métropole).
Czech Republic Day 1:
Zdenek Stybar (Fidea Cycling Team) defended his Czech Republic champions jersey in Kolin by beating Radomir Simunek (BCKP – Power Plus) by a scant 9 seconds. Stybar's teammate Petr Dlask (Fidea Cycling Team) was unable to win back the champion's colors and would have to settle for the bronze medal, after losing in a sprint to Simunek.
Belgium Day 1:
Wietse Bosmans (Kalmthout) was the fastest Belgian junior in the mix, taking home victory by 2 seconds over Bart De Vocht and 32 seconds of bronze medalist Matthias Bossuyt
The Netherlands Day 1:
Daphny van den Brand (ZZPR.nl) won back her Dutch national colors from incumbent Mirjam Melchers (Team Flexpoint) in Huijbergen by thoroughly dominating the women's field. Van den Brand's margin of victory was a whopping 1:29 over the defending champion Mirjam Melchers. Saskia Elemans took home the final step of the podium at almost 2 minutes behind.
Boy van Poppel took home an 11 second victory in the U23 category over Micki van Empel to defend the title he won in 2008. The two forged a considerable gap over third place Ramon Sinkeldam, winner of the junior title in 2007, who came across the line at 59 seconds behind the winner.
Tessa van Nieuwpoort was crowned the champion in the women's junior category by winning by 1:11 over silver medalist Lana Verberne and 1:46 over bronze medalist Francis Keizer.
Poland Day 1:
Kinga Mudyn (Mlks Baszta Kartel Bytów) narrowly edged out Dorota Warczyk (LKK Start Tomaszów Mazowiecki) by six seconds to be named the Polish elite women's champion for 2009. Third place went to Marzena Wasiuk (Primus Lódz) who crossed the line 17 second behind the winner.
Agnieszka Rek (LKK Luks Slawno) took home the junior women's title by 47 seconds over Barbara Stanislawiak (LKK Luks Slawno) and 1:55 over bronze medalist Dominika Bukowska (Wlukk Brzeg Nysa).
Stay tuned tomorrow for the Elite men's races in most nations and further updated race results from across Europe!