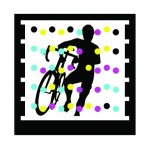 Cyclocross Magazine is the first cycling publication to take Microsoft's Tags for a spin. Why? They help connect our print, online and mobile content and make it easy for you to find additional information relevant to our articles and our advertisers.
What do you need to get started? Not much! Just a modern mobile phone and Microsoft's free Tag reader software.
Two ways to get started:
1) Visit http://gettag.mobi from your mobile browser
OR
2) Visit Microsoft's Tag page to get an SMS to download the software
Then use your phone and the app to scan any MS Tag, in our mag or others, to connect to related online content from your mobile phone.