Missing States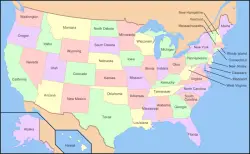 Happy Birthday USA!  Since sending the magazine to our mailers this week, we noticed one interesting thing.  We've got subscribers from every state but three.  So, if you know of a 'crosser in South Dakota, Wyoming, or Mississippi, send them our way!  Those are the only three holdouts from keeping CXM from representing this entire nation of 'crossers.

Have you subscribed yet?
You're missing out if not. Get all-original content and your cyclocross fix throughout the year
with our killer print and digital magazine for less than 8 cents a day!