It's that time of year already. Folks are laying out their cyclocross training plans, dusting off the 'cross bike and running shoes, and starting to scrape off old tubular glue. In that spirit, we're posting a timely Issue 1 piece for you from killer B racer and Kiwi, Damian Handisides. But before you go and do your own first dismount, you might read this to avoid injury.
______________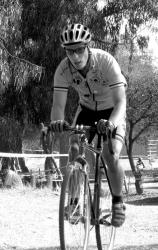 With six-month-old dirt from the last season still present on my trusty steed and nine months of restlessness trapped deep inside, I venture out on the first "training ride" of the cyclocross season.
My training partner, Chris, arrives promptly at 6:00 and we are off for the first true suffering that I have experienced in a while.
En route to the local trails we have about 10-15 minutes to discuss how we both plan to put in a good full season of racing. I can't help but wonder if the bike beneath me feels like it has heard this story before. I can't help getting excited for 'cross, but my excitement comes so early I've often peaked before the season has begun.
Now at the local trails, with dirt beneath the comfortably wide (by roadie standards) knobby tires, the true spirit of this drop-bar bike comes to life. What is it that makes riding a drop-bar and skinny tires on dirt so exhilarating? I suppose it has something to do with the sincere lack of control when compared to a road bike's firm grip on asphalt or the tacky hold of a mountain bike's much wider tires. This is perhaps the essence of what makes my 'cross bike different from the other bikes in my quiver. It asks more of me than the others and commands my full attention as we prepare to propel ourselves down the same single track that someone just ventured down on their fully suspended beast of a bike. But as it asks more of me, I ask more of it. We both respond and within a moment that initial feeling of a lack of control is gone and we are off at full tilt. I stomp on the pedals and they respond with glee.
The first climb is short. A series of switchbacks that require a short, hard effort: pedal, bring the bike to a near standstill in the 180-degree bend, give it another handful of pedal strokes, repeat.
I must admit at this point I am pleasantly surprised. The speed up this first hill is decent, but more importantly I don't feel like I am in well over my head. This is the beauty of the first ride of the season. I'll forever be impressed with the body's ability to mask pain and suffering.
With the first good effort complete we traverse along the ridge catching our breath while still maintaining a good pace. Being the opener of the cyclocross season, both Chris and I are determined to ensure that we don't turn this into a mountain bike ride on bigger hoops and funny handle bars. As we traverse we come across another cyclist and answer the age-old statement-question: "Road bikes?" How to answer this question is material enough for a short essay, but with the first dismount of the season just ahead we both reply with a simple, "Yes".
I try to maintain as much speed as possible going into the first dismount of the season which also happens to be the first run-up of the season as well. I not-so-gracefully dismount and offer to give my bike a lift to the top. After all, we have been out for around a half-hour so far and it has shouldered (so to speak) the load of my slightly-heavier-than-ideal race weight for the full distance. During the first run-up I remind myself that it is a reasonably long effort to the top and convince myself not to push myself so far over the edge that I can't keep up with Chris for the rest of the ride. Again it goes better than expected…thanks adrenaline!
We are now traversing again and I feel good enough to put it in the big ring and give it a few violent pedal strokes. Damn this feels good. Downhill for a couple of minutes and the heart gets a chance to slow down to a more reasonable pace.
Chris and I are ticking the pedals over at a good rate on a fire-road climb designed by the cycling gods. Its perfect pitch begs for high speed ascents. 38×17 for me and it looks like something similar for Chris. We are side by side powering up the climb. First training ride of the year underway: check. First dismount: check. First run-up: check. First attack… underway. I'll spare you my list of excuses because quite frankly that is all they are. I am not as fit as I should be and Chris is clearly the stronger rider, but I figure I might as well give it a go. I figure I owe it to the bike beneath me. I know the bike wants to go and my mind wants to go as well; now all we have to do is convince the legs that everything is going to be OK.
Now I've done it. I've created a real rift in this training group. But it's not between Chris and myself, as he would have done the same if he had thought of it first. (At times one of us might be a bit faster than the other but that is what makes it so worthwhile for us to do these rides together. We can push each other in a manner that it is hard to do yourself.) Back to the fight that has ensued…it's my legs that are truly upset. I can't help but imagine my bike as a happy soul as we power up this climb. It seems to do so well at speed. This sheer joy that the bike is experiencing is in stark contrast to what my legs are going through. They are in full panic mode and I won't give in to their cry to stop. I cast another vote: Legs – Stop, Bike – Go, Brain – Go! Sorry legs, democracy has spoken.
At the top I struggle to catch my breath. First attack of the season: check.
A series of short hard climbing efforts, another couple of run-ups and some good downhill sections are helpful in dusting off the rusty cross bike handling skills. We keep the pace up, constantly reminding ourselves that this is cyclocross. Speed is all-important.
We abandon the dirt for the road and head for home. As we wind up the season's first training ride I am as excited as ever for the upcoming 'cross season. At home, I begin to unwind and start to mentally map out my plans for the next couple of months of mud, sweat, and pain. Yet I can't wait. Nothing makes me suffer like the cross bike, and nothing cleanses the soul like suffering.