Lars Boom is not the only young, Dutch multi-discipline world champion. Boom's compatriot Marianne Vos is just 21 years old, but already has four rainbow jerseys to her name: Two from the road, as a junior (2004) and elite (2006), an elite cyclocross title (2006), and the points race title on the track in 2008. With a powerful sprint and racing worlds in her homeland, Vos heads into this weekend's racing as a contender for the title. Christine Vardaros caught up with Vos recently to talk about the world championships, her 'cross career and her interests, and the full interview will be in our Issue 6. This is an excerpt from that interview. Photos by Bart Hazen.

December 7th is pretty late to start your cross season.  Was this your original plan or were you thinking to skip the season completely?
I never planned to skip the season completely because I like cyclocross and I never wanted to miss the Worlds in Holland. My first plan was to have some rest after road season and to start late in the cross season. I first wanted to start in January like last year but that would be really short preparation. So I started in December.
Now that you have already won a World Cup [Zolder] less than three weeks after your return to cross racing, how does this make you feel about your chances for a win at Worlds?
Worlds is my ultimate goal this season. It is the biggest event of cyclocross and this year it is at home [Holland] so that makes it even more exciting.  I really didn't expect to win that wWorld Cup [in Zolder] because it was for me early in the season but it was a circuit that suits me so I  don't think you can compare it to Worlds because it will be different circumstances.  I was happy with that win but I am not confused by that result, thinking that it makes me a favorite for worlds.
What is your podium pick for Worlds?
I think Hanka Kupfernagel, Katie Compton and I. Of course I hope myself  but I think Daphny Van den Brand, Hanka and Katie are the best for now, in shape for worlds.
That's very humble of you!
No, that's not humble. I have raced against them and I  have seen their form and I know my form so I think that's the three for the podium. Of course I hope I will get there too.
How do you feel about the color Orange?
It is great. I like orange. It's, for me, really an honor to race in orange. We don't do everything right in Holland but I am fond of my country. I am proud to represent the country. I think America has a nice flag but Holland has a color everyone in the world will identify –  Holland with orange. That's pretty amazing.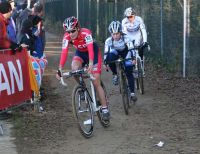 Is there any cheer in particular that Cyclocross Magazine readers can yell to you during the race?
Of course they can yell!
I like people to yell to me, "feel the pain."
Laughs. I don't like it when they say "naar vore" [means go to the front].  I think, "make it your own" [race yourself].  I am here on the bike. I decide when I go to the front so, instead, I like when they say, in Holland it is "alles [geven]" [Pronounced in English:ALLes GEven] – give everything you have.  But in English that sounds not that cool.
By the time they say "give everything you have" you will be long gone.
Laughs. Yeah, well maybe…
Unless they catch you in a really deep mud section.  From now on, when you hear "give everything",  it will be from an American.  Thanks so much for your time!  Best of luck at Worlds!
Thank you!