Jeremy Powers and Natasha Elliott Win Toronto Day 1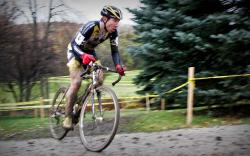 Photos by Mike Clark
Jeremy Powers (Cannondale / Cyclocrossworld) won in cold, wet, slippery conditions at Day 1 of the UCI C1 Toronto International Cyclocross. Power's teammate Tim Johnson finished second, with Nicholas Weighall (Rad Racing) finishing an impressive third.
Natasha Elliott (Stevens), fresh off a win at the Cycle Smart International last weekend, was dominant in her home country, besting Dawn Anderson (Oak Bay / Everti) and Kristin Wentworth (Planet Bike)
Men's Photo Gallery:

Have you subscribed yet?
You're missing out if not. Get all-original content and your cyclocross fix throughout the year
with our killer print and digital magazine for less than 8 cents a day!