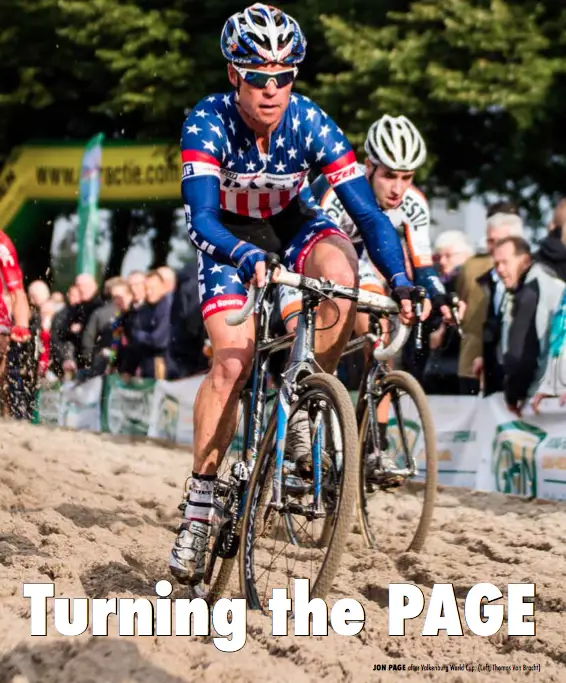 This article originally appeared in Issue 23 of Cyclocross Magazine and tracks the career of Jonathan Page, the American-turned-Belgian multi-time National Champion and only Elite Male to score a World Championship podium spot. To read the full story, make sure you get an archived copy or an All-Access Digital Subscription by visiting our subscription site.
by Christine Vardaros
When most people hear the name 'Jonathan Page,' the first thing that comes to mind is his magical feat of standing on the podium at a cyclocross World Championship event. His second place in Hooglede-Gits, Belgium, back in 2007 was more spectacular than any Elite American male could have even dared to dream of, and it remains the only U.S. Elite Men's podium finish at a World Championship. He did it. Not only did he score one for himself, but he scored one for all of the American 'cross population. We finally stamped our country's name into Belgium's male 'cross history books. This quiet guy really got his legs to do the talking on that day.
Over the last decade, many of us have vicariously journeyed with Jonathan as he took us with him through both his highs and his lows. We soared with him as he scored his four U.S. Elite Nationals wins, countless UCI victories, and that second at the UCI Cyclocross World Championships, that now infamous moment where he just missed out on the win by a few meters, losing to Erwin Vervecken on the final muddy bump before the finishing straight. And he has jerked our emotional chains with his numerous lows, getting injured or sick at the worst possible moments before big races or missing a drug test that almost left him off the U.S. National Team that year for Worlds, and almost got him suspended.
This kind of rollercoaster ride, especially when done on both sides of the Atlantic, would break most average people, and certainly confuses fans. Page is anything but average. It takes a certain type of person to do what he does, and for as long as he's been doing it. And it takes a certain type of family to support their loved one in following such a physically, men- tally, and emotionally challenging dream.
When I think of Page, I don't think of the one man show that many assume that he is. I think of Team Page, meaning Jonathan and his wife Cori…and now also their little ones: Emma, Milo and Pearl. While someone like Sven Nys may have his entourage here in Belgium, Page makes do.
Page met his wife and "teammate" Cori back in January 1997 at a Colorado Springs National Team training camp, before Page was a big name in the 'cross scene. From that moment forward, they have been working as a team to make things happen in their lives – including Jonathan's career with the bike.
This current season for Page is no different. The goal this time around, according to Page, is to get all lows out of the way early in the season so he can shoot high later on. So far, he's very much on target.
I recently sat down with both Cori and Page to dig a bit deeper into how two kids from New Hampshire could end up leading split lives—summers in Utah, winters in Belgium, all with three little ones in tow, and how he pulls it off without riding for big teams with big budgets.
Read more of our Issue 23 content and see a full Table of Contents here.