Cyclocross Magazine's Events Calendar Nears 600 Events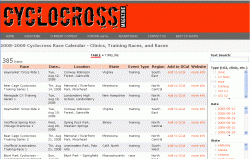 Since launching our comprehensive 'cross calendar last week, we've been adding more events as they come in, and in less than a week the calendar has nearly doubled in size, with approximately 600 races, clinics, and training events listed for the U.S. alone. Sort, filter, search as you wish, and plan the perfect race season here: http://cxmagazine.com/calendar
(With so many races, it can be slow to load on slower machines.  It's worth the wait, and we're working on speeding it up as you read this.)
With 600 events, it's clear that cyclocross in North America is now playing a major role in the sport's international growth.

Have you subscribed yet?
You're missing out if not. Get all-original content and your cyclocross fix throughout the year
with our killer print and digital magazine for less than 8 cents a day!