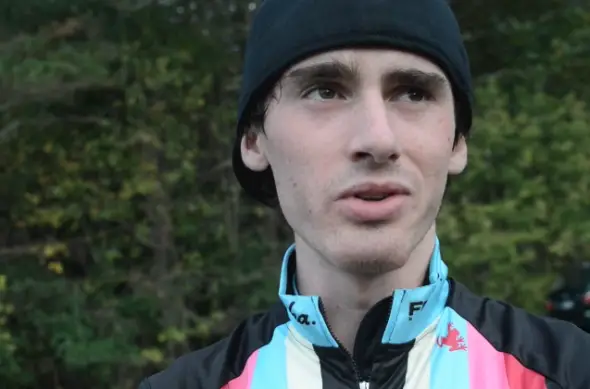 Rapha-Focus's Zach McDonald surprised the crowd at Ellison Park in Rochester this weekend when he showed up somewhat under the radar. Normally, the Rapha-Focus crew totes around tents and plenty of mechanics, film crews, etc., but this week it was just McDonald and Rapha-Focus's Mike Heenan as support staff. McDonald picked up a second place finish on Saturday after riding off the front of the field with Raphael Gagne until the last set of switchbacks up and down the hill on course. On Sunday, a crash mid-race relegated McDonald to chasing the chase group and he landed in sixth place by the end. We caught up with him Saturday after his race to find out what brought him here and get his thoughts on the relatively under-the-radar UCI race in upstate NY.
On his surprise appearance… It surprised us too! I've been bleeding UCI points though, and I need to pick up something. I was going to go to the World Cup but I would have been starting in the sixth or seventh row. It would have been rough.
On the course… I like that it was different. Been racing these grass crits, but this one has decent flow. It's super heavy. Today was super tactical and part of it was that I just don't have any speed. I've been doing long rides. I think we were all just keeping tabs on each other because there isn't really a place to put in a really good attack without taking someone else with you. We were trading small attacks, and I would just ride tempo for a bit, then Raphael would put in an attack.
On the move… He just surprised me. He attacked a little sooner than I thought he would, I was going to wait another one or two switchbacks, so it caught me off-guard. It's a challenging course. The climb hurts!
On his leg injury… I never got off the bike today so I don't really know. This reminds me of the Cincinnati course. People have been saying they wanted stuff like Europe, and here, if it rained and you went down that hill… It would have been just like Europe. So that would be there for them.
On tire choice… I ran a Rhino in the front and Small Bird in the back. I wanted file treads but we didn't bring any with us. I picked the Rhino for the descent.
On racing Elite in Europe… If I'm on form, it's not too concerning. If you look at lap times… But I'm not on form. I'm still doing four hour rides in the middle of the week to get some endurance.
On what's next… Depends, but maybe Saint Louis, then Cincinnati, Louisville, Iowa.
On travel… I like the Friday-Monday flying. It doesn't bother me, you sit on the plane, nothing else is going on. I get caught up on my newspapers from the week, I kind of stockpile them.
Stay tuned for more interviews from Rochester, and watch the full uncut interview below!