Don't like riding on the roads but miss the thrill of competition? Already dreading winter trainer sessions? There might be a solution to make training a bit less painful, and keep your Strava going strong.
Wahoo Fitness has announced their new app, Segments, which allows cyclists to compete head-to-head on any Strava segment using the revolutionary KICKR Power Trainer. Basically, cyclists can ride Strava segments indoors while the KICKR simulates the millions of real world courses uploaded to Strava. So now you can be a Strava KOM-obsessed rider without putting anyone else at risk.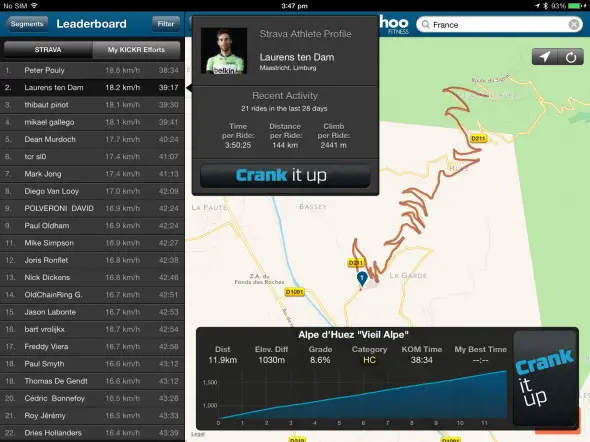 What: Wahoo Segments App – Using the KICKR Power Trainer, riders can compete in head-to-head matchups against any rider, on any Strava segment, anywhere in the world. Users can then upload the session to their Strava profile as an indoor workout.
How: Wahoo's new Segments app, takes ride courses and routes from Strava Cycling and seamlessly incorporates them into the smartphone powered KICKR Power Trainer. The Segments app controls resistance to match the elevation profile of each course, meaning the KICKR realistically simulates the grade of each Strava segment's climb in real-time. Resistance adjustments are instant, making it easy to replicate everything from a flat or rolling hill course, to the coast down a hill after a hard climb…. All while you pedal away in your living room, gym, or garage.
We think this might be fun for "pre-riding" before cycling vacations or races. Better yet, go pre-ride a race course, upload the ride and create segments on Strava, and then train on those segments in the weeks prior to the race. You'll almost be able to race the course with your eyes closed (please don't try).
Stay tuned as we give this system a whirl in the next few weeks. If we skip our weekly cyclocross practice, you know why. We're racing with you, really, just indoors warm and dry, staying away from all that icky cyclocross-stuff.
Find out more here: www.wahoofitness.com