by Dan Seaton, photos by Joe Sales
Also see our blow-by-blow coverage archive.
Day 2 of the Cyclocross World Championships in Hoogerheide, Netherlands, dawned looking much like Day 1, clear and cold.  And, for a while, it looked like the races would go like they did on Day 1 as well, when Katie Compton, who before the race said she thought she could win today, launched an attack just a short way into the first lap that she eventually stretched into a lead of several hundred meters.  But the similarity to Saturday ended there, as clouds rolled in and Hanka Kupfernagel and Marianne Vos reeled in Compton by the beginning of the fourth of six laps, setting up a three-way race for the women's World Championship.
Marianne Vos rode a calculated race, sitting in second for most of the day until the three hit the long stretch of pavement leading to the finish.  As the three rolled slowly towards the line, waiting to see who would go first. Vos, with fresh legs, timed her sprint just right, pulling around Compton, who was isolated in the front and taking the victory.  Kupfernagel edged out Compton for the silver medal.  Vos' win in Hoogerheide capped a fantastic season that included Olympic gold on the track as well.
Vos said she worried when Compton made her early escape.  "I was afraid when I saw her with 300-meter lead or something, and I thought of yesterday of Eising and Walsleben and it was exactly the same," she told reporters. "But then Hanka came and I went full-fledged and could hold her wheel, and we saw the gap getting smaller."  Vos said she mishandled the first corner but quickly came back, "The first corner went wrong, but then it looked okay.  And then there was a crash in the back, but I was in fourth or fifth position after three corners and on the grass I never lost position."
Compton, who has a history of leg problems, rode much of the race with her leg warmers below her knees.  "The shorts and tights are not tight enough, so the leg warmers don't stay up," she explained.  "It was what it was and I had cold knees for a couple of laps, but once I warmed up some and got used to the cold knees and I was fine.  It just didn't look very good."  Despite her disappointment over the third-place finish, Compton was philosophical.  "I did everything I could today. I wanted to keep the pace fast at the start, and Hanka and Marianne caught up," she told reporters.  "I think I rode a smart race and did the best I could, but, well…"
For her part, silver medalist Kupfernagel compared the race to a road race.  "It was totally frozen and no corner was slippery so you could give it full blast everywhere, and there was a lot of wind and with the wind you can ride on a wheel and draft.  So it was a little bit like a road race.
She said that the Team USA skinsuits are not tight, and didn't keep her leg warmers in place.  "I did everything I could today," she told reporters. "I wanted to keep the pace fast at the start and Hanka and Marianne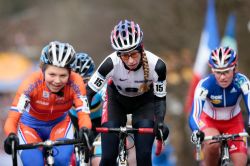 American Rachel Lloyd spent much of the race leading a chase group about 20 seconds back from the leaders, but finished 11th.  She told Cyclocross Magazine that she had been confused by the lap cards with two to go, and sprinted for the finish a lap early.  She added, "This course just wasn't technical and it was such a long sprint too. It was all games, and I'm not good at games like that."
Meanwhile Georgia Gould, who said she was optimistic before the race, was caught behind the crash near the start along with Sue Butler just after the start and ended up 13th.  "I'm definitely disappointed," she said.  "I was hoping to get a medal, so [this finish] was not exactly what I was wanted. But, you've gotta have these races where it's faster, that's what I need more practice at."  Gould, like many racers, said she would have preferred the slow, muddy conditions that would have favored technical skills over raw power.  Gould now heads back to the US to prepare for mountain bike season, which has been her primary focus, but would be aiming to gain experience in Europe with some 'cross world cups in the fall.
Teammate Laura Van Gilder rode a steady race and wound up in 19th.
Butler, who eventually finished 17th, told us she had trouble with a pedal at the start, leaving the line last but quickly moving up before a crash disrupted much of the back of the field.  "I was able to sneak around it and then I just focused on moving up and putting the power on when I could," she said.  Butler moved up steadily through the race,  eventually being edged out by Britain's Helen Wyman at the finish.  She concluded, "It's a fast pack, man. It is so fast!"
Full results below.
Photos Gallery:
Full Results:
| | | | | |
| --- | --- | --- | --- | --- |
| Place | Bib | Rider | Country | Time |
| 1 | 12 | VOS Marianne | NED | 0:42:39 |
| 2 | 1 | KUPFERNAGEL Hanka | GER | +00:01 |
| 3 | 14 | COMPTON Katherine | USA | +00:02 |
| 4 | 10 | VAN PAASSEN Sanne | NED | +00:29 |
| 5 | 7 | MANI Caroline | FRA | +00:29 |
| 6 | 24 | CANT Sanne | BEL | +00:29 |
| 7 | 9 | VAN DEN BRAND Daphny | NED | +00:30 |
| 8 | 13 | MELCHERS-VAN POPPEL Mirjam | NED | +00:30 |
| 9 | 19 | LECHNER Eva | ITA | +00:31 |
| 10 | 4 | SALVETAT Maryline | FRA | +00:31 |
| 11 | 15 | LLOYD Rachel | USA | +00:32 |
| 12 | 5 | FERRIER-BRUNEAU Christel | FRA | +00:37 |
| 13 | 16 | GOULD Georgia | USA | +01:02 |
| 14 | 33 | HARRIS Nikki | GBR | +01:13 |
| 15 | 25 | VANDERBEKEN Joyce | BEL | +01:34 |
| 16 | 31 | WYMAN Helen | GBR | +02:03 |
| 17 | 17 | BUTLER Susan | USA | +02:04 |
| 18 | 28 | SIMMS Wendy | CAN | +02:30 |
| 19 | 18 | VAN GILDER Laura | USA | +02:57 |
| 20 | 8 | FERRAND PREVOT Pauline | FRA | +02:58 |
| 21 | 29 | ELLIOTT Natasha | CAN | +02:58 |
| 22 | 26 | OGISHIMA Mika | JPN | +03:29 |
| 23 | 2 | SCHWEIZER Sabrina | GER | +03:38 |
| 24 | 32 | DAY Gabriella | GBR | +03:39 |
| 25 | 20 | ALESSIO Veronica | ITA | +04:04 |
| 26 | 27 | TOYOOKA Ayako | JPN | +04:05 |
| 27 | 21 | BRESCIANI Daniela | ITA | +04:06 |
| 28 | 23 | CAVANI Milena | ITA | +04:06 |
| 29 | 36 | RIEDL Elke | AUT | +05:10 |
| 30 | 22 | CUCCINIELLO Francesca | ITA | +05:11 |
| 31 | 30 | HARLTON Pepper | CAN | +05:24 |
| 32 | 35 | KYPTOVA Jana | CZE | +05:43 |
| 33 | 6 | TRIQUET-CLAUDE Nadia | FRA | +06:09 |
| 34 | 38 | MÜLLER Lise | SUI | +06:20 |
| 35 | 37 | LEUMANN Katrin | SUI | +07:25 |