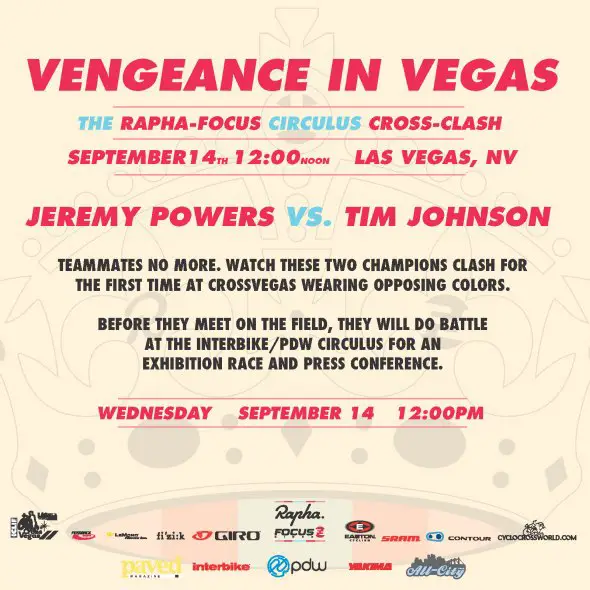 Tim Johnson and Jeremy Powers: teammates no more. Watch these two champions clash for the first time at Cross Vegas wearing opposing colors. Before they meet on the field, they will do battle at the Interbike/PDW Circulus for an exhibition race and press conference.
Next Wednesday – September 14th at Interbike, Cross Vegas will be the first of many match-ups between our own Rapha Focus riders and that of their sworn nemesis the Cannondale CX World Racing Squad. It is amazing to look at how evenly they are matched. There are enough riders to go around with Chris Jones set up to take down C. Huele and Zach ready to step up and take his place with the big boys (he's 20 currently) and get J. Driscoll in his sights. We may also have something coming at you in the Women's department as well. Do not tell those guys, we want to keep them guessing … However, there is one of these match-ups that stands out at the moment. One match-up to end all match-ups … "there can be only one" as the Highlander is fond of saying.
When Jeremy Powers raced with the Cannondale CX World Team, he called Tim Johnson his teammate. Under the tutelage of this Grandmaster, Mr. Powers studied the art of Cyclocross. Then, he went to Europe and studied some more. It is safe to say, from looking back at the results from the past few years, that he has too "Mastered the Art."
As per usual there is a lot of things happening at Interbike next week. We will not be putting on a party this year, but that doesn't mean we don't like to party.
Wednesday, September 14th at high noon
Jeremy Powers (Rapha Focus) versus Tim Johnson (Cannondale CXWorld) in a Circulus Event!
On the Interbike show floor these two racers will match up in a Title Bout style. There will be a Weigh In! There will be a Press Conference!
Any of the things that you associate with a boxing match including our very own Don King but in the shape of famed Cyclocross Announcer Richard Fries! Yes, you read that right, the main man himself will be there to call the shots as they happen.
Cross Clash
One of the ideas behind this staging of these two racers is to highlight one of the very best parts about cyclocross. The Rivalry. Sure, the race going on at the front of the Pro-race is the race of the day. But, we (and I'm assuming that you are not professionals) race our bikes to compete against our friends. It is our way to gauge how well we are doing, our weekly improvements can be measured by racing against the same people day in and day out. Well, the Cross-Clash Campaign is the epitome of that with a little bit of World War II era fighter pilots thrown in for good measure.
In partnering up with CrossResults.com (who's "Race Predictor" can show you just who you match up against) we have made these small Crown stickers for you to put on your bike, your helmet or anywhere else you see fit … but only when you beat your nemesis. We have partnered up with a few different Cyclocross series throughout the country, so beware! when you see one of these stickers, this person could be out for you!